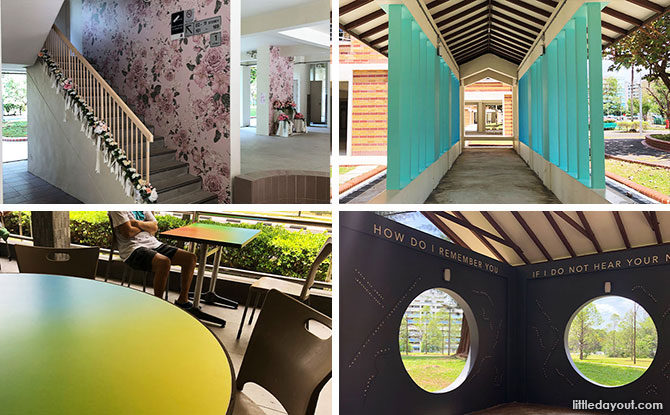 Presented as visual art walking trail, The Story Of A Place Is In Its Name invites visitors to experience Pasir Ris through the eyes of Singaporean artists as Arts in Your Neighbourhood return this month of March. There are different artworks that you can see around the neighbourhood from now till 28 March 2021.
Inspired by the sea and various geometric patterns and colours, here are some of the installations you can look out for when exploring the Pasir Ris art walking trail. Code words are hidden at each artwork; find them to get a special edition AYN tote bag.
---
The Story Of A Place Is In Its Name Art Trail Artworks
Escapade by Jamie Teo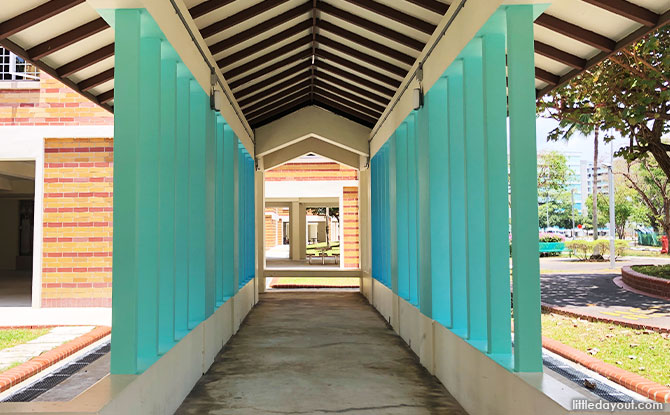 A spectrum of colour that takes the form of coffeeshop table surfaces and walkway beams, Jamie Teo's Escapade hopes to create room for visitors to pause and breathe while going about their daily hustle.
Escapade can be found across two locations, one at Coffee Express Kopitiam @ 443 Pasir Ris Drive 6 and the other at the walkway at Block 130 at Pasir Ris Street 11.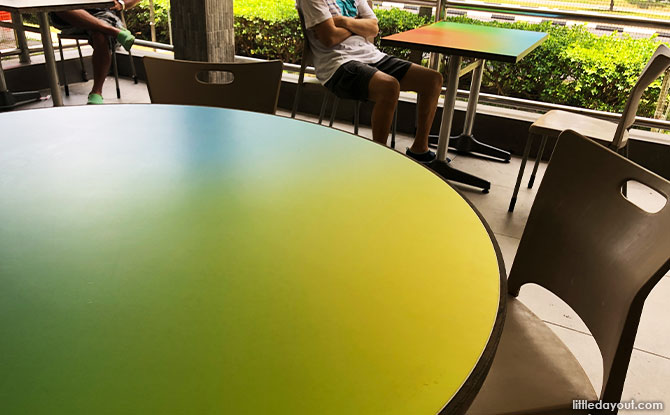 "I hope Escapade will help open up our curiosity of colours through highlighting certain motifs and colour-scapes that can only be found around Pasir Ris. By transforming landmarks into pure colours, I encourage the residents of Pasir Ris to slow down and notice these often overlooked spaces!" shared the artist who blends colours to create and investigate the movement.
---
The Love Void by Divaagar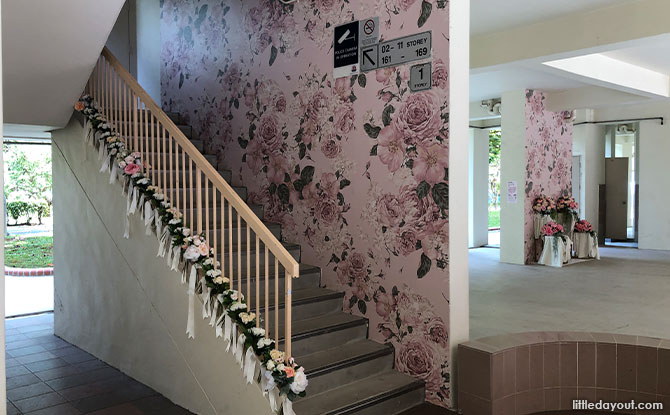 The void deck in our neighbourhoods acts as a transitional space for many. From recreational activities to weddings as well as a space to mourning the departed, The Love Void uses familiar motifs and objects to the void deck and hopes to invoke the happenings of love and the stories within the space. This installation is located at the void deck of Blk 141 Pasir Ris Street 11.
"I always have a vision of the work in mind and a plan drawn up prior to installing. While things aren't always precise to the plan, the work feels complete when the pieces are in place." shared artist Divaagar. Divaagar is an interdisciplinary artist who works with installation, performance, and digital media, and has exhibited both locally and internationally since 2010.
---
How Do I Remember You by Perception3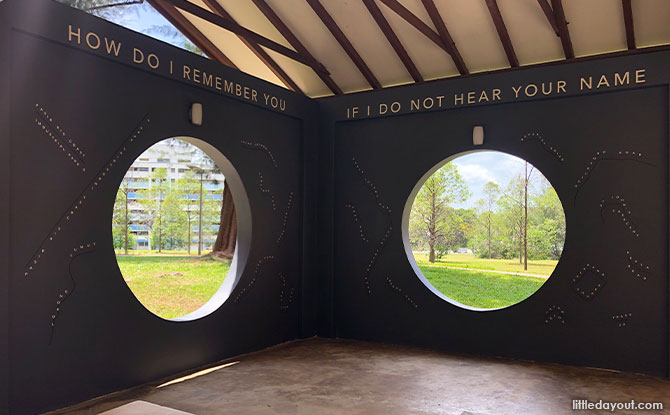 Perception3 was founded in 2007 by Regina De Rozario and Seah Sze Yunn. Their works are expressed primarily through text, photography, digital video, and site-specific installation, and have been showcased locally and abroad.
Located at Blk 144 and 145 Pasir Ris Street 11, How Do I Remember You features an installation with the question "How do I remember you if I do not hear your name. A quiet corner to reminisce old places whose names we do not utter today, contemplate the narratives attached to road names old and new at this exhibit.
---
Arts in Your Neighbourhood Visual Arts Code Word Hunt
When you pay a visit to these artwork, be sure to look out for code words hidden within the installations. Receive a limited edition AYN Pasir Ris-inspired tote bag when you find the various code words hidden, piecing together the sentence and submit your answers here. Terms and conditions apply.
Read more about Arts in Your Neighbourhood 2021 here. Happy Art Hunting!