The Ship Restaurant & Bar is one of those places tinged with nostalgia. The nautical-themed restaurant has been around since 1977 is one of the remaining "old-school" Western restaurants in Singapore.
The Ship Restaurant & Bar has been at Shaw Centre for a long time. It last underwent renovations around 2014. Before that, it had a dark interior was dark and intimate, almost as if patrons had been squirrelled away under the deck of a ship. The current interior is much brighter with light wood floors and sunlight (in the day) coming through the large windows.
---
Nautical Decor
On entry to the restaurant, guests are greeted by a display made up of a ship's wheel, signalling flags and a bridge engine order telegraph used to send instructions from the bridge to the engine room.
Nautical decorations still line the wall and the dining area is decked out with furniture that looks like it could belong on a creaky old ship.
The Ship Restaurant & Bar is often packed – filled with a swathe of regulars. It is advisable to make a booking in advance.
---
Dining at the Mess Deck
The menu comprises Western dishes, done the old-school, Hainanese way.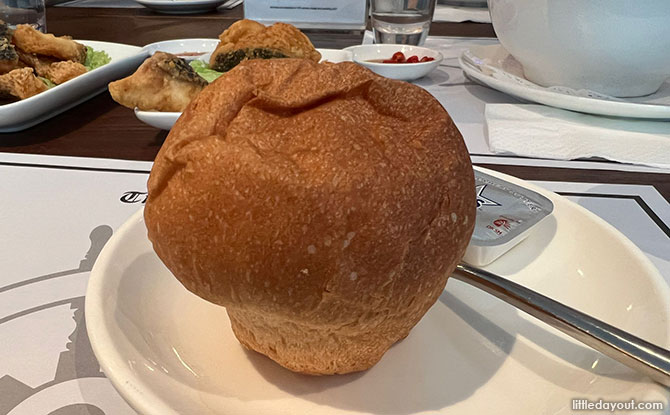 They serve up warm bread rolls at the start of the meal, which is always nice.
One of the classics at The Ship is the Chicken Ala Ship. We initially thought it was going to be like Chicken Ala King served with rice but instead is chicken topped with ham and mushrooms and baked with cheese.
The Ship Restaurant & Bar is also one of the few places that we still see Chicken Maryland on the menu. This plate of fried chicken, banana along with corn fritter and bacon is sure to be enough to satisfy the hungriest of stomachs.
Another well-known item on the menu is the Sliced Fish Beehoon Soup with fried snakehead fish fillet. The Ship Restaurant & Bar also offers a range of pastas that includes kid-friendly staples like Spaghetti Bolognaise and Carbonara.
For that special occasion, you can order a Bombe Alaska, a popular 1970s dessert.
---
The Ship Restaurant & Bar, Shaw Centre
Address: 1 Scotts Road, Shaw Centre, 03-16/18, Singapore 228208
Reservations: 62352235
If you enjoyed this story, you may also enjoy this one on dim sum in Singapore.