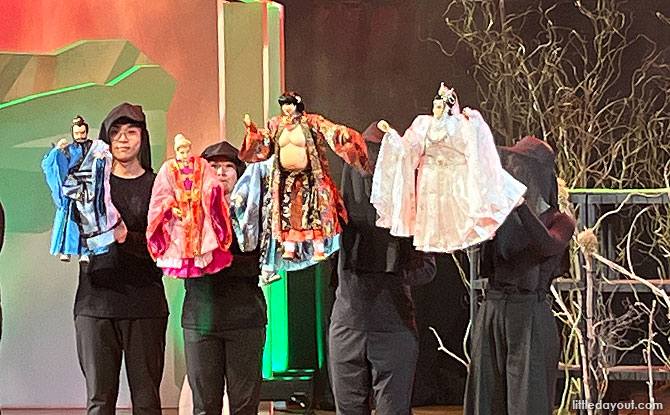 Last staged in 2009 and 2010,  Paper Monkey Theatre's puppetry retelling of a classic Chinese myth "The Journey West: White Bone Fiend" was staged from 9 to 11 September 2022 at the Singapore Chinese Cultural Centre (SCCC) and we felt that it was too short a run!
Since 2008, Paper Monkey Theatre (www.papermonkey.com.sg) has introduced audiences to the wonder and art of puppetry as well as Asian values through its traditional and modern puppetry performances and programmes.
---
The Journey West: White Bone Fiend
This engaging production of "The Journey West: White Bone Fiend"  was co-presented by Paper Monkey Theatre and SCCC, showcasing a colourful combination of shadow puppetry, 30 traditional Chinese hand-puppets and larger Taiwanese Pili glove puppets with life-like features handcrafted by Puppet Designer and Maker, Hsu Chien-Jhang.
Thoughtfully written and directed by Benjamin Ho, Artistic Director of Paper Monkey Theatre, it featured an accomplished cast of skilful puppeteers, Andy Pang, Lareina Tham, Jo Kwek, Lim Ci Xuan, Jasmine Xie and Gavin Xie.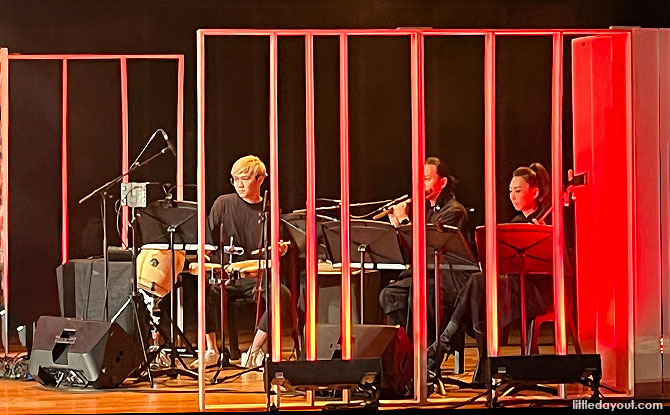 The accompanying live music and percussion ensemble of Andy Chia, Govin Tan and Jessica Lu, provided a sense of immediacy to the action on-stage.
---
A Classic Chinese Tale
The well-known White Bone Fiend episode from Journey to the West follows the mythical adventures of the monk Master Tang San Zang/Tripitaka on a white horse and his three disciples, Sun Wukong/Monkey King, Zhu Bajie/Pigsy and Sha Wujing/ Sandy, as they undertake a pilgrimage to the Western regions to obtain sacred scriptures.
Along the mountainous trail, they encounter the White Bone demoness who thinks that she can live forever and lose her wrinkles if she eats the flesh of Master Tang San Zang, whom her Magic Mirror claims to be immortal.
However, she fears Sun Wukong, the Monkey King known for his skills in vanquishing evil spirits.  She disguises herself as a little child, then the mother and an elderly grandmother, in order to kidnap the monk but Sun Wukong sees through all the disguises and attacks all three "humans" consecutively.
Unfortunately, Master Tang San Zang was deceived into thinking that he has killed innocent lives and punishes him by driving him away from the group. When captured by the demoness, it is up to Sun Wukong to learn to forgive and rescue his Master and fellow pilgrims in time!
---
Puppetry Magic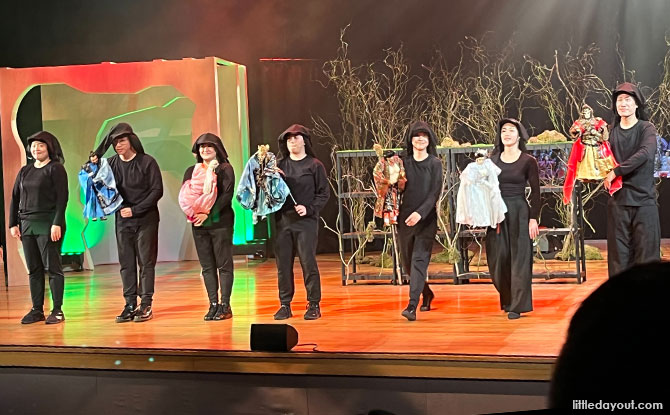 Spinning a highly stylised story with deftly-manipulated hand puppets engaged in martial arts fights and exciting battles between Sun Wukong and the White Bone Fiend, along with their minions, the traditional fight scenes were intense and fluent in action!
The clever, agile interchanging of traditional hand puppets of different sizes and the taller Pili puppets with more visible human-like facial features and limbs that resembled realistic anime personalities to represent the same characters at different scenes offered varying liveliness, perspectives and depth to the main characters.
Shadow puppetry for the Magic Mirror, with creative lighting and carved rocks frames, along with stark willow branches, added atmosphere to the set's desolate mountainscape and surrounding wilderness.
The story also made a point that the villainess was not completely bad. Midway in the empathetic telling, she shared a song with Sun Wukong, both larger puppets separately illustrating their backstory and motivations through tiny hand puppets in the backdrop.
---
Storytelling & Cautionary Tales
Younger children were clearly fascinated by the nimble puppetry and storytelling which evoked multiple pockets of laughter throughout the show.
While my primary-schoolers caught on the cautionary tale to beware of strangers and grumbled about how the Master could be so foolish, they generally enjoyed the dramatic sequences.
The moral of the story is that a kind heart is immortal and true forgiveness when mistakes are admitted along with the values of trust, loyalty, friendship and compassion have been effectively conveyed in this well-told puppetry production based on a legendary folklore.
The English surtitles on the screens on both sides of the stage were very helpful for less-Chinese-savvy parents and children.
---
Post-show Fun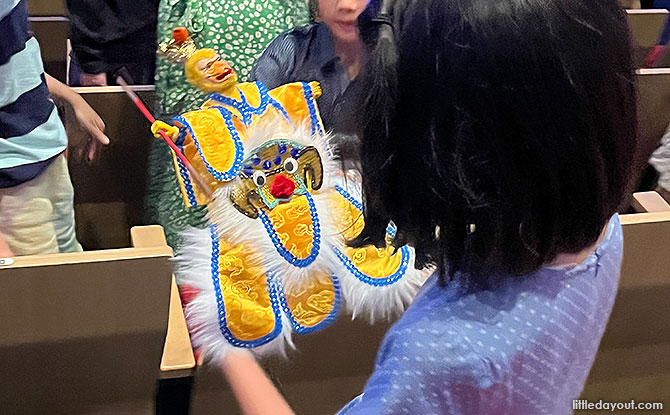 The fun continued post-show as many young audience members took the opportunity to purchase Sun Wukong hand puppets to practise their own puppetry techniques, as well as purchase Journey to the West picturebooks and comics available for sale at the door, further spreading the magic of traditional puppetry following an age-old tale retold with heart and charm.
We look forward to more fantastic fables from Paper Monkey Theatre!