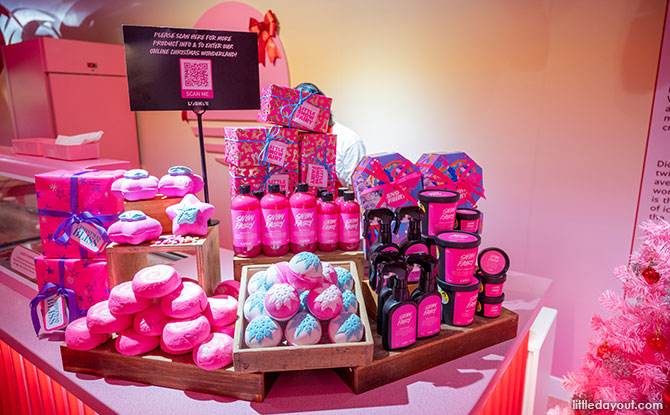 Tis the season to be merry with sweet smelling fragrances and delicious ice cream!
In conjunction with the release of their latest products, Lush Fresh Handmade Cosmetics has teamed up with the famous Museum of Ice Cream to create a fun experiential pop-up experience for the public. While there, view their newest Christmas collection and enjoy an exciting myriad of activities that encourages you to bring out your inner child!
Lush is a beauty and cosmetics brand that prides itself on creating innovative products that is yet ethical and environmentally friendly, using fresh ingredients in their products.
---
The Great Lush Playground
The museum features 14 different installations, some of which has been altered to be unique to the Lush experience.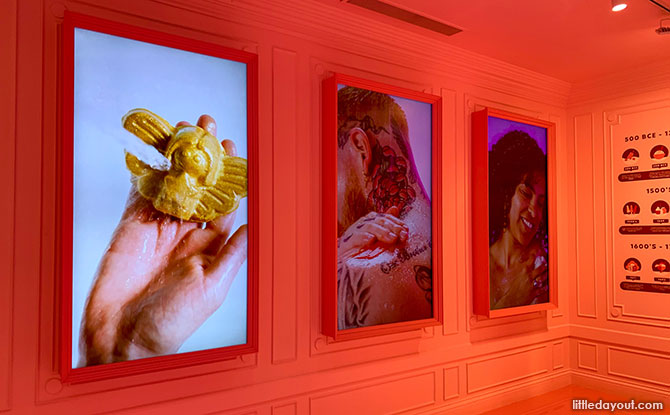 ---
-- Story continues below --
Upon entering the museum, we are greeted with large screens displaying sneak peaks of various lush products offered in the Christmas collection. Ice cream trivia and art installations can also be seen on their bright pink walls as we entered each room.
In various experience rooms, Lush products and gift sets displayed can be spotted. Here are some of the products in their newest collection: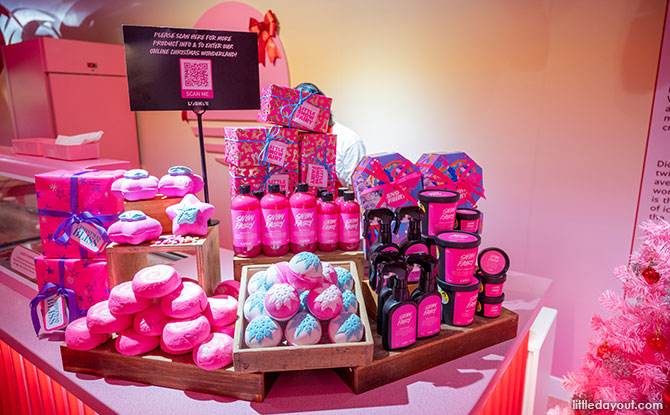 Lush has brought back their cult fragrance, Snow Fairy. This includes the Snow Fairy Lip Jelly ($15), Snow Fairy Bubble Blowing Wand ($20) which is a sweet-scented bubble bath. There is also the Snow Fairy Body Lotion ($25) and Fairy Dust Dusting Powder ($25) which leaves your skin soft and sweet.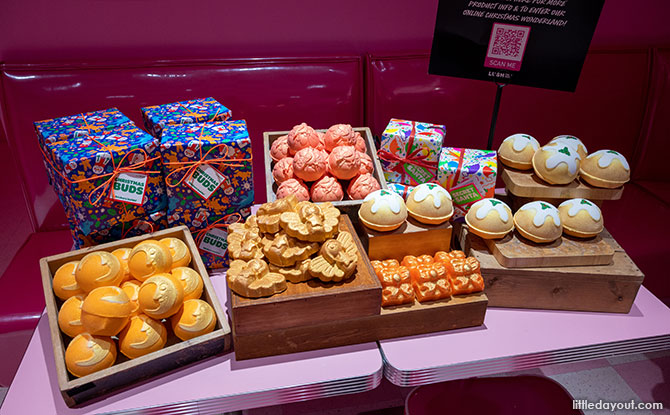 There are also four new bath bombs added to the Christmas collection. This includes Moon Bath ($18), that is infused with refreshing citrus essential oils, Snow Drift ($16), that has a cooling twist of eucalyptus and peppermint, Partridge in a Pear Tree ($18), which is luxuriously moisturising with prickly pear oil, and Golden Pudding ($19), a golden-hued bath bomb that features a colourful surprise.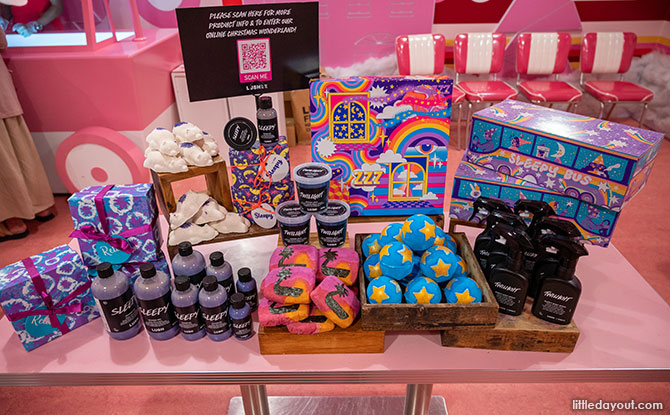 If you are looking for Christmas gifting ideas, Lush also provides a wide array of gift sets ready to elevate your gifting game. You can find a set of six Lush bath products to set any soirée off with a bang in Christmas Party ($100), fun and fruity shower gel and jelly in Treat Yo'Elf ($40) or even bathing treats in Secret Santa ($30).
If you prefer gifts that give off a more relaxed vibe, Lush offers gift sets such as lavender-scented products for bath, shower and body in Sleepy Bus ($115), and calming oat milk and carrageenan extract and let lavender flower infusion and ylang ylang in Relax ($90). You can view many other gift sets on their websites and in-store.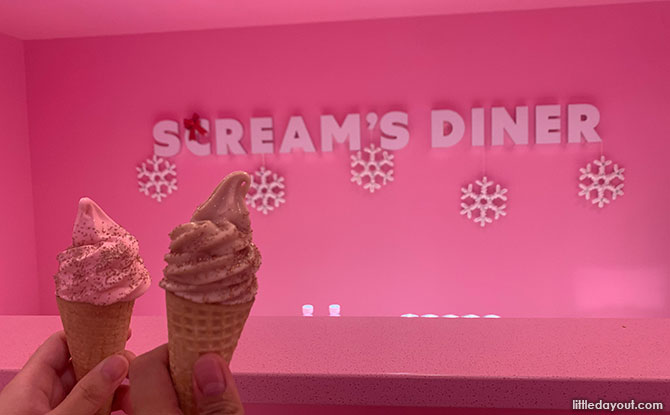 Specially for the pop-up event, there is a limited-edition Lush Snow Fairy Soft Serve available for visitors to try. The ice cream is sprinkled with gold flakes and bits, which provides a crunch to its sweet vanilla flavour.
---
DIY Bubble Bar Workshop Experience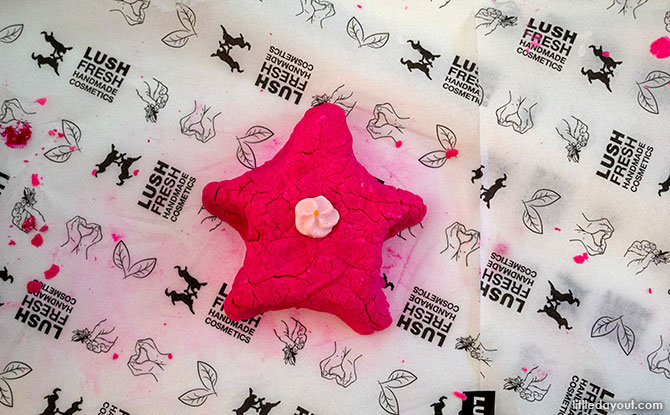 The Lush X MOIC ticket bundle also includes a 1 hour bubble bar compounding workshop, in which you may make your very own bubble bar to bring home!
Making my own bubble bar felt akin to building sandcastles with kinetic sand. I decided to make a star-shaped bubble bar, and I was given a piece of edible candy (though the staff said not to eat it) to add a finishing touch to my design.
---
Experience the Great Lush Playground on 19 & 20 Nov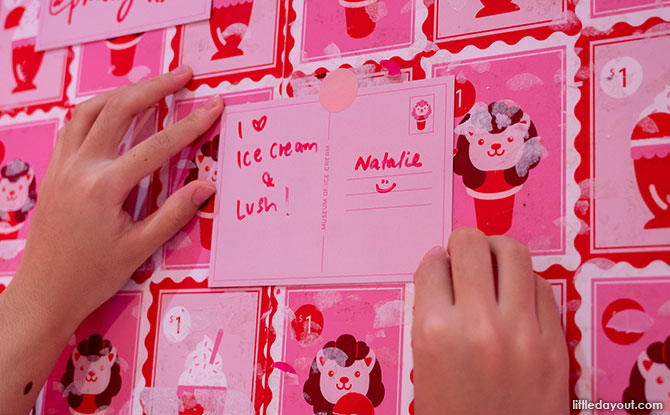 Indulge in a day of fun and play with Lush this weekend at the Museum of Ice Cream from 19 to 20 November 2022. Lush x MOIC tickets are priced at $46 for Daytime tickets (from 10am – 5.30pm) and $56 for Night at the Museum tickets (from 6pm till late).
To experience the Lush Bubble Bar workshop, tickets are available at $60, which includes entry to the museum and a workshop slot for one. All ticket holders will be entitled entry into the Museum of Ice Cream, enjoy free-flow ice cream and a chance to win Lush goodies worth up to $250, while stocks last.
Tickets to The Great Lush Playground can be purchased here.
To view the full collection of products that are available in the Lush 2022 Christmas collection, you may visit their website here.