Calling all kids, aspiring heroes and adventure seekers! Get ready to embark on an exciting journey at HarbourFront Centre this June. Take part in The Great Climate Rescue with Arlo from now till 18 June 2023 and help to save his penguin cousin from the perilous threats of global warming!
With the scorching heat in recent weeks and impending haze, the effects of global warming on our environment are all too apparent. There is no better time than now for kids to learn how to make a difference in the fight against climate change.
At HarbourFront Centre Level 1 North Atrium, kids between the ages of 4 to 12 can take part in fun activities while learning powerful climate-positive habits and earning their Ranger Buddy credentials too.
---
Join the Ranger Buddies in The Great Climate Rescue with Arlo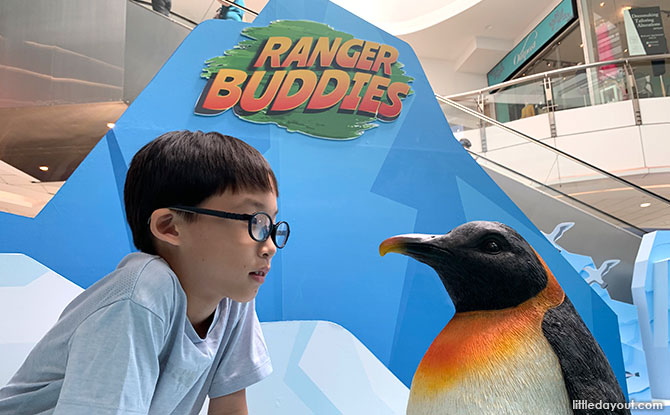 ---
-- Story continues below --
Arlo the King Penguin has received an SOS call from Antarctica! His cousin has been stranded and he needs the help of brave kids to rescue him.
Ranger Buddies who respond to Arlo's call for The Great Climate Rescue will be teleported to Antarctica where the mission begins. They will have to navigate their way through five stations and collect stamps to complete the task!
First, kids will have to traverse treacherously thin ice and melting icebergs to reach the stranded King Penguin. While inching their way across the icy terrain, kids will get to learn intriguing facts about climate change.
Next, Ranger Buddies need to reunite the stranded King Penguin with its colony. Using skill and coordination, they will have to guide the King Penguin home with a pair of ropes.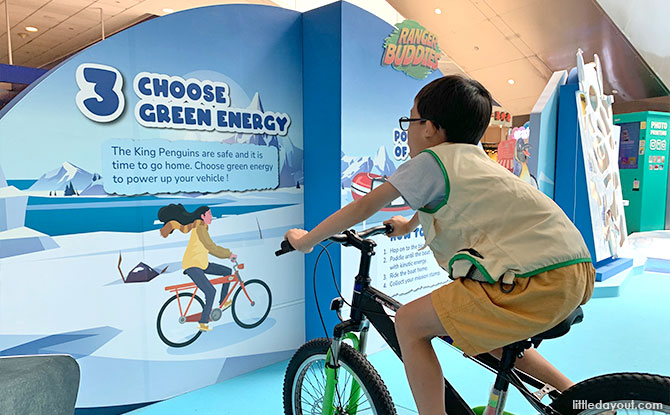 Then it is off to the boat to return to safety. But before they are able to launch the boat, they will have to power up it up by pedalling away to produce "green" kinetic energy.
Once powered up, kids can hop inside the boat and make their way to shore.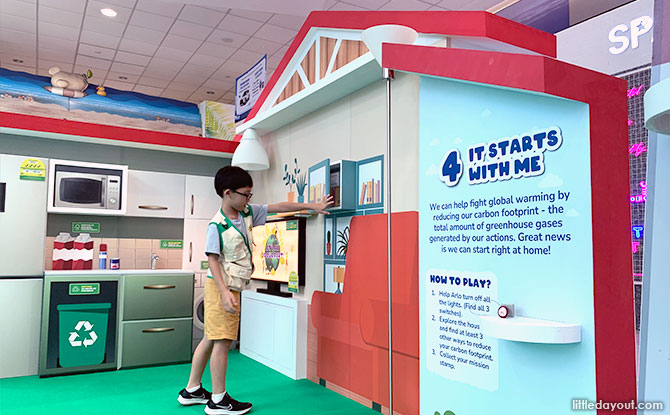 After all that "legwork", it is time to put the brains to work by uncovering simple yet powerful ways to reduce one's carbon footprint. Kids will get to play detective around the home and discover how small actions can lead to a big changes, inspiring them to take action in their daily lives.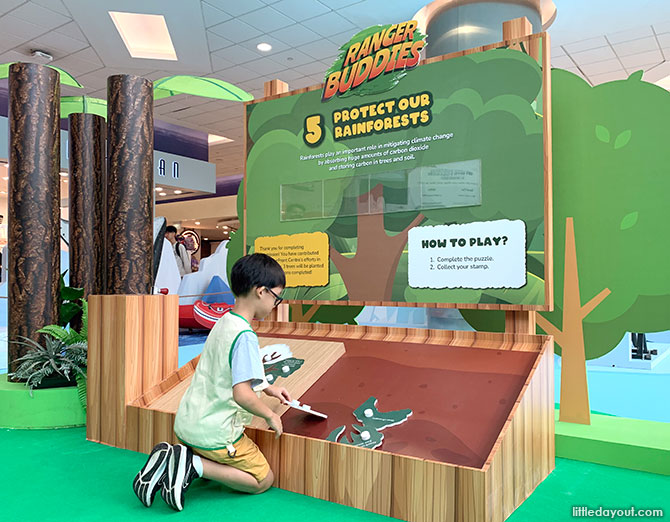 Finally, they can put their knowledge to the test with an engaging puzzle that highlights the vital role the rainforest plays in maintaining Earth's delicate ecological balance.
---
Complete the Mission, Earn a Badge & Help Plant a Tree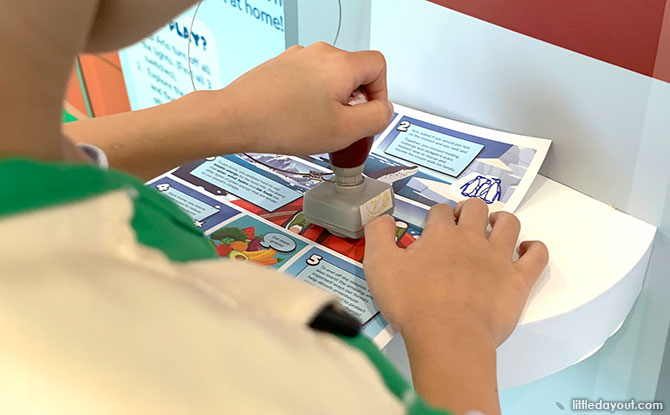 After completing each station, young Ranger Buddies will get to stamp their mission card.
Kids who successfully complete all five stations at The Great Climate Rescue with Arlo will receive a limited edition reward pin that symbolises their commitment to making a positive impact on the environment.
And every mission counts towards bigger things!
For 1,500 missions completed, HarbourFront Centre will plant three trees!
What a great way for Ranger Buddies to make a real, positive impact on to the environment during the school holidays!
---
Exclusive Ranger Buddies Hat
In addition, you can redeem a stylish and exclusive Ranger Buddies Hat from the L3 Information Counter when kids complete the mission and with a minimum spend of $50 at any of the stores at HarbourFront Centre. Valid from now till 18 June 2023, terms and conditions apply.
---
HarbourFront Centre June Promotions: School Holiday Deals, Retail Perks & A Chance to Win a Car!
HarbourFront Centre is also celebrating the June school holidays with awesome deals at its shops and dining outlets.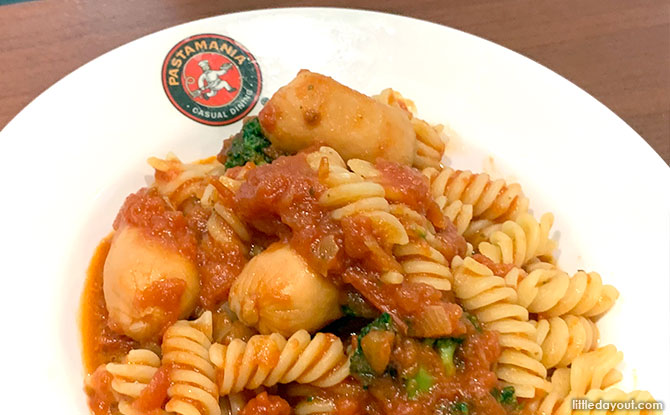 PastaMania (#02-05) has kids meals at only $9.90 while Seoul Garden (#01-65) has weekday student meals available between 11.30 am to 4 pm from just $15.90++.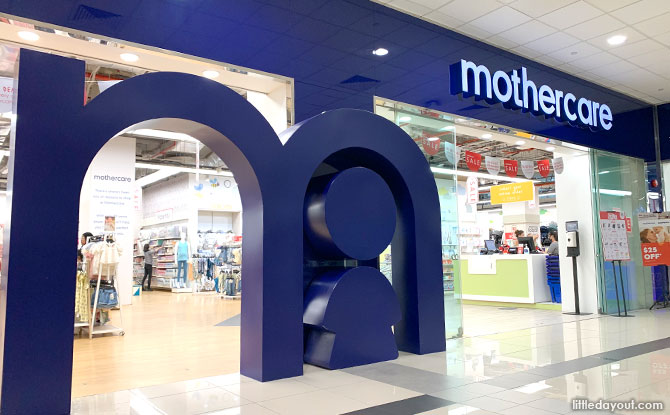 Need some retail therapy? Enjoy storewide savings of up to 50% off at Mothercare (#03-05) or head to family fashion brand Moley Apparels (#01-94) for a 25% discount with a minimum purchase of three regular priced items.
Travelling soon? Pick up travel essentials at Beauty Language (#02-93) from just $1.95 or get $5 off luggage and trolley bag purchases at Vivian & Sean (#01-70).
For even more savings, environmentally-conscious shoppers will also be rewarded with Wednesday Eco Deals at HarbourFront Centre on 7, 14, 21 and 28 June 2023.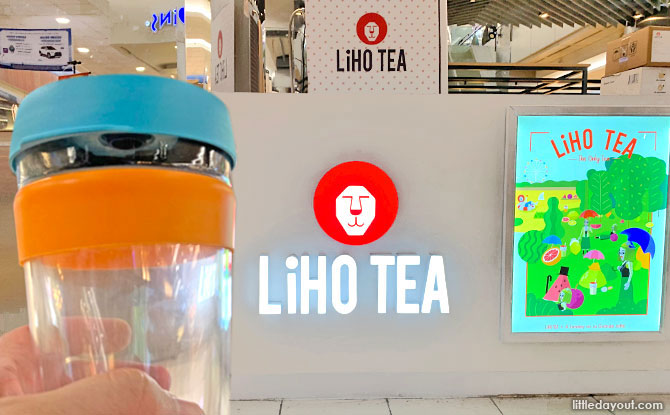 Quench your thirst at LiHo TEA (#01-K9) and enjoy $2 off with a minimum spend of $5 if you bring along your own tumbler. Take your own bag to Four Leaves Express (#01-67) to enjoy $2 off with a minimum spend of $5.
What's more, from now till 30 June 2023, shoppers who spend just $10 at HarbourFront Centre will be rewarded with a gift. Those who spend $80 and more will receive a $10 voucher or a gift. Terms and conditions apply.
Shoppers who spend a minimum of $50 can also participate in the Grand Draw for a chance to win a Toyota Corolla Cross, and join the June Lucky Draw with Tissot Watches and True Fitness Annual Memberships to be won.
---
Be a Climate Action Hero and Be Rewarded at HarbourFront Centre this June
So whether you are looking for something fun and exciting for the kids to do, or great dining and shopping deals and rewards, gather your family and friends and head over to HarbourFront Centre during the June holidays!
---
The Great Climate Rescue with Arlo at HarbourFront Centre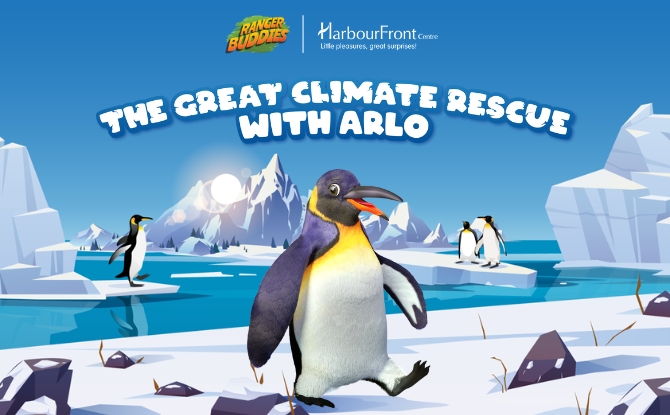 Ranger Buddies: The Great Climate Rescue with Arlo
When 5 to 18 June 2023, 11 am to 8 pm
Where: L1 North Atrium, HarbourFront Centre
Shopping deals, promotions and rewards available from now till 30 June 2023.
Get more details about The Great Climate Rescue with Arlo at HarbourFront Centre.
This feature is brought to you by HarbourFront Centre.