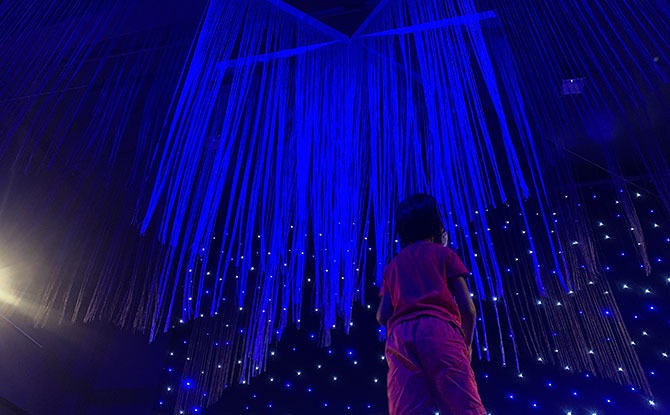 Good news for parents! The Artground, the children's arts space will be reopening its doors on 20 January 2021 and unveiling a new exhibition, Deep Sea, along with new safe management measures.
---
Deep Sea at The Artground
The Artground has collaborated with artist Wu Yanrong to stage Deep Sea, from 20 January to 15 August 2021. The exhibition explores the depths of the ocean, where there is little food, oxygen and sunlight.
At The Artground's Deep Sea exhibition, families can imagine what it is like to explore the bottom of the ocean. Expect an immersive experience in a dimly lit environment with hints of blue and an atmospheric soundscape designed by music composer Vick Low.
The art space revolves around a "whale carcass", a part of the eco-system which helps provide sustenance in the Deep Sea. It is designed to encourage children's active exploration and to create a unique experience for visitors of all ages.
---
-- Story continues below --
New Safe Management Measures
When The Artground reopens on 20 January 2021, those who wish to visit the free should take note that there will be new measures in place.
For starters, visitors will need to book a timeslot for their visit. Each available timeslot is for a two-hour session.
From Wednesdays to Fridays, two timeslots will be available per day – one in the morning from 9.30 am to 11.30 and another from 2.30 pm to 4.30 pm. On Saturdays and Sunday, three sessions will be available – 9.30 am to 11.30 am, 12.45 pm to 2.45 pm and 3.30 pm and 5.30 pm.
---
Book a Timeslot
Parents who wish to bring their children to The Artground will need to pre-book their preferred timeslot using Peatix. Each individual visiting The Artground, babies included, will need a ticket. Up to five tickets can be made per booking. Masks are required for adults and encouraged for children above 2.
Another point to note is that when making a booking to The Artground, a refundable deposit is required. The refundable deposit can be made through the Peatix site.
This deposit will be refunded through Peatix on the day of the session, unless there is a no-show. So, parents, if you do book a session, be sure to turn up for it, so as not to deprive others from enjoying The Artground.
For more details, visit The Artground website.