The outrage over the death of George Floyd raised not just eyebrows but immense anger and caused destruction to many cities in America. While we might be far from America and enjoying harmony, we are not absolved from prejudices against or for people who are of a different skin colour, socioeconomic background, nationality, religion, gender or ability.
Although we have progressed to become a peaceful multicultural nation, we may face perspectives that may be disrespectful and prejudiced. We, as parents, bear the responsibility of role-modelling what it means to be culturally and racially sensitive, and at the same time facilitating important conversations.
---
Questions to Ask Ourselves and Our Children About Prejudice & to Encourage Empathy
The subject of prejudice could be sensitive to bring up but it is important to discuss issues that are difficult to talk about. Be patient in listening, slow to judge and remember there are no model answers.
In fact, the honesty of a child could reflect some misconceptions and common stereotypes which can still be corrected in formative years.
---
-- Story continues below --
Here are some suggested questions:
What is prejudice? What are some examples of prejudice?
What is being unfair?
How do you feel when you are treated unfairly?
How can we respect other cultures and people who are different?
What is privilege?
Do you think we are privileged?
Why is it important to have peace and harmony?
How can we encourage peace and harmony?
---
Books to Encourage Respect & Inclusivity
One way to talk about tough issues is through books.
Sitting together, looking through pictures and reading is a wonderful bonding activity which also kickstarts the exchange of perspectives. Diversifying your bookshelves also reflect the kind of values you want to inculcate in your child.
You can use the questions above when reading the book, discussing themes and emotions of protagonists. For older children, you may want to also tell them more about the context of the book and the historical significance of real incidents.
Here are some titles you can refer to.
---
Books about Different Cultures
Understanding Singaporeans Series by Edmund Wee
This series of books by Edmund Wee is excellent for understanding other cultures and titled in a very thought-provoking manner. "Why Do Indians Dot Their Foreheads?", "Why Do Malays Avoid Pork?" and "Why Do Eurasians Love Sugee Cake?" opens the way to more conversations about differences in cultures and understanding different cultures. With knowledge and understanding comes the ability to embrace differences.
Purchase the book here.
---
The Name Jar by Yangsook Choi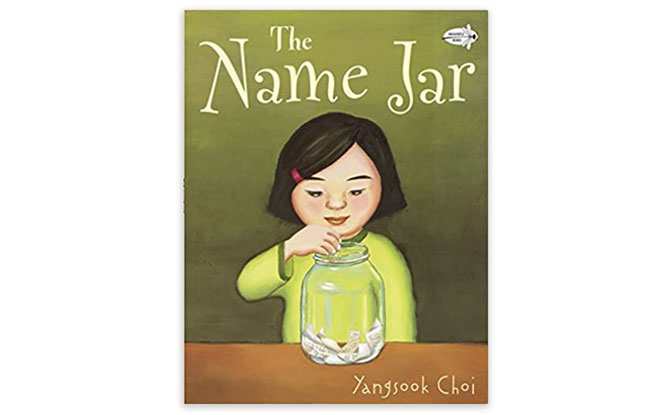 Being new in the school is always scary, what more being in a new school in a different country. Unhei is afraid nobody will like her and tries to get her classmates to pick a name for her. After a classmate discovers her real name and its unique meaning, Unhei helps everyone pronounce it. Sounds familiar? This relatable story reminds us of each other's identities. Respecting the names of others and learning to pronounce them correctly is a gesture of respect.
---
Books about Learning About Differences
The Same But Different Too by Karl Newson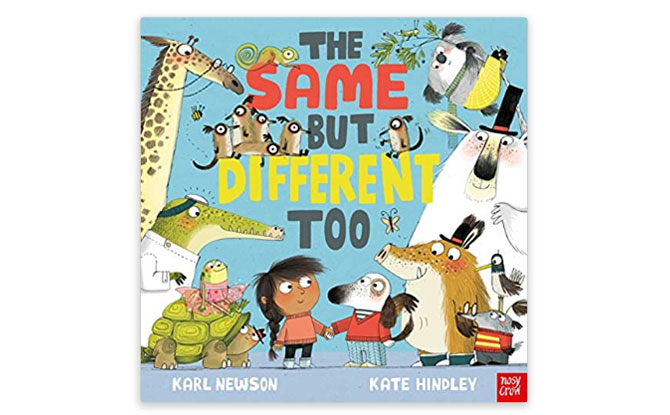 Big, small, gentle, rough – these are how different the children and animals can be. But they all have similarities and they all love a good bedtime story. This book's message is all about learning about how special the others are and how similar they can be too.
Purchase The Same But Different Too here.
---
Last Stop Market Street by Matt De La Pena
CJ rides the bus home with his grandmother after church and he wonders about many issues. Why doesn't he own a car? Why doesn't he have an ipod? Why is the part of the town dirty? CJ's Nana addresses these questions, highlighting the beauty and good in the world. Ah, may we as wise as this Nana.
Take the bus with CJ and his nana here.
---
Book about Inspiring Individuals
Live to Inspire Series by Various Authors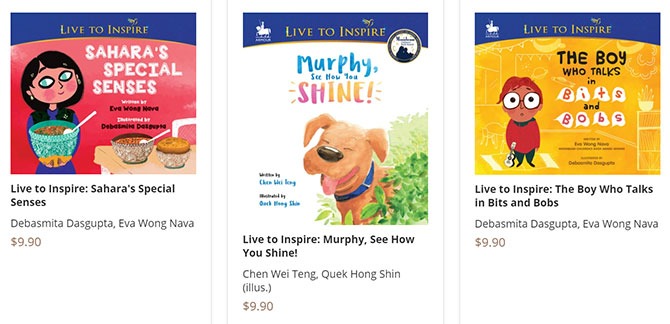 The Live to Inspire series is a collection of stories to encourage children to discover their unique talent and make an impact in the community. Murphy, See How You Shine! Features Murphy, a special assistance dog, who makes the world special. Children can read about the different stories and aspire to make a difference in their own ways.
Get the Live to Inspire Series here.
---
Uncles At Work by Ames Chen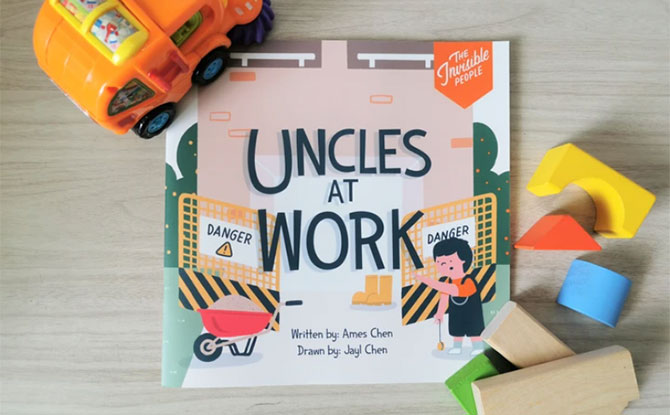 We have all seen and heard the situation about migrant workers during the pandemic. This short story highlights acts of kindness to the workers who build our homes and help us in many other ways. This book is part of the Invisible People series – a tribute to the special people with special jobs. They contribute significantly to our lives and sometimes invisible. We can make them visible by saying hello or a simple thank you.
Purchase the book here.
---
I am a Girl, See What I Can Be by Eunice Olsen
Have you heard how boys pit themselves as a "better gender"? Here's some girl power for you. The book is a collection of poems featuring stories of 10 courageous Asian women from Singapore, Philippines, Nepal and Thailand. I am a Girl, See What I can Be wants to encourage children not to give up and be respectful.
Buy the book here.
---
My Daddy, Martin Luther King, Jr by Dr Martin Luther King Jr
Everyone knows who Martin Luther King is – a figure representing civil rights. Hear from his son as he talks about being in the family and his special bond with his father.
---
Books about Overcoming Prejudice
Strictly No Elephants by Lisa Mantchev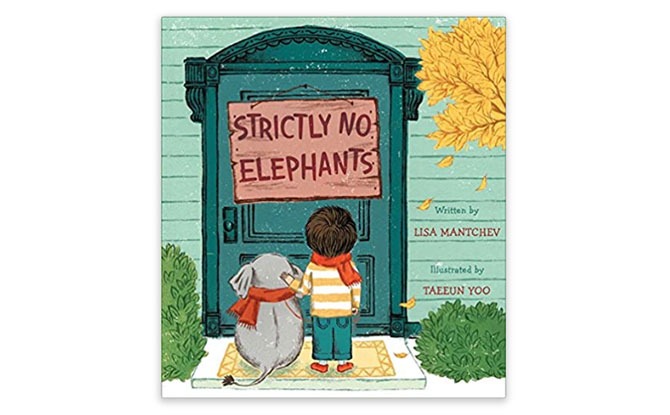 A local pet club wouldn't admit a boy's pet elephant. Awwww. He finds a solution – and show all the animals what true friendship is. While the Pet Club doesn't understand that pets come in all shapes and sizes, he finds a solution involving all kinds of unusual animals.
Read about a pet elephant here.
---
Grandad Mandela by Ambassador Zindzi Mandela
This children's book is all about freedom fighter – Nelson Mandela who battled apartheid and was a President and a Nobel Peace Prize-winner. The book is written from a child's perspective, authored jointly by Nelson Mandela's great-grandchildren and daughter.
---
When We Were Alone by David Robertson
A little girl wonders about her grandmother in this book. Why does she speak another language? Why does she have long braided hair? Why is her clothes so brightly-coloured? She is told about challenging times her grandmother experienced and learns about history. The story embodies empowerment and strength.
Purchase When We Were Alone here.
---
Books about Loving Others
A Place for Us series by Lianne Ong

A Place for Us series focuses on people with special needs. Each story is about embracing and empowering those differently-abled and the importance of inclusivity. The books aim to build respect, empathy and acceptance in children. They are also a great way to spark conversations within the family.
Purchase them here.
---
I Walk with Vanessa by Kerasoet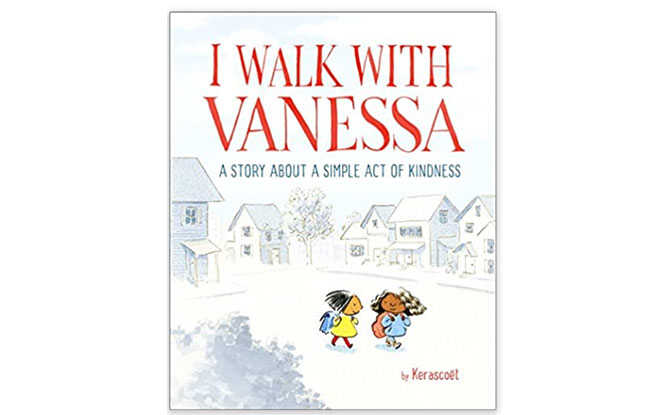 This is a story of one girl who inspires a community to stand up to bullying. How powerful! Inspired by real life events, the story is about anger with injustice leading to kindness and help from the community.
---
The Big Umbrella by Amy June Bates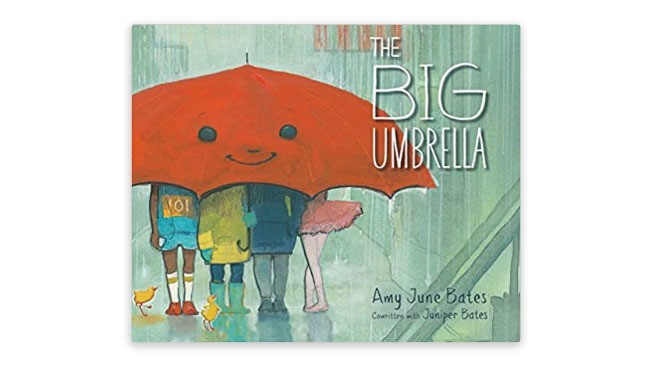 An umbrella so large it has room for everyone underneath? Does such an umbrella exist? Read about the umbrella which has room for everyone, whether you are hairy, tall, plaid.
---
Raise a Child Who is Respectful, Inclusive and Empathic
We hope the questions and books will guide you to speak about themes of prejudice, privilege and respect with your child. Parents have a pivotal role in nurturing children who are respectful, inclusive and empathic. Let us learn from the incidents happening around us and raise the future generation to be kinder and wiser.
Conversation and change begins with us.
This story contains affiliate links. This means we earn a small fee if you purchase something through a link from our website. There is no additional cost to you. This helps to support Little Day Out and keeps us going.