It looks like a meteorite has landed at Tampines GreenEdge Playground. The grey, angular play structure is one of three play spaces at the estate along Tampines Street 45.
---
Tampines GreenEdge Meteorite Playground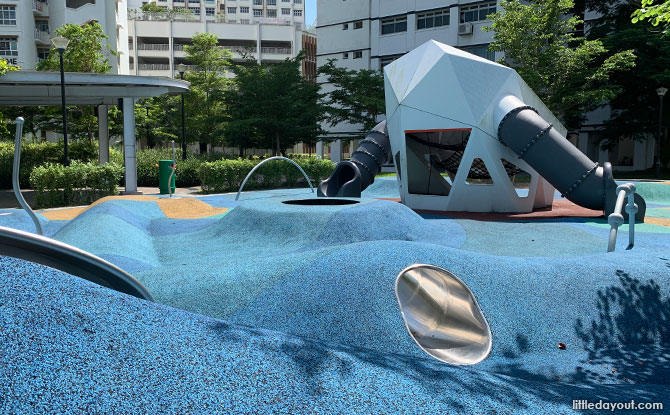 The Tampines GreenEdge Meteorite Playground is a rock-shaped structure. You can imagine it flying through space before landing in Eastern Singapore, embedding itself into the park beside the Tampines Expressway.
The surrounding landscape is filled with blue craters, shockwaves having created ripples through the ground.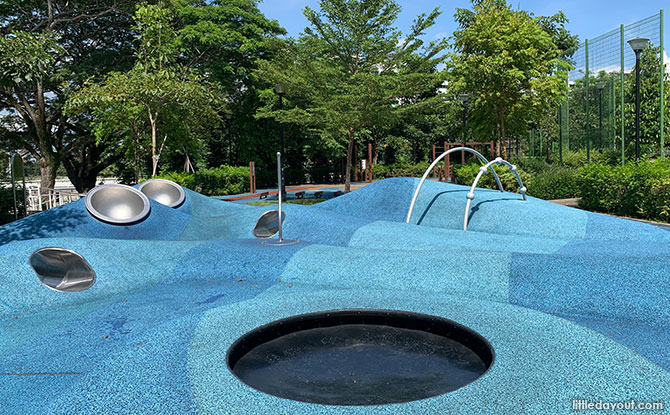 Approaching the Tampines GreenEdge meteorite crash site cautiously, it is evident that portions of the ground have been plasticised by the impact into a springy and rubbery platform by the impact. These look ready to launch happy-go-lucky kids into the air in glee.
Strange metallic tunnels have also appeared, drilling through the rippled blue impact site. Perhaps, others have also been out to seek answers to the appearance of the Tampines GreenEdge Meteorite Playground.
Investigating inside the Tampines GreenEdge Meteorite Playground, there is what looks like sleeping quarters! A series of cargo net hammocks lead ever upwards!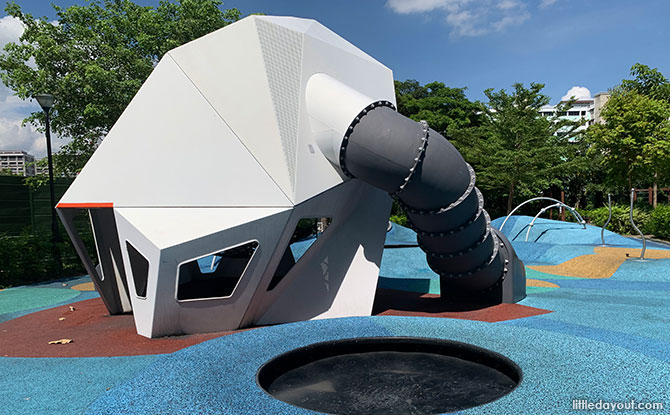 Stepping away from the meteorite playground – do you see any evidence of intelligent extra-terrestrial life?
---
Tampines GreenEdge Playground Wave Mural Wall
The meteorite playspace is not the only unusual looking structure at Tampines GreenEdge. Younger children will be able to uncover an alien world that is already present on Earth at the Wave Mural Wall.
This Tampines GreenEdge Playground consists of a series of wall with undulating passageways in between. It is ideal for playing catch or a game of hide-and-seek.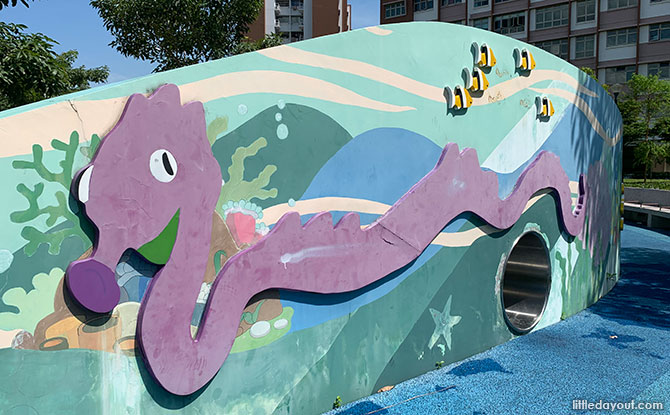 On the walls are 3D images of sea horses and underwater coral. It could very well be a different world altogether.
---
Climbing Apparatus Children's Playground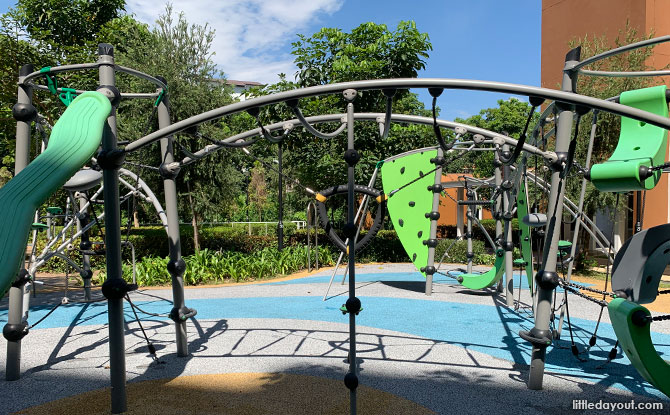 Completing the trifecta of playgrounds at Tampines GreenEdge is a grey and green playground. More "traditional" compared to the other two, it provides a place for kids to stretch while exercising dexterity and boosting their confidence.
The Tampines GreenEdge playgrounds can be found between Block 494 Tampines Street 45 and the Tampines Expressway.