It's never too early or too late to make the shift towards a greener, more conscious, and sustainable lifestyle. And it can start with small steps, like minimising plastic waste or making more considered choices in our purchases.
---
Sustainable & Eco-friendly Gifts
You can also help friends and family kickstart their sustainability journey through gifts that encourage eco-friendly and zero-waste habits. Here, we've got some fab ideas and product picks that do just that.
---
On-the-Go Foodware
Food containers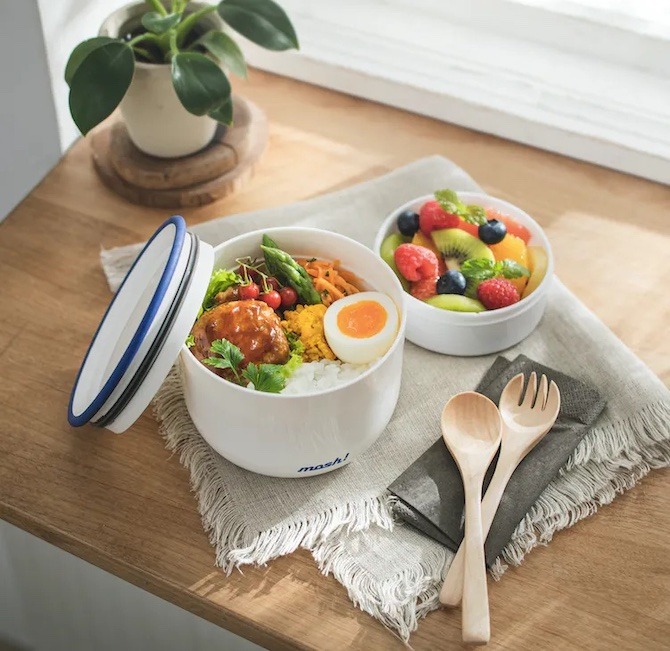 Reduce the use of plastic boxes by packing meals or takeaways in a sleek container instead, such as the leak-proof MOSH! Bento Tritan lunchbox. You can also consider something like the Disney Eco-Mickey lunchbox which is made from TEXa Rice Husk, a certified bio-based green material.
memobottle water bottle
No need to purchase drinks in single-use bottles when you've got these beautiful, flat bottles designed to fit neatly in the bag alongside books and laptop. The brand is also a supporter of non-profit organisation Water.org, so every memobottle sold provides someone in need with two months' access to clean water.
Drink it in
Reusable bubble tea cup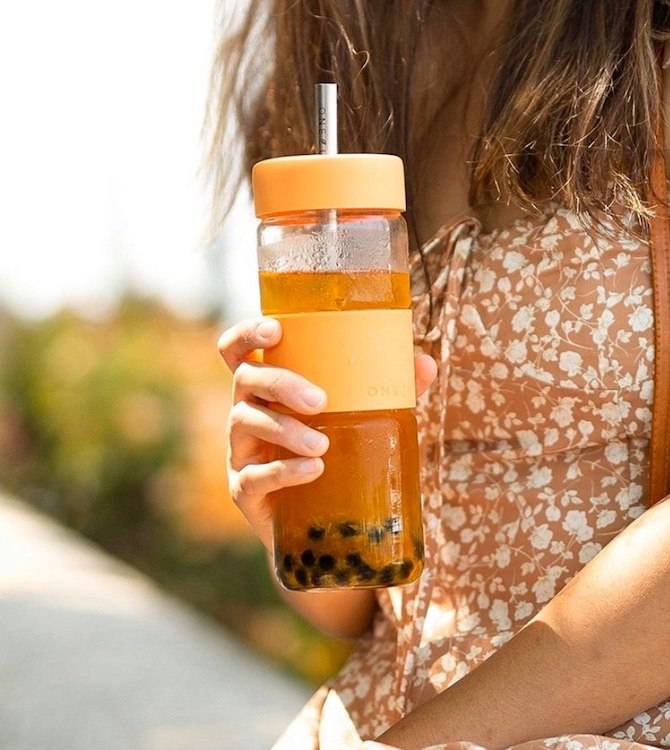 Perfect for bubble tea addicts. Made of borosilicate glass which is lighter yet stronger than regular glass, this comes with a thick metal straw and a straw cleaner.
Bubbly character
Collapsible coffee cup
One for regular kopi and teh drinkers. Made of food-grade silicone and collapsible to a size that fits easily into most bags and backpacks, it's a great substitute for styrofoam cups.
Pare down
Portable cutlery sets
Say no to disposable cutlery and chopsticks with these slim, nifty sets. Bamboo Straw Girl offers a set of stainless steel cutlery with beechwood handles, while the ones from Your Sustainable Store are made from organic bamboo and come in a cotton fabric pouch with a wide range of designs. Or check out Beego Handmade's set of steel spork, knife and straw which are packed in a chic jute pouch.
---
Stationery
Recycled paper notebooks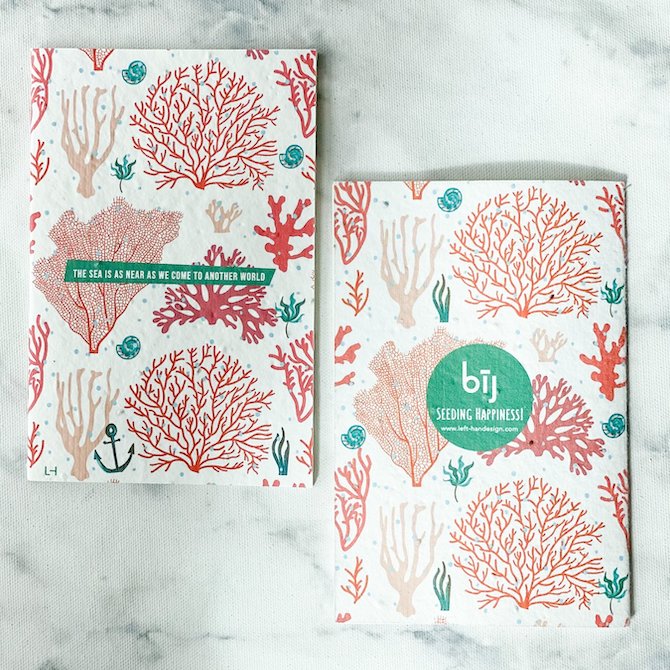 Rediscover the art of penmanship, or simply have fun doodling and jotting down your thoughts. Bynd Artisan's Jotter Enviro notebooks are made with pulp from cherries, coffee, olives, kiwi fruits and hazelnuts, while the BIJ notebooks from Left-Handesign features recycled paper inside and covers that can be planted to become basil, chilli or tomato.
Sprout Mindful Thoughts Edition Pencils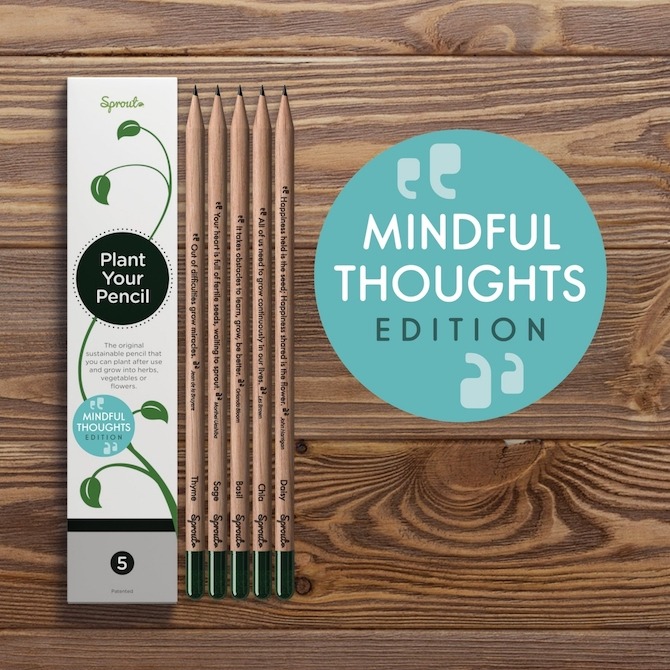 Each pack contains five eco-friendly and biodegradable graphite pencils with mindful quotes engraved. When they become too short to write with, plant them and watch them grow into thyme, sage, basil, chia and daisy.
Budding writer
Eco Stars Recycled Crayons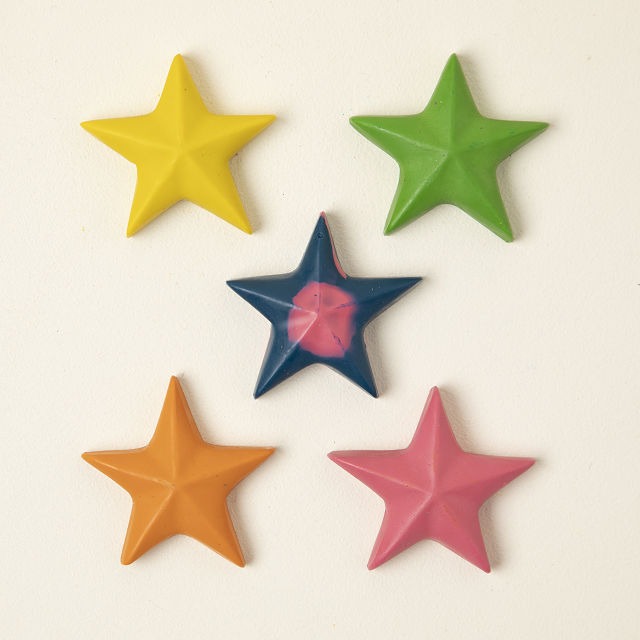 Make playtime more special with these 30 star-shaped colouring blocks made from the ends of discarded crayons.
Gone cray cray
---
Kids
Mamas Boo Flower Swaddle Blanket Reversible
Ethically made using 100% organic cotton and azo-free dyes that don't contain known carcinogenic compounds which are regulated by the EU.
Wrapped up
Angel Babybox Cloud Print Bamboo Dribble Bibs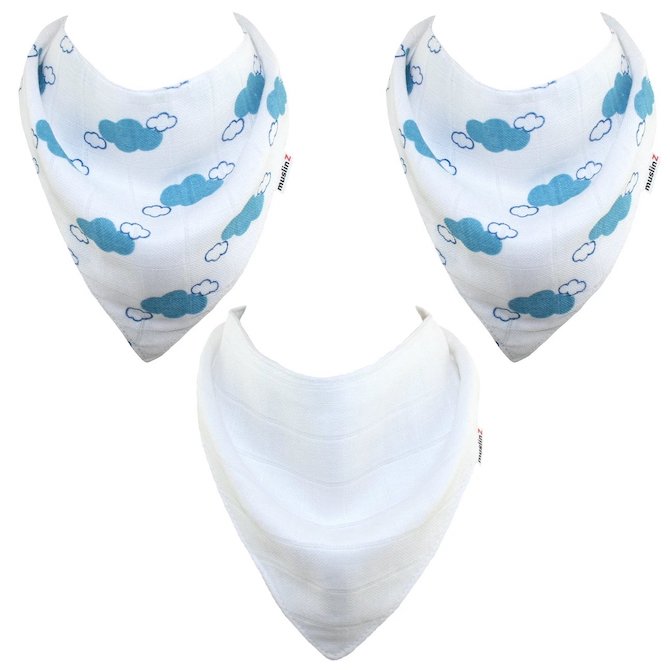 This set comprises three double-layer bandana-style bibs made of bamboo and organic cotton muslin.
Drool-worthy
4M Green Creativity Recycled Paper Beads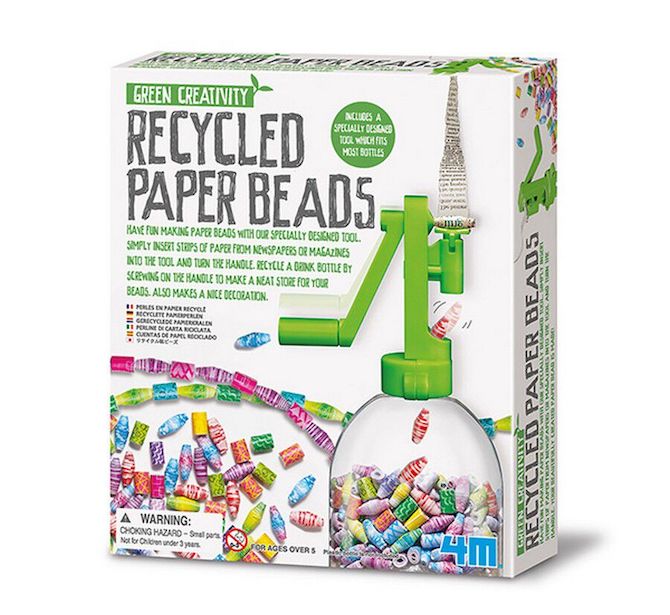 Let kids have fun making their own paper beads for jewellery or craft with this simple contraption. All it needs are strips of paper from old newspapers or magazines and a big plastic bottle.
Paper value
Recycle and Remake: Creative Projects for Eco Kids
This book offers little ones lots of ideas for activities and maker projects that help the environment, whether it's turning old carrier bags into kites, creating a simple solar oven or upcycling milk bottles into planters.
Down to earth
---
Lifestyle 
Eco candles
Go for candles from boutique labels like Artisan of Sense that make them in small batches with soy wax, pure essential oils and cotton wicks. Pass It On even features plantable seed-embedded paper for their candle lids. Some brands look to sustainably sourced alternatives for their wax, like Lynk Artisan which uses palm wax and Innerfyre whose candles are made from a blend of coconut and rice bran wax.
Low-waste lifestyle kits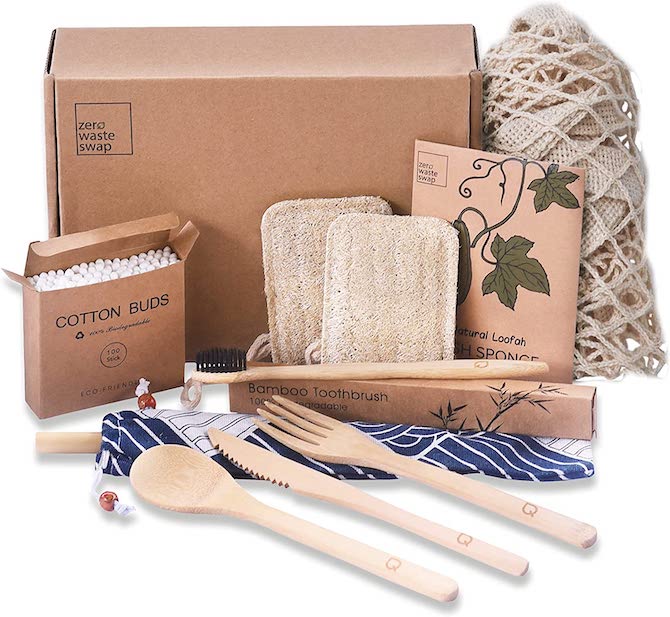 Think of these as starter packs for low-waste living. Metropoleaf offers a set containing reusable cutlery, biodegradable toothbrush and cotton tips, a natural loofah dish sponge and a cotton mesh bag. And HoneySpree's Eco Gift Set features cutlery, a lunchbox and tumbler made from bamboo, plus two bars of honey soap and two small bottles of hand sanitiser.
Eco soap bars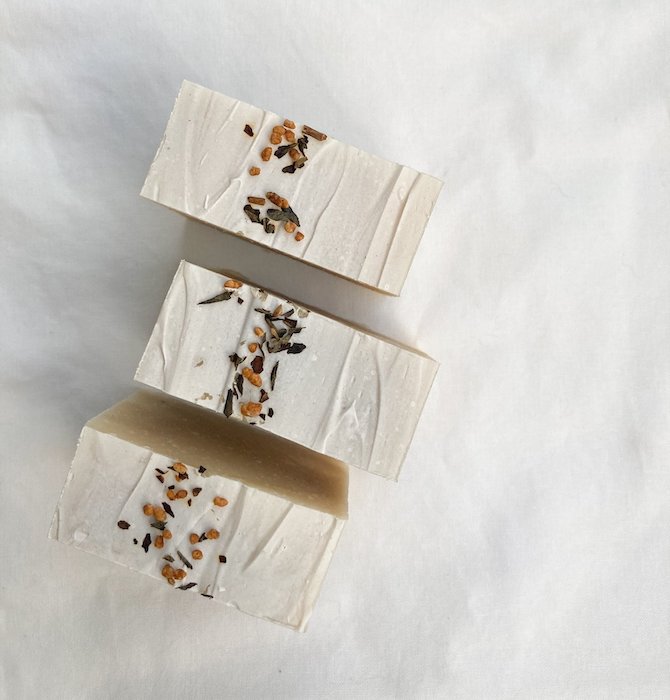 Soap bars require far less packaging, result in little wastage and can be packed with natural plant ingredients (sustainably sourced, of course) with very little synthetic additives, if any at all. You don't have to look far either, as there are several local brands creating high-quality natural soaps in small batches, such as My Naked Bar, Rough Beauty and Patrichory.
Baggu Laptop Sleeve
The brand is known for making bags, pouches and other carriers using recycled nylon sourced from pre-consumer waste. Its laptop sleeves are quilted, lightly padded to protect your device and machine-washable.
Green sleeve
---
Fashion
Upcycled bags
Besides shopping carriers, there are other stylish arm candy also derived from recycled materials. Seatbelt offers a range of bags and clutches made from, yep, upcycled seat belts. Or check out the Rajoet x The Sustainability Project structured handbags created from plastic waste.
Ethically and sustainably-made accessories
Style doesn't have to come at the expense of the environment or the less privileged. Studio MuYu, for instance, uses wooden odds and ends from carpenter shops, while The Sustainability Project has a collection of earrings made from everyday materials like plastic bottles and saga seeds. Some labels also have a social enterprise aspect, like Eden + Elie which trains and commissions autistic adults and women in need to create their Peranakan-inspired jewellery, and Woon Hung which works with artisans in Cebu, Philippines. There socially responsible luxury labels too, like Emi & Eve which supports landmine clearing in Cambodia and provides fair employment to craftspeople there who recycle exploded bombs and old bullets into beautiful jewellery.
Truth&All sunglasses
This homegrown sunnies brand doesn't recycled plastic – it does away with plastic altogether. Instead, it uses a bio-based acetate made from sustainable wood, cotton and natural resins so that it's not just eco-friendly but also biodegradable. Each pair of sunglasses is handmade, not machine-moulded, and 15% of the profit goes towards projects that make a sustainable difference.
Cool shades
Indosole ESSNTLS Flip Flops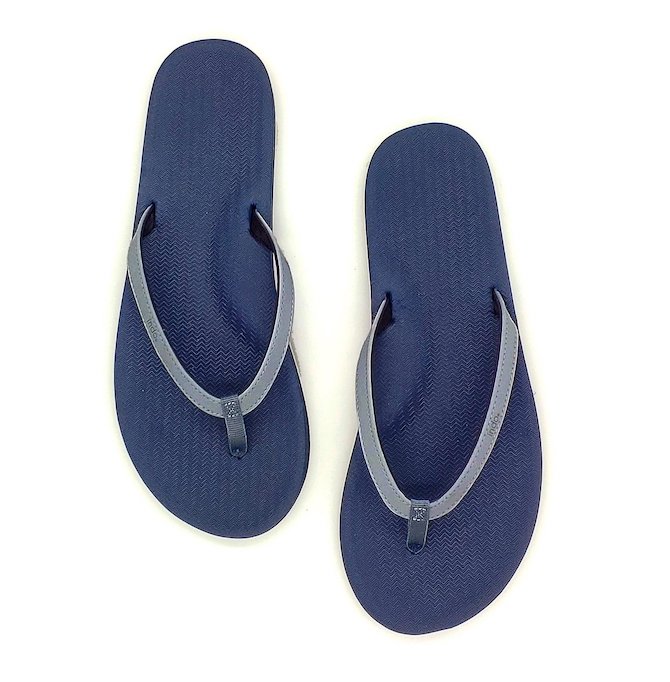 Its soles are made from recycled tyres that would otherwise have ended up in landfills and the custom-made fibre straps require less water and dye to produce. Unlike regular flip flops, the footbed isn't flat. but moulded to offer better arch support.
No slip-up
Socks That Plant Trees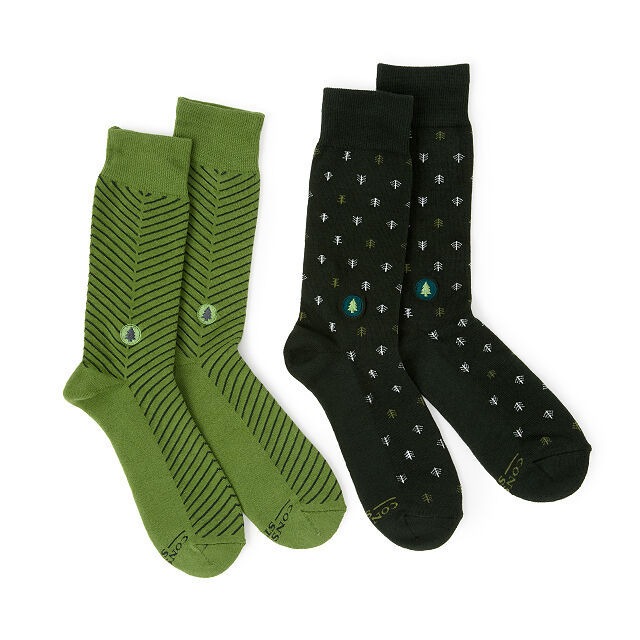 For each pair of these socks purchased, USD$1 is given to Trees for the Future, a non-profit that works on reforestation and helps out communities in sub-Saharan Africa. That's enough to plant 10 trees.
Planted agent