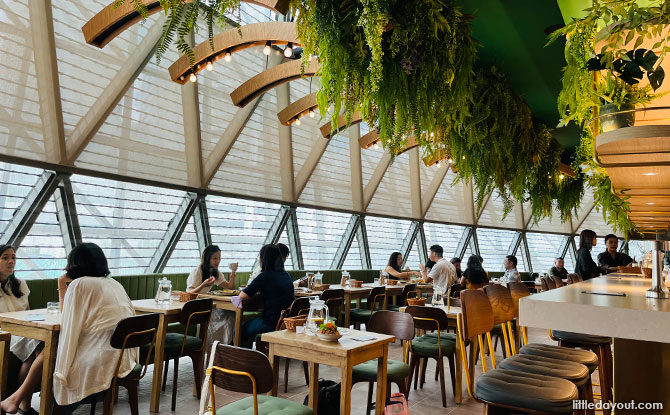 Farm-to-table in the heart of the city? Fresh. Contemporary. Nature-inspired. In addition to its first Upper Jurong outlet at D'Arena, Surrey Hills Grocer opened its glass doors at ION Orchard Level 5 carpark (accessed through lift from B2 to L5 or by L4 escalator front of Putien to L5) on 14 November 2022. Good location once you know how to get there!
Priding itself on fresh Australian specialties, this grocer, café and drinks bar is the newest, coolest lifestyle destination in town. My daughter and I went on a girls' day out to check it out.
---
Surrey Hills Grocer ION Orchard: Gourmet Paradise and Floral Bar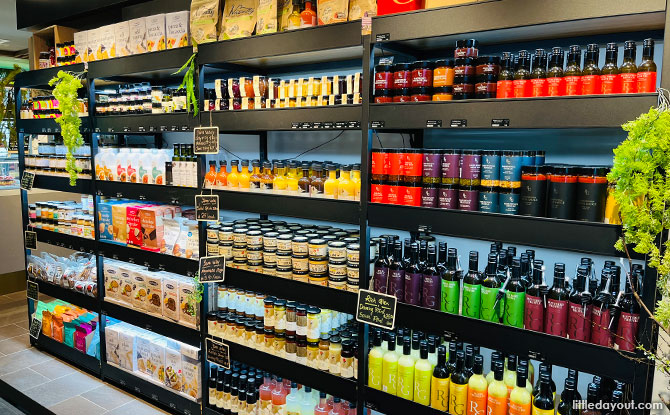 Stepping through, we first encounter the grocer and floral bar and are greeted by a wonderful array of colourful produce and fresh flowers, and given the season, an impressive festive display of a large Christmas tree and Christmas Marketplace as the focal point.
---
-- Story continues below --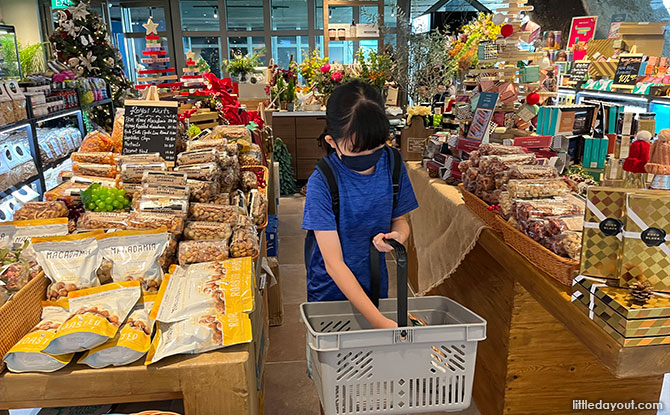 Shelves decked with Australian offerings include an expansive range of over 2,000 artisanal and sustainable goods not limited to spreads, snacks, sauces and other selections with thirty new brands exclusive to the ION Orchard store such as Rich Glen Rubs, Sauces and Olive Oil, Yarra Valley spreads, premium gourmet Koko Black chocolate, Jiva Kombucha, Royal Nut Company, gluten-free Ajitas Vege Chips, and Eoss Yoghurt, or even organic skincare brands such as Coconut Revolution – we had fun shopping!
Brilliant blooms line the floral bar helmed by farmers-turned-florists The Flower Factory Singapore, add vibrant punch to the space. Seasonal selections of fresh cut flowers and foliage as well as gorgeous bouquet arrangements are displayed for shoppers to pick from the friendly florist's counter, including small to medium-sized fresh Christmas pine trees!
---
Fabulous Café-Bakery, Creamier Ice-Cream and Cocktail Bar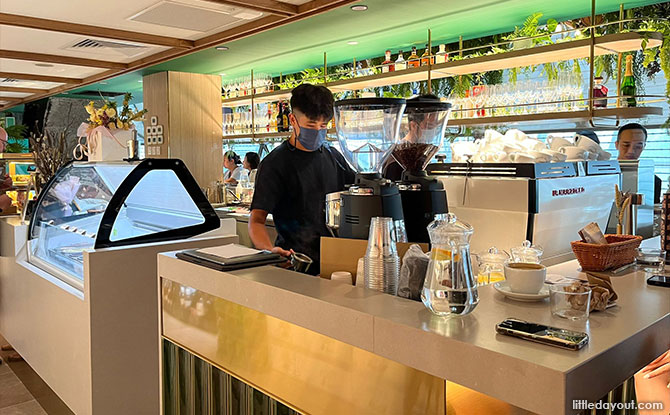 Further in, we entered the 80-seater eatery with beautiful botanical touches and an expansive wall of line-trimmed windows that curves and looks out to the town view of Orchard Road and the current Christmas light-up, while allowing in natural light. Curving along, a luxurious long leafy green cushioned window seating and ribbons of hanging plants make up a lively green-hued palette ranging from deep fern to olive to bright celery paired with wooden furnishing matching the light maple wood arcs on the high ceiling.
Parallel to the cafe seating, a long cocktail bar counter serves alcoholic drinks, specialty coffee roasters including ONA coffee and Seven Seeds and artisanal teas, adding to great vibes and a chill, relaxed atmosphere, coupled with warm, prompt and hospitable service. Additional counters displaying fresh bakes and premium ice-cream with flavours ranging from olive oil rosemary, blue pea vanilla, summer strawberries to Irish Coffee and dark chocolate Ferrero crafted by Creamier, will thrill dessert lovers!
We savoured three dishes from the Mains and Brunch Exclusive (until 4pm) and could not finish them! While there is no kids menu, family diners can share the dishes as the serving portions were generous for some items as well as leave space for dessert!
---
Ultimate Ribeye Steak Sandwich ($30+)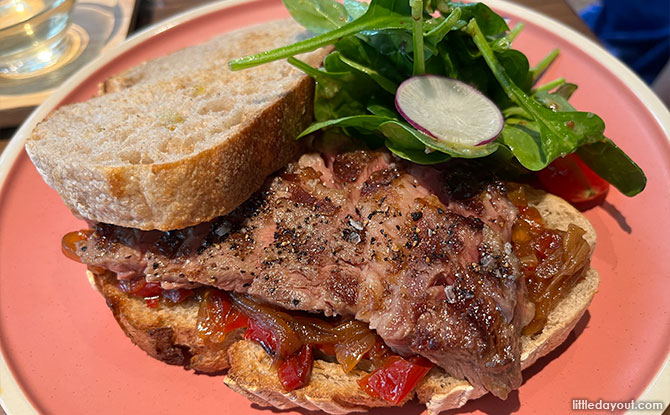 The lightly seared Ribeye Steak slices sandwiched between crusty toasted sourdough slices with sweet caramelised onions-red peppers relish spread, are succulent tender goodness of corn-fed Angus Beef.
Complemented with the house mustard mayo dressing the fresh salad on the side, this was the perfect combination of flavours and textures.
---
Scrambled Eggs Chicken Truffle Danish Roll ($26+)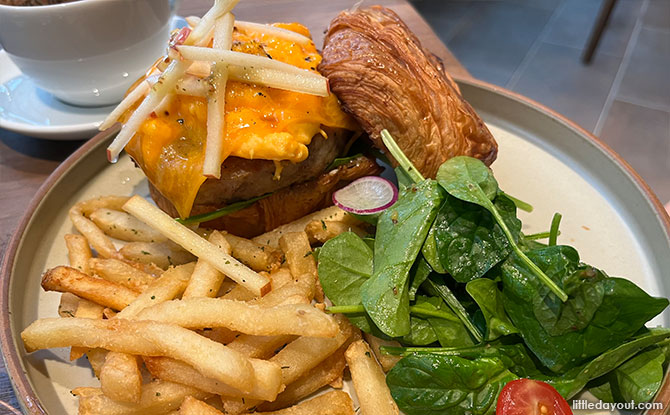 The flaky Danish pastry bun with a juicy chicken truffle patty topped with creamy scrambled eggs, cheese and apple slaw is a heavenly sweet-savoury match. Sides included crisp salad and golden brown fries replacing the usual Tater Tots.
---
Cereals Crusted French Toast with Seasonal Fruits ($22+)
This is a dazzling work of art worth the 20-minute wait required for the kitchen to prepare! A huge slab of crisp cereal-coated Brioche French toast topped with a huge scoop of ice cream, a dollop of fresh cream and seasonal fresh fruits (which means the available fruits will be different for each time we order), drizzled with raspberry sauce and honey – delicious mouthfuls of sheer delight.
Other selected menu recommendations (which we hope to try next time!) include Salmon with mushroom barley risotto and purple sweet potato puree ($35+), Pork Shoulder Benny ($28+), 48-Hour Braised Short Rib Bowl ($45+), Cod Fish Burger ($36+), Miso Cabonara Udon ($26) and Chilli Crab Spaghetti ($26), etc.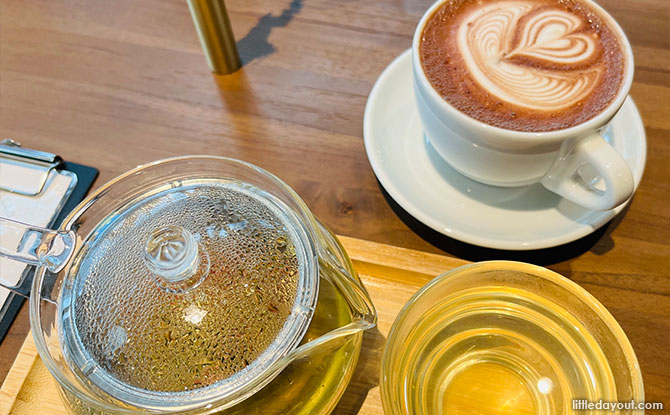 Besides a range of different Specialty Coffees and Artisanal Teas, there are handcrafted iced teas and sodas, fresh-pressed juices as well as Jiva Organic Kombucha to select from. We stuck to two hot offerings.
---
Hot Chocolate ($8+)
Creamy rich foamy warm chocolate from Margaret River Bahen & Co., my daughter finished it in a glup!
---
Artisanal Tea: Botanic Gardens ($8+)
For tea-lovers, this pale-gold blend of Lemon Balm, Chamomile, Oatstraw, Rose and Lavender tea in a pot sings beautifully with its floral fragrant notes, even with a second refill of hot water.
---
Delightful desserts make this place, created by Chef Pang Kok Keong, formerly from Antoinette French patisserie, including seven artisanal cakes ($12-14+ per slice): Strawberry Shortcake, Lemon Meringue Cake, Upside Down Apple, Death by Choc, Milo Burnt Cheesecake, Dirty Raspberry Cheesecake, and Peanut Butter and Jam cake; bite-sized Queen Victoria Donuts filled with jam, chocolate and caramel ($14+); and divine Danish pastries, pretty tarts and cream-stuffed bombes.
We tried a slice of the Lemon Meringue Cake ($12+) which was a light sponge with sweet cream and tangy lemon curd filling and love the Pistachio Rose Timber Ring ($6+) which looked like a pistachio-crusted mini log with swirls of flaky pastry encircling a creamy pistachio rose praline filling, which was wonderfully refreshing with its rose-infused nutty taste.
Judging from the lunchtime queue even on a weekday, this is the current hottest ticket in town – reservations are recommended especially on weekends for a spot. On the way out, we bumped into a friend who was already here for the second time within a span of a couple of days. We concurred happily and whole-heartedly on the fresh feeling, food, ambience and service: So good! Indeed, Surrey Hills Grocer's signature message when its West outlet opened with "Come as strangers, leave as friends" holds true here as well. Repeated visits are expected!
Surrey Hills Grocer is now open at ION Orchard (2 Orchard Turn, #05-02, Singapore 238801) from Mondays to Sundays, 10 am to 10 pm.