Get a burst of "sunshine" at Gardens by the Bay's Sunflower Surprise. This latest floral display at the Flower Dome features over 10,000 sunflowers which form the backdrop for scenes from the Wizard of Oz.
Journey To Oz
Upon entering the Flower Dome, you will be greeted by Dorothy – who is apparently still in Kansas.
The Land of Oz awaits below at the Flower Dome's Flower Field. There are over 50 types of sunflower on display at Gardens by the Bay's Sunflower Surprise, blanketing the area with bright yellow hues.
The floral display is dominated by a tall castle that belongs to the Wizard of Oz. It stands smack in the middle of the sunflower field.
---
-- Story continues below --
And in front of the sunflower field is the Wizard himself, welcoming all to the Land of Oz.
Follow The Yellow Brick Road
Just like Dorothy, you will have to make the journey through the Land of Oz. Along the way, just like Dorothy, you will come across various companions.
The Scarecrow, Tin Man and Cowardly Lion all await on the way to the Wizard's castle.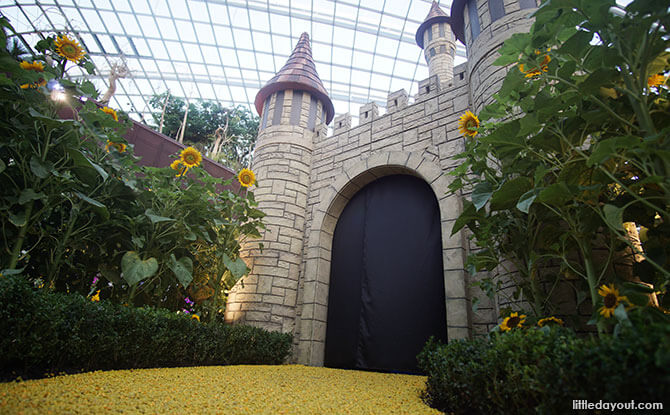 As you approach the Castle, as in the story, the way in is paved with a "Yellow Brick Road". Follow the path and enter into the Wizard's castle.
Inside is where you will find the "surprise" in Sunflower Surprise. We won't spoil it for you – you can make the journey there yourself.
Events at Sunflower Surprise
Various events are being held in conjunction with Sunflower Surprise. These include ticketed flower craft and fondant painting workshops taking place in September and October.
10.30 am to 11.30 am on 2 and 9 September have been designated Sunflower Happy Hour with free sunflowers being given out, while stocks last.
Sunflower Surprise at Gardens by the Bay will run from 31 August to 21 October 2018. Usual admission charges apply.
Sunflower Surprise
When: 31 August to 21 October 2018
Where: Flower Dome, Gardens by the Bay
Website