The combination of tofu, fish and mushrooms makes this a perfect dish for your family. Steamed Cod Fillet with Mushroom and Tofu is filled with proteins, vitamin B and minerals. Did I forget to mention that this marvellously healthy dish is also weight-loss friendly?
Recipe for Steamed Cod Fillet with Mushroom and Tofu
Servings: Good for a family of four
Ingredients
1 packet of soft tofu, drained
500 grams of cod fillet, cut into 2 parts
1-inch chunk of ginger, cut 6 slices and mince the rest
2 cloves of garlic, minced
3 stalks of scallions, chopped (divide into 2 parts)
150 grams of seafood mushrooms (any mushrooms of your choice: white mushrooms, shitake mushrooms and enoki/golden pin mushrooms)
Sauce: 
Mix everything in a bowl except the corn flour water
2 tablespoons of oyster sauce
1 teaspoon of sugar
1/2 teaspoon of salt
1 teaspoon of light soy sauce
1/2 tablespoon of cooking wine
A dash of sesame oil and pepper
1 tablespoon of corn flour water, for thickening
Method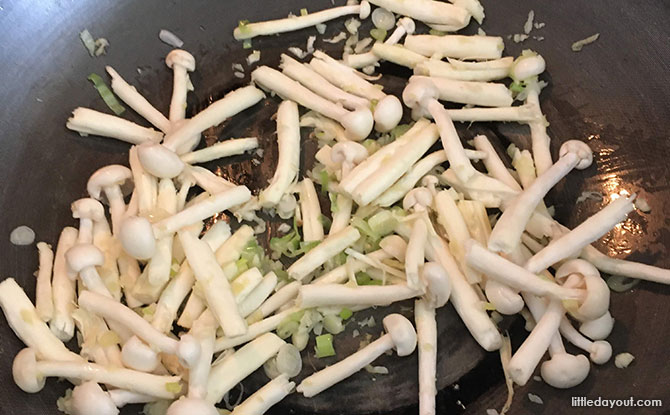 Cut the tofu and cod fillet into two equal parts and place them on a plate. Put slices of ginger on top of the fillet and steam the tofu and cod fillet for 10 minutes or until the fish is fully cooked.
Drain off the excess water from the cooked tofu and fillet. Set aside.
Heat up a skillet on medium heat. Add 1 teaspoon of oil, followed by minced ginger, garlic, half of the chopped scallions and mushroom. Stir fry for 2 minutes until fragrant.
Add the sauce into the skillet and bring it to a boil. (Optional: Add 1/4 cup of water if you prefer more sauce for the dish.)
Adjust the taste to your liking. Finally, add in the corn flour water to thicken the sauce.
Pour the thickened sauce over the steamed cod fillet with mushroom and tofu. Garnish with chopped green scallion and serve!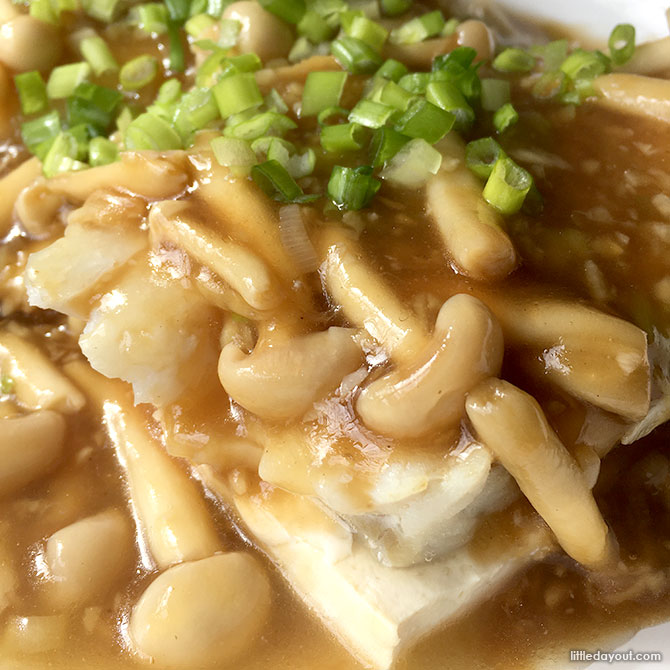 Click here for more recipe ideas.