How about some home-cooked chicken rice? Have a go at this well-loved meal served at many hawker centres and restaurants in Singapore and you'll begin to appreciate it even more. The kick of it lies not in the chilli sauce but in letting your child discover that they too can create their very own chicken rice.
It's an easy-to-prepare "one-pot" dish and there's just a little bit more work to do with the slicing and mincing of the ingredients for the rice. After doing it once, you'll want to do it all over again to get your own nuance of the poached chicken, seasoned rice or that special kick of chilli sauce that you and your family prefers.
Recipe for Chicken Rice
Ingredients
1 small- or medium-sized whole chicken
2 litres of water
5 cups of rice, washed and drained in a colander
Cucumber sliced
Cilantro for garnish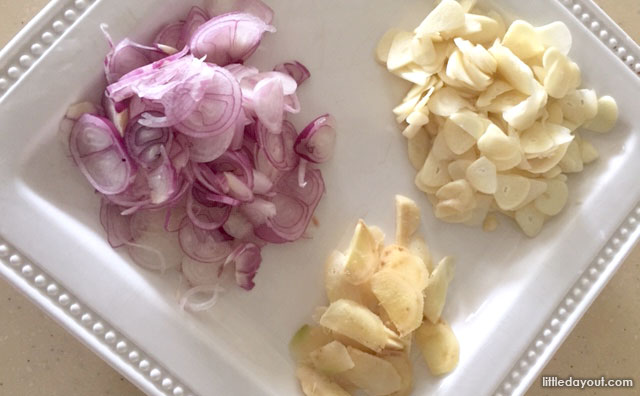 A. Ingredients for the rice (to be sliced thinly)
80 grams of shallots
80 grams of garlic
30 grams of ginger
B. Ingredients for the chicken sauce
2 tablespoons of sesame oil
2 tablespoons of chicken stock
2 tablespoons of soya sauce
C. Ingredients for the chilli sauce
Some red chillies and a few smaller chilli padi
Garlic
Ginger
Salt
Method
Preparation for the chicken:
Put the water to boil. When is boils, place the chicken in.
Wait for it to boil again, then lower the fire to medium for 15 minutes.
Switch off the fire and leave chicken in the pot to cook on its own for 45 minutes if it is a small- or medium-sized chicken, and for 60 minutes if it's a large chicken. During this time, make sure you do not open the cover.
Preparation for the rice:
In a wok, heat 2 tablespoons of oil.
Add the ingredients for the rice (A above) to fry for a little while.
Mix in the rice.
Ladle rice into your rice cooker to cook, using the chicken stock from the boiled chicken pot.
Preparation for the chilli sauce:
Grind the ingredients (C above) together and add some salt. Keep it in the fridge.
Ready to serve:
When ready to serve, add the ingredients for the chicken sauce (B above) into a bowl. With a spoon, ladle the sauce over the chicken.
Garnish with cilantro and cliced cucumber on the side.
Good for a family of four.
---
-- Story continues below --
Simple #homecooked-recipes is a new daily series specially developed to inspire beginner cooks with work and kids to handle, and not much time to spare in the kitchen. The recipes are deliberately simple enough even for kids to help you with them. Click here for more simple home-cooked recipes.