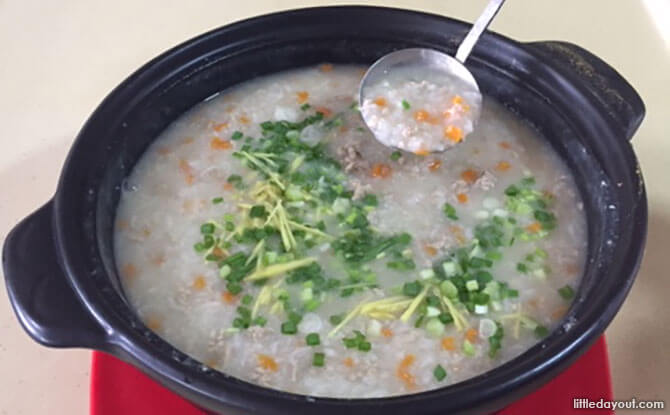 In times of severe stress like when the extended Circuit Breaker news hits you, nothing is better than a good ole bowl of porridge. It's warm, nourishing and helps you to keep calm and carry on.
The Cantonese-style porridge (zok) is comfort food for and well-loved by many with its silky-smooth texture. It's one of the first things I'll serve up for anyone feeling under the weather or in need of a quick perk-me-up. Perhaps it is because porridge brings us back to our days as babies before we went on to solids, with the same consistency and predictableness in each spoonful.
Porridge is easy to cook, with simple ingredients and is a must-have in anyone's repertoire of dishes. Mastering how to cook porridge basically boils down to having the right propotions to get that smooth congee texture. Not unlike real life – for all we need is the right balance to keep ourselves going.
Recipe for Cantonese-style Porridge
Ingredients
A. For the minced pork with carrots version:
---
-- Story continues below --
1 cup of rice
6 cups of water
1 small carrot diced
250 grams of minced pork
Marinate for minced pork:
1 tablespoon of cornflour
Soya sauce
A little pepper
1 tablespoon of sesame oil
B. For the shredded chicken version:
Garnish:
1 thumb size ginger shredded (optional)
2 sprigs of spring onion
Method
For minced pork with carrots porridge
Marinade minced pork.
Boil water, rice and carrot in a claypot.
When it comes to a boil, lower the fire to simmer for 45 minutes. Fire must be kept low.
After 45 minutes, add in minced pork, stir to mix well until it is cooked, for about 15 to 20 minutes.
When all is cooked after about an hour, add salt to taste, ginger and spring onions.
For chicken porridge, do the same as item 5.
For chicken porridge
Add the chicken into the porridge (in Step 2 above) when it is boiling. After half an hour, remove from the pot to cool. Shred the chicken meat only when it has cooled down. Continue boiling the rest of the pooridge for an hour and go on to step 5, then serve it up and enjoy!
Good for a family of three to four.
Simple #homecooked-recipes is a new daily series specially developed to inspire beginner cooks with work and kids to handle, and not much time to spare in the kitchen. The recipes are deliberately simple enough even for kids to help you with them. Click here for more simple home-cooked recipes.