Those who love Japanese saba or mackerel should definitely pay a visit to Sabar at 100 AM mall. This Japanese izakaya restaurant specialises in mackerel, preparing the fish in a variety of ways and it has a great weekday lunch deal too.
Sabar is located at the cluster of Japanese restaurants, Itadakimasu by Parco, on the third floor of 100 AM mall.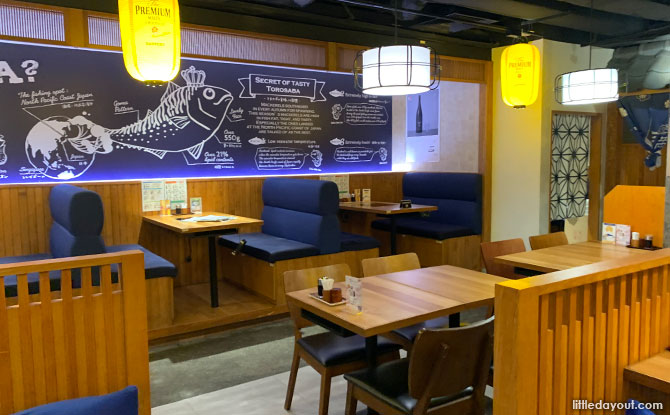 ---
-- Story continues below --
Stepping inside, it feels like a typical Japanese restaurant. Besides the individual tables, Sabar has a couple of booths which are made to look like a rustic Japanese setting.
---
Sabar: Toro Saba Mackerel Specialist Japanese Restaurant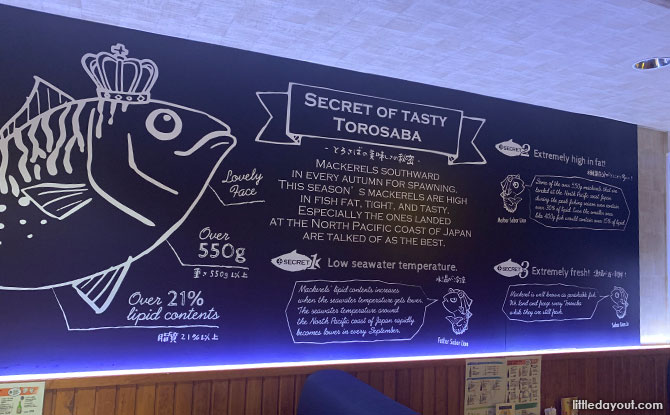 The menu at Sabar is dominated by saba or mackerel. However, the type of saba that they serve is toro saba.
What sets toro saba apart from regular saba?
Toro saba has to meet three major definitions.
Firstly, the mackerel comes from the North Pacific coast of Japan.
Next, the fish needs to contain voer 21% of lipid contents.
Lastly, the fish must weigh over 550 grams.
According to what is stated on Sabar's wall, the restaurant's mission is to make toro saba as famous as other well-known Japanese icons like karaoke and ninja.
---
What's on the Sabar Menu
On the menu at Sabar are items such as Toro Saba Sushi Kyoto style ($16.80 for 10 pieces) and Fresh Toro Saba Sashimi ($18).
There are even dishes such as Toro Saba Fish and Chips ($13.80).
You can find other items on the menu as well. For example, there is grilled gindara (sablefish), salmon and hokke (atka mackerel) but the menu is dominated by toro saba.
For us, the main draw was the weekday Sabar Lunch set with the toro saba.
The signature Grilled Toro Saba Set is $13.80 on weekdays for lunch.
It comes with salad and chawanmushi as a starter.
The highlight was the Grilled Toro Saba. The fish was much bigger than most other saba that we had had before.
It was lightly salted and grilled to perfection. The skin was nice and crisp while the meat was succulent and juicy.
The set comes with rice and miso soup.
You do have be careful of bones as you normally would when having saba but the experience was most enjoyable.
If you are a saba-lover, you should pay a visit to Sabar to try it out for yourself.
---
Sabar Japanese Izakaya Restaurant
Where: 100 Tras Street, #03-14, 100 AM Mall
Website