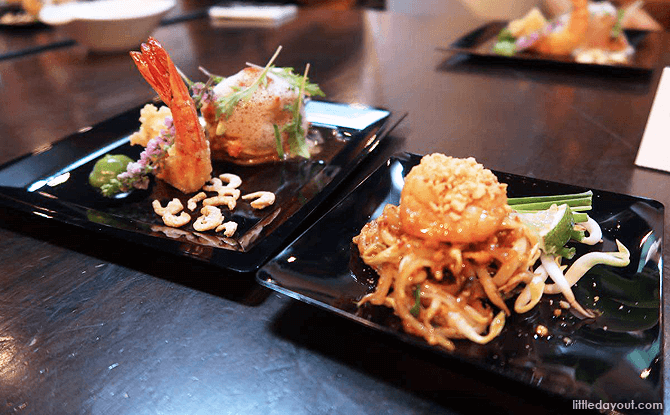 Excitement was building in the crowd as we counted down to the start of "RWS Street Eats Showdown!", an exciting way to kick-off the 'RWS Street Eats' Pop-Up Event this August. The 9-day event brings together 20 original street food stalls from five Southeast Asian countries in one location at Malaysian Food Street at RWS itself. We were privileged to be invited as part of the judges for this first-ever epic battle between RWS fine-dining Western chefs and some of the best cooks from Southeast Asia! Read on to join us on our experience, and how you and your family can have a chance to taste the delicious and award winning food for yourselves!
RWS Street Eats Showdown
Hosted by the one and only Pornsak Sukhumvit (entertainer and celebrity Chua Enlai in his Thai character from TV comedy, The Noose), this food throwdown was between Chef Lorenz Hoja from L'Atelier de Joël Robuchon (Two Michelin Stars) and Chef Aom Pongmorn from Bangkok's revered 'King of Phad Thai' restaurant, Baan Phadthai, in cooking the best Phad Thai while Chef Benjamin Halat from CURATE challenged Chef Steven Long of Hanoi's Sen Tay Ho (who placed 3rd in Top Chef Vietnam 2015) to whip up the most amazing Vietnamese Grilled Pork with Rice Noodles! Chefs were given just 10 minutes to prepare and plate their dishes for the anticipating crowd, while answering questions about their dish and choice of ingredients. A true test of multitasking!
Round 1: Phad Thai
Phad Thai is a dish of rice noodles commonly stir-fried together with prawns and vegetables, and is one of Thailand's most iconic street food dishes. With over a decade of Michelin Star-level culinary experience, Chef Hoja, owner of French fine-dining restaurant added some ingredients not commonly found in Phad thai such as lobster bisque, capalini pasta and slow boiled quail egg. Executive Chef Pongmorn stuck to her roots and confidently put together the traditional ingredients along with her secret sauce that contains 18 ingredients. The smell of Phad Thai filled the air and as the last minute was left, the chefs plated their delicious looking dishes.
We got to try the dish in little serving portions, and were so impressed by the effort in the presentation as well. Chef Pongmorn's dish was bursting with flavour. The springy noodles, fresh beansprouts and crunch of the peanuts – it was authenticity at its best.
However, the round went to Chef Hoja and his innovative twist on the Phad Thai. We were surprised by what seemed to be "Phad Thai flavoured pasta", which had more of a spicy kick in the sauce, but the presentation and creativity certainly proved skill worthy of a Michelin star chef.
Round 2: Vietnamese Grilled Pork with Rice Noodles
Bún Thịt Nướng literally translates to barbecued meat noodles. The most popular version in Vietnam comprises grilled marinated pork placed over rice vermicelli noodles with a side of dipping sauce.
Chef Halat wowed the crowd with his impressive kitchen equipment and creativity as he attempted to bring a twist in the usual rice noodles and made it with thinly sliced squid. He also grilled the pork to absolute perfection, we could not stop gushing over how beautifully cooked and marinated it was. He also made a vegetable spring roll as a side which complimented the fatty pork wonderfully. However, in this round, old is gold, as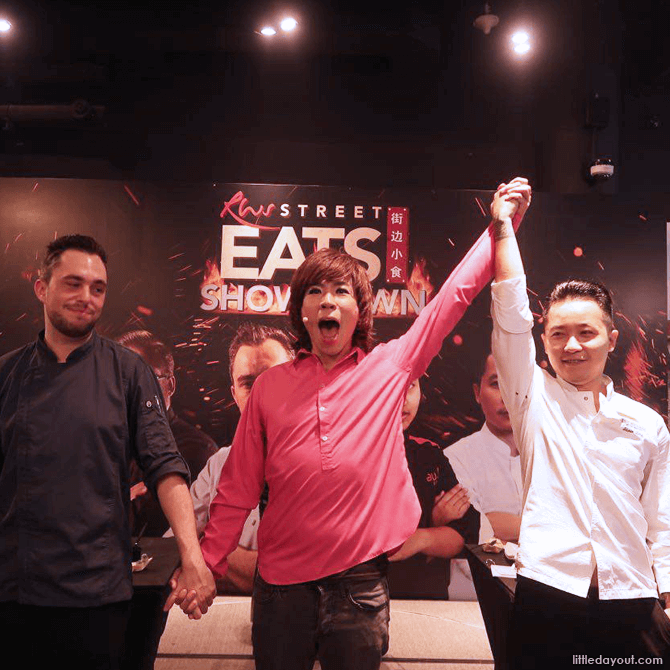 Chef Long took the prize home with his skilfully grilled meat, springy noodles and the tantalizing and unique fish sauce in the unique packaging. Overall the dish and the complimentary sauce was surprisingly zesty, light and cleansing to the palette despite the rich and savoury meat.
Test It For Yourself at RWS Street Eats
Even as our taste buds were given a treat, you can head down to RWS and taste the dishes mentioned above and much much more for yourself! From 12 to 20 August, feast on authentic Southeast Asian delicacies from 20 renowned stalls specially curated from different countries.
Not only can you try the same Phad Thai recipe that was made by Chef Pongmon, but you also get to try the famous Malaysian Sempalit Curry Chicken made from a 60 years old secret recipe; Nona Manis from Indonesia which will be dishing up their traditional East Javanese style Ayam Penyet (Smashed Fried Chicken with Sambal); and don't forget to try Singapore's very own Kway Guan Huat Hokkien Popiah praised for its handmade paper-thin popiah skin.
We also used some of the food vouchers to buy pastries from Fung Wong Confectionery which is famous for its egg tarts and baked siew baos. The golden brown pastry crust was crumbly and not too salty or buttery. A personal favourite would also be the Kaya Puff, the local jam and pastry is definitely worth the mention.
The event will also feature a charming beer garden created in collaboration with Tiger Beer and pop-up booths along the Waterfront Promenade including Durian 36 and Four Seasons Durians for durian lovers, and SiamCoco for those who wish to cool down with fresh coconut juices. On weekends, there's more reason to enjoy a relaxing evening at 'RWS Street Eats' with live music performances by multilingual band "Too Much Drama" as well as open mic sessions.
Entry to 'RWS Street Eats' is free and prices for each dish ranges from S$4 to S$8. Advance purchase of pre-paid event food vouchers can be made online at www.rwsentosa.com/streeteats. Visitors can purchase an event special bundle now and receive:
▸ 8 Event Food Vouchers (Each Food Voucher is worth S$4)
▸ 1 Complimentary can of Coca-Cola® (with an option to top up S$4 for a Tiger Beer)
▸ Gift Vouchers from Naiise, OSIM and SodaStream worth more than S$40
RWS Street Eats
Date: 12 to 20 August 2017
Time: Weekdays: 11 am to 9 pm (Mon to Thu)
Weekends: 11am to 10pm (Fri to Sun)
Venue: Malaysian Food Street, Waterfront, Level 1
*On 18 August 2017, RWS Street Eats will be opened from 11am to 5pm due to a private event. Last order will be at 4.30pm.