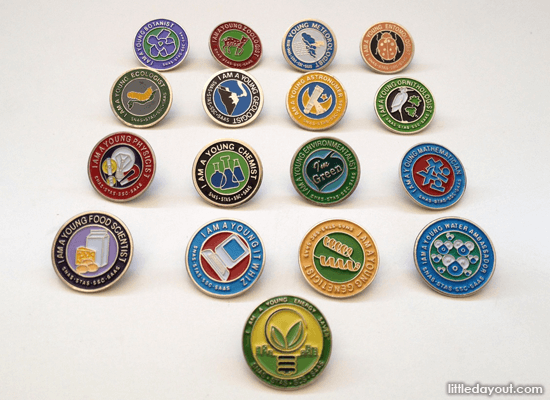 The recently revamped Young Scientist scheme from the Science Centre nurtures your child's interest in science as they earn colourful badges.
The Young Scientist Cards scheme first started in 1982. Since then, one million students have been recipients of the Young Scientists badges.
There are now 17 Young Scientist Cards that aim to develop thinking, communication, technological and processing skills in primary school children. New elements of child-parent partnership have also been incorporated so that parents can now discover science together with their children.
Revamped Young Scientist Scheme
In January 2013, the Science Centre announced that, together with the Science Teachers' Association of Singapore, they have revamped the Young Scientist Cards scheme. This updates the scheme to be in line with changing trends in science education and aims to continue to enhance primary school students' interest in the learning and appreciation of science.
---
-- Story continues below --
To earn Young Scientist badges, students have to carry out a series of self-directed activities listed in a corresponding activity card. The Young Scientist cards can be purchased for $2.50 each from the Science Centre Singapore's Curiosity Shop.
For each task completed, they earn between one and three stars, and these go towards qualifying for a badge. There are 15 stars to be completed on each card. Completed cards should be submitted to their Science or Mathematics teachers in school.
The number of Young Scientist badges has increased from just four during its launch to the present 17. The latest addition to the badges is the "I Am A Young Energy Saver" badge, a collaboration with HDB.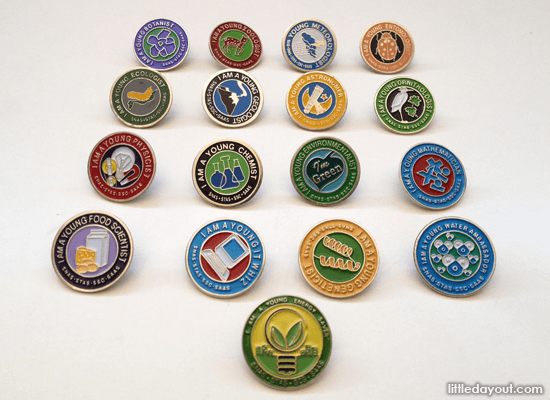 The iconic collectible Young Scientist badges (from top left to right) launched in 1982 – Young Botanist, Young Zoologist, Young Meteorologist, Young Entomologist; in 1983 – Young Ecologist; from 1984 to 1986 – Young Geologist, Young Astronomer, Young Ornithologist, Young Physicist, Young Chemist, Young Environmentalist, Young Mathematician; in 2003 – Young Food Scientist, Young IT Whiz, Young Geneticist; in 2005 – Young Water Ambassador; in 2012 – Young Energy Saver.
Benefit from Hands-on Learning
With the new scheme, students can look forward to more hands-on tasks to learning about science in a fun manner through everyday scenarios. Tasks follow the current Science syllabus and equip students to be concerned citizens, active contributors and self-directed learners.
Parent-Child Partnership
For parents who often wonder how to help their children to learn science, these cards serve as useful tools. Parents can now be personally involved in meaningful activities in their child's learning journey and this opens up parent-child bonding and learning.
For instance, to complete Task 19 in the "I Am A Young Environmentalist" card, parents can accompany their children to places that promote nature conservation and waste management. Task 2 in the "I Am A Young Water Ambassador" card requires the student to visit the Marine Alcove at Science Centre Singapore to detail the characteristics of one of the sea creatures found there. These would make for a meaningful family activity and discussion.
In addition, unlike the previous scheme where only the child's Science and Mathematics teachers can certify that they have completed each activity properly, parents can now work on experiments with their children and choose to certify up to 6 stars worth of activities from each card.
Greater Parental Involvement
The shift towards a stronger school-parent partnership is a deliberate one as it has been found that informal science increases children's interest and understanding in the subject. It also contributes to shifts in children's attitudes about the subject of science.
Said Madam Anne Wong, a member of the Young Scientist Cards Review Committee, "With activities now more focused on non-academic aspects, students can develop confidence and good communication skills as they learn to collaborate and make decisions together with their teachers and parents. They can also develop good attitudes such as persistence and responsibility towards the environment."