Trina and her daughter give Oribel's VertiPlay Wall Toys a try and discover the joys of thoughtful design and that playtime need not to end up with the home looking like a hurricane just ran through it.
Oribel is a global lifestyle brand that designs premium baby gear and toys. Committed to the philosophy of creating original and smart products for modern parents, Oribel was founded in 2014.
With headquarters here in the Lion City, Oribel is a true blue Singaporean company. Its award-winning products are designed and developed locally, and now sell in 30 countries worldwide.
The brand's very first product, the PortaPlay Activity Center redefined the category with its minimal design; the PortaPlay Activity Center is also the very first of its kind that can be transformed into a Play Table.
---
Oribel's VertiPlay Wall Toys
Keeping the house in order is a huge priority as I firmly subscribe to the "Clear House, Clear Mind" school of thought.
When I learned about Oribel's VertiPlay Wall Toys – how they're off the floor and adhere easily to the wall or the door – I was super excited to give them a go.
I mean, these toys have so much win! Wall toys mean less clutter on the floor, so I've one less thing to put away when I'm mopping; they're also fun, whimsical, and actually look good in the house. These beautifully made toys don't feel one bit out of place as room decor.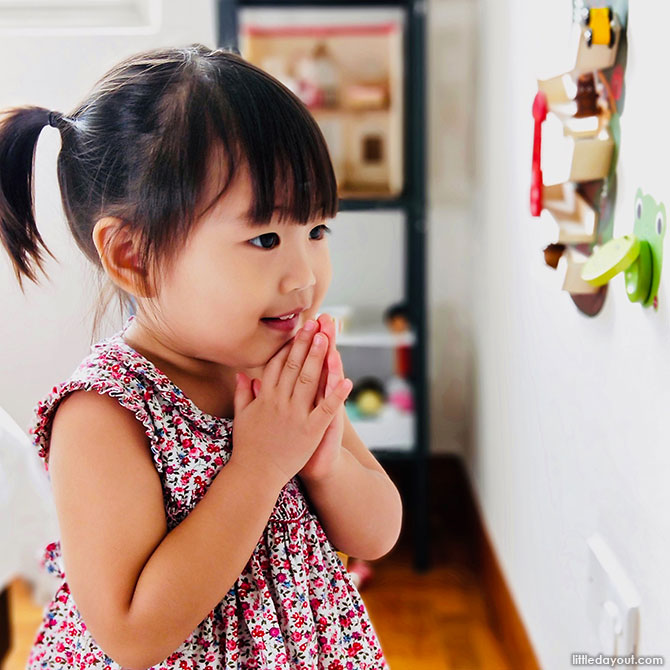 Best of all, Oribel's VertiPlay Wall Toys are interactive and engaging. My daughter usually has an attention-span of about three minutes at best, but since receiving her new VertiPlay Wall Toys, she's been out of my hair for a heavenly 10 minutes!
If you're after a gift for the important little ones in your life, you cannot go past Oribel's VertiPlay Wall Toys. Your mummy friends will thank you, and the babies will love you!
---
Tree Top Adventure
This is my daughter's absolute favourite! Put Mr Caterpillar (which looks a lot more like a vehicle) at the top of the wooden track and watch it whiz down to the acorn at the bottom!
Made using wood sourced from sustainable forests, Tree Top Adventure is designed beautifully and is great for developing bub's hand-eye coordination and observation skills.
It's almost calming to watch Mr Caterpillar make his way down the track over and over again. At times, my daughter will gently push the squirrel on its swing, or poke her finger through the red toadstool.
---
Slidey Spidey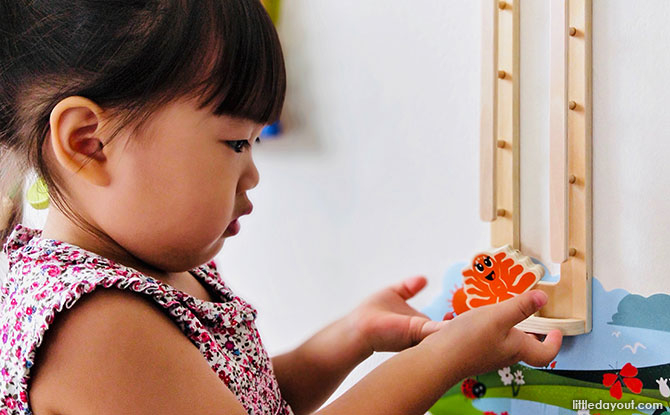 Incy Wincy Spider comes to life with Oribel's Slidey Spidey!
Inspired by the popular nursery rhyme, watch as Spidey tumbles her way down the long wooden spout in the rain, and onto a dry sunny grass patch.
My daughter loves singing the song as she places Spidey at the top of the spout. It also gives her a real kick deciding if she wants "two-faced" Spidey to be happy or grumpy then.
Although she hasn't quite mastered the art of placing Spidey at an angle to allow a smooth tumble down the spout, it hasn't stopped her from wanting to play with Slidey Spidey.
---
Musical Rail Track
The Musical Rail Track is suitable for babies aged 9 months and older.
A magical xylophone train, the Musical Rail Track will teach music and colours while entertaining your child at the same time.
This is the perfect first musical instrument for the baby who is learning to sit up – there's no better way to develop your bub's core strength than by sitting up and making music!
---
Door Knockers: Crroaky, Roarry and Spikeyy
These adorable door knockers dress up and personalise doors, while encouraging children to knock before entering a room. They also make great percussion instruments or calling bells.
Recommended for babies aged 9 months and up, Oribel's Door Knockers didn't hold my two-year-old daughter's interest for long as they're not challenging per se. She would have enjoyed playing with them and listening to the clacking sound when she was younger though!
---
High Quality Toys That Will Grow With Your Child
I really appreciate that Oribel's range of VertiPlay Wall Toys are well-made and well-designed toys that can grow with a child. With so much talk about reducing waste, I like that these toys can be enjoyed for years to come – from when bub learns to sit up, to when bub turns into an active toddler.
And you know how toddlers can't sit still? Well, the VertiPlay Wall Toys are perfect for my cannot-sit-still daughter since they allow her to stand and play… Then she gets to run off and return to them a minute later!
Oribel's VertiPlay Wall Toys have a huge fan in me. My floors are kept clutter-free, the toys are easy on the eyes, and they're so durable – I've removed and affixed my VertiPlay Wall Toys a few different times now.
Friends of mine, you know what your children will be getting at their next birthday!
Looking to get your hands on Oribel's VertiPlay Wall Toys? Head on over to their website!
Thank you to Oribel for providing us with the products for our review. The opinions in the feature are entirely our own.