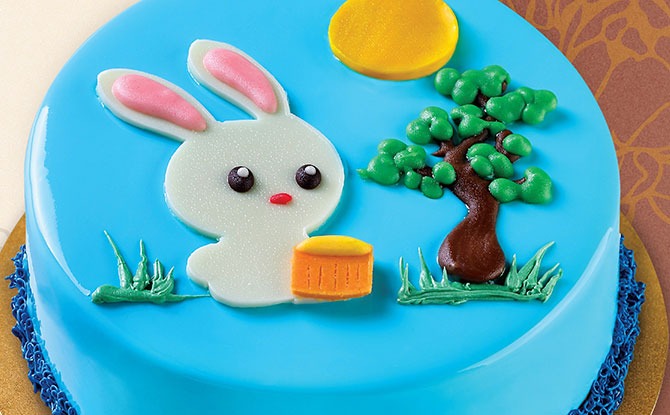 Last year, for the first time, PrimaDéli introduced a Moon Rabbit Cake. This year, the homegrown bakery is back with a new design to thrill the kids for the Mid-Autumn Festival 2021.
---
PrimaDéli Moon Rabbit Cake
According to Chinese lore and legend, the Jade Rabbit was sent to the moon to accompany the goddess Chang'e in the Moon Palace.
For the Mid-Autumn Festival 2021, the PrimaDéli Moon Rabbit Cake has the cake on earth with the bright yellow moon high above in the sky. The design features a cute rabbit with an adorable red nose holding on to what looks like a mooncake. Perhaps the rabbit is about the savour it under the bright moonlight.
On the inside, the PrimaDéli Moon Rabbit Cake is a classic chocolate cake. It features chocolate sponge layered with chocolate cream.
The PrimaDéli Moon Rabbit Cake comes in only one size and weighs approximately 300 grams. It is available from now till 21 September 2021 for $18.
---
Mooncakes Available
In addition to the Moon Rabbit Cake, PrimaDéli has also nine mini snowskin mooncake flavours, including six new ones. The new flavours are Truffle, Hazelnut Delight, Blackforest Classic, Tiramisu, Peach & Longan and Strawberry Classic. Durian King, Mango Paradise and Cookies & Cream complete the variety of flavours.
Other available mooncakes include chocolate mooncakes and traditional baked classics too.