Passengers passing through Changi Airport Terminal 4's Departure Transit Area will be able to soak in Singapore's local Peranakan culture at a Peranakan Gallery. The gallery aims to introduce passengers to Singapore's rich Peranakan culture through artefacts including portraits, antiques and the quintessential Peranakan dress, the Sarong Kebaya.
Located at Changi Airport Terminal 4's Heritage Zone, the Peranakan Gallery is a collaboration between Changi Airport Group and the National Heritage Board.
Introducing Peranakan Culture
The 150-square-metre gallery is organised into four sections.
The first section of the gallery, Identity and Diaspora, examines the origins of the Peranakans. Comprising locally-born communities, Peranakans include Chinese Peranakans (or Baba-Nyonya), Jawi Peranakans (descendants of Indian Muslims), Chitty Melaka (descendants of Hindu traders) and Eurasians (European Peranakans).
---
-- Story continues below --
The next section, Architecture and Household, features a recreation of a Peranakan home and illustrates how it incorporates different cultural elements.
The last two sections of the Peranakan Gallery provide a glimpse into Peranakan fashion and the impact of Peranakans on contemporary Singaporean society.
Highlights at the Peranakan Gallery
One of the highlights at the Peranakan Gallery is a Peranakan wedding bed.
This intricate piece of furniture follows a Chinese four-poster bed form and is enclosed on three sides. Wood carvings decorate the bed which often features auspicious symbols, such as lotus buds which symbolise fertility, to bestow marital blessings on the newlyweds.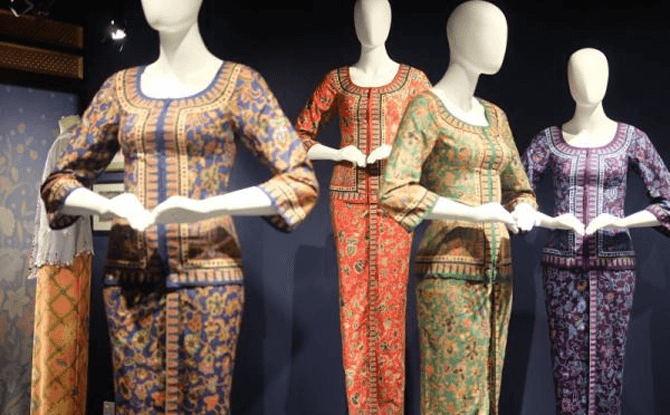 Other items on display at the Peranakan Gallery include Singapore Airlines' sarong kebaya. This instantly recognisable uniform was designed by French couturier Pierre Balmain in 1968 and was inspired by traditional Peranakan sarong kebayas.
T4 Heritage Zone
The Peranakan Gallery is part of Changi Airport Terminal 4's Heritage Zone. The zone includes the Peranakan Love Story multimedia presentation show and food stalls.
Mr Yam Kum Weng, CAG's Executive Vice President Airport Development said, "The Peranakan Gallery with its display of artifacts adds a dimension of depth and authenticity to the Heritage Zone in T4. Beyond the Peranakan Love Story show and alluring offerings of local gastronomic delights in the Heritage Zone, intrigued passengers will have the opportunity to learn more about the heritage and culture of the Singapore Peranakan community at the Peranakan Gallery. We are excited about our collaboration with National Heritage Board to promote a part of our Singaporean culture and heritage to both our local and foreign passengers."
The Peranakan Gallery will be open 24 hours daily. Admission is free for all passengers who have cleared departure immigration at Changi Airport Terminal 4.
Changi Airport Terminal 4 opens 31 October 2017.
Peranakan Gallery
Changi Airport Terminal 4, Level 2M, Departure Transit, Heritage Zone