In today's digital age, screens are an ever-present part of our lives, Peekabook, the debut product from Matterkids, an educational and creative brand headquartered in Singapore, offers parents a way for their kids to engage in an interactive and educational way with a screen.
From smartphones and tablets to laptops and televisions, screens are a ubiquitous part of modern society. We cannot stop our children from engaging with technology, so how do we create a balance between the time they spend on screens and their time for play that can be advantageous for them?
One way to encourage positive screen play is to seek out age-appropriate apps that can help children develop important skills such as problem-solving, critical thinking, and creativity, all while having fun.
---
Peekabook by Matterkids: Combining Digital Exploration With Physical Movement
---
-- Story continues below --
Peekabook from Matterkids is a captivating and engaging app / play set for children aged 3 and up.
Built around the playful and curious concept of "peekaboo," the toy (a physical explorer ring) encourages interactive discovery through a variety of fun and interactive e-books designed by children's storytellers and illustrators from around the world.
The interactive books can be downloaded on to an iPad via the Peekabook app.
Each interactive book is teeming with detailed artwork and mini surprises for kids.
A child can choose a book from within the app and use the explorer ring on the screen to pan around to explore and activate hidden secrets, fun facts and unearth new knowledge.
More often that not, digital screentime can create a large disconnection with the real world, especially for young kids. Peekabook aims to find a balance between these two worlds.
The creators of Peekabook believe that by requiring the child to move the ring physically around the screen, it links digital experiences with reality.
---
Peekabook Review: For Both Independent and Guided Play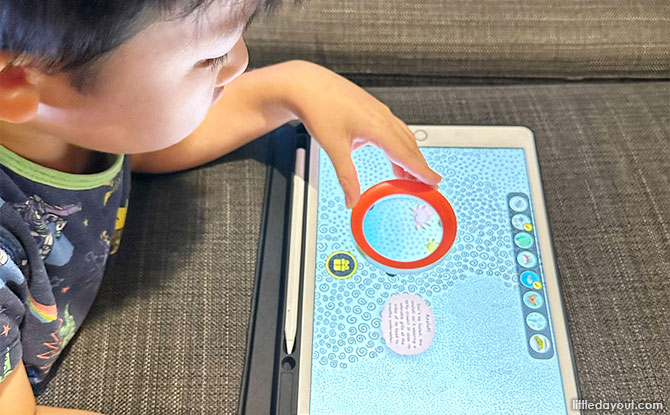 Peekabook is designed for both independent exploration and guided play.
I found that children under 5 quickly get the hang of it with a bit of guidance on how to use the app and accompanying ring.
For instance, when my 5-year-old explored the book Peek Inside Your Body, I first showed him how to wait for the narration to finish before redirecting the ring. After this initial guidance, he was confident to explore the other books on his own.
Interestingly, even my older daughter, who is 8, enjoyed using the ring to explore the other titles.
If you're like me and dislike dealing with a large amount of cables at home, the good news is that the ring does not need batteries or charging! Additionally, it has a rubber base to protect the iPad from scratches.
Currently there are nine e-books available on the app for purchase.
My kids had great fun spotting the hidden creatures in The Big Safari, learning about the journey of a salmon in Journey to the Ocean: Life of a Salmon and rediscovering the classic story of Little Red Riding Hood.
The Peekabook Starter Kit is priced at $42 at the moment (usual price $56). It comes with an explorer ring, a silicone holder and three educational e-books with unlimited play. The included books are:
A-Z by ART-ZOO
Peek Inside Your Body by Anngee Neo
Wonderfood Wonderland by Xinnie Ng
The Peekabook app is currently only available for Apple iPad.
For more details, visit the Peekabook website.