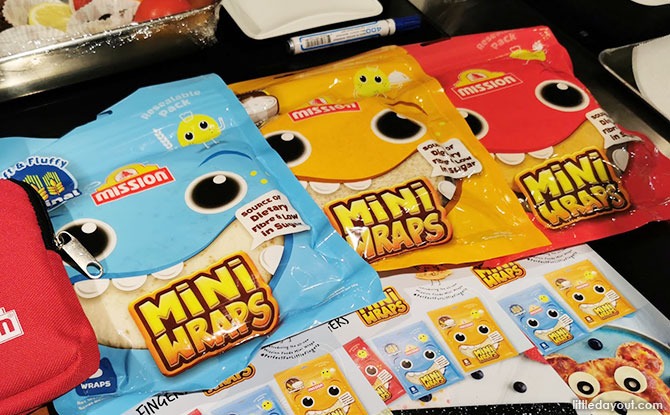 Mission has launched their kid-sized wraps, tailored in size for kids. The Mission mini wraps come in three flavours: original, wholemeal and tomato and are all low in sugar.
We recently attended Mission Foods' cooking workshop to learn more about the mini wraps and to discover meals we can use the mini wraps for.
---
What are Mission Mini Wraps?
Mission Mini Wraps are flour-based and are lower in sugar, high in dietary fibre. Suitable for school snack boxes, these wraps can form the base of tortilla pizzas or used to pack in ingredients!
To put them to the test, we tried making three healthy and easy recipes under the tutelage of Chef Claire from TOTT (detailed recipe instructions at the bottom of this story).
---
-- Story continues below --
Getting Creative with the Mini Wraps
The first was the Caterpillar Chicken Wrap. This made use of 2 Mission Tomato Mini Wraps and Chicken Breast along with other ingredients. The wrap was then cut into one-inch pieces and plated as an adorable and irresistible caterpillar.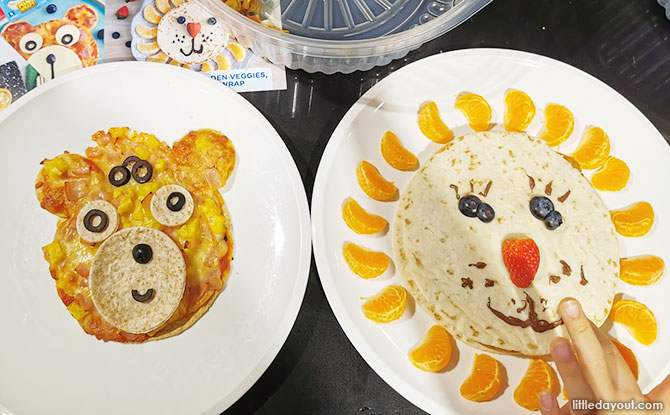 The next idea made use of the wraps as a pizza base. This was a bear-shaped creation with cut-outs of smaller circles used as the ears and snout. We found that this could be done quite independently by a child, depending on age. It was fun and very easy.
The last idea was titled Crouching Lion Hidden Veggies, Japanese Curry Wrap. It made use of Japanese curry cooked with vegetables and meat, sandwiched between two wraps, and decorated to look like a lion.
---
Mission Mini Wraps Review: Good For Little Hands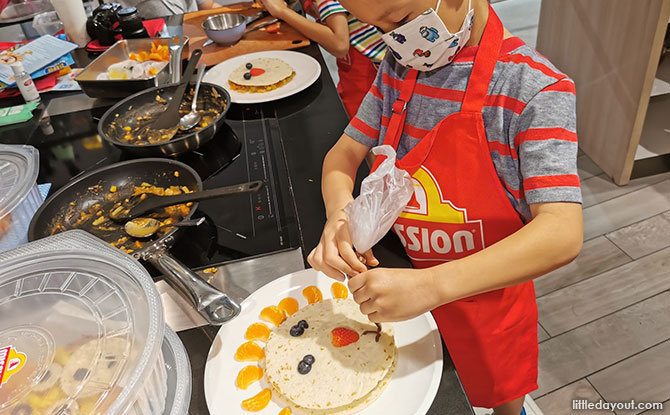 Overall, we loved the versatility of the Mission mini wraps. The little sizes mean not too intimidating portions and they are just right for snack boxes. Making creative use of the Mission mini wraps also mean that little ones can assist you in the meal preparation.
Getting them involved in meal prep, including in choosing the ingredients like vegetables, can be a fun way to encourage good eating habits and expose them to a wider palette of food.
More on the Mission mini wraps here.
---
Detailed Recipes
Recipe 1: Caterpillar Chicken Wrap
Ingredients
2 Mission Tomato Mini Wraps
1 Chicken Breast, minced
1 Garlic Clove, minced
¼ cup Pumpkin, diced
¼ cup Lettuce, shredded
¼ cup Mayonnaise
A squeeze of Lemon Juice
1 tbsp Olive Oil
Salt and Pepper, to taste For Decoration
Tomato
Seaweed
Instructions
In a pan, heat oil over medium heat and sauté garlic until fragrant. Add in minced chicken and pumpkin and cook through. Add a little water if it gets too dry. Season with salt and pepper. Once done, set aside to let it cool.
In a bowl, place the cooked chicken and pumpkin. Add in shredded lettuce, mayonnaise and a squeeze of lemon juice (season with salt and pepper, to taste). Mix well.
Place Mission Tomato Mini Wraps on the board and top with the prepared fillings.
Roll the mini wraps and cut into 1-inch pieces.
Transfer to a plate and decorate the feet and face of the caterpillar using tomato and seaweed
---
Recipe 2: Bear Bear Pizza Wrap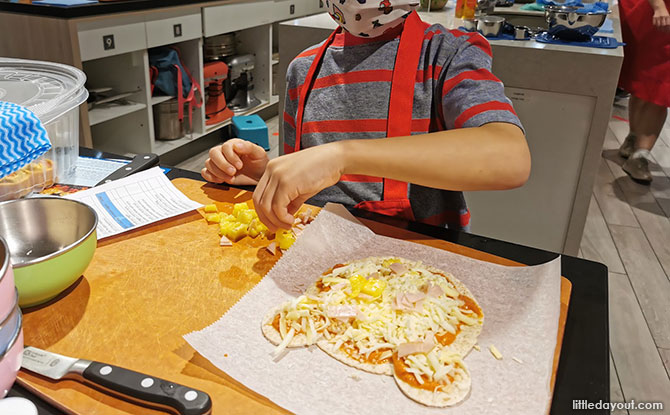 Ingredients
2 Mission Wholemeal Mini Wraps
½ Chicken Breast, boiled and shredded
¼ cup Mixed Capsicums, diced
¼ cup Mozzarella Cheese
2 tbsp Homemade Marinara Sauce
For the Homemade Marinara Sauce (makes 1 cup)
400 gm Canned Whole Peeled Tomatoes
½ Onion, chopped
1 Garlic Clove, chopped
1 tsp Dried Oregano/Mixed Italian Herbs
2 tbsp Extra-Virgin Olive Oil
1 tbsp Brown Sugar
Salt and Pepper, to taste For Decoration
2 slices Cheese
3 Olives
Instructions
To make the homemade marinara sauce; in a pan, heat olive oil over medium heat and sauté onion and garlic until fragrant and onions are translucent. Add in canned tomatoes, dried oregano and sugar, then season with salt and pepper. Stir then let it simmer for 30 minutess. Once done, set aside. (Alternatively, you may use store bought pasta sauces).
In a baking tray, place a Mission Wholemeal Mini Wrap and 2 smaller circles cut out from another mini wrap for the bear's ears.
Spread 2 tbsp of the marinara sauce on the wraps and top it with shredded chicken, capsicums and mozzarella cheese.
Bake in a preheated oven at 200°C for about 5 to 8 minutes until the cheese melts. 5. Decorate the bear's face and eyes using sliced cheese and olives.
---
Recipe 3: Crouching Lion Hidden Veggies, Japanese Curry Wrap
Ingredients
2 Mission Original Mini Wraps
¼ Big Onion, minced
80 gm Minced Chicken
1/3 cup Water
1 tsp Sweet Soy Sauce
1 tsp Tomato Ketchup
¼ Red Apple, diced
20 gm Mixed Vegetables (Peas, Carrots & Corn)
1 tbsp Olive Oil (extra for brushing)
Salt and Sugar, to taste For the Roux
1 tsp Curry Powder
½ tbsp Wheat Flour
½ tbsp Butter For Decoration
Blueberries • Strawberry
Melted Chocolate
Mandarin Orange
Instructions
To prepare the roux; in a pan, melt butter over medium heat and add curry powder and flour. Cook until the smell of flour is gone. Once done, set aside.
In another pan, heat olive oil over medium heat and sauté onion until soft. Add in chicken and cook through. Then, add water, sweet soy sauce, tomato ketchup, salt and sugar. Next, add in apples and the mixed vegetables, cook for a few minutes before adding the roux in. Stir to mix well, cover and let it simmer for 10 minutes. Once done, set aside.
Brush Mission Original Mini Wraps with olive oil and pan-grill on each side for a minute.
Place a wrap on a plate and top it with the cooked filling. Finish it by placing another wrap on top. 5. Decorate the lion's face with blueberries for the eyes, strawberry for the nose, melted chocolate for the mouth and whiskers, and mandarin orange pieces for the mane.