"Long before time had a name, there was the Realm of the Oni and the Dragon." — Mystake, " The Oni and the Dragon". This quote sets the vibe for the majestic LEGO Ninjago Fire Dragon Attack (71753) set.
The premise of this new LEGO Ninjago playset is a quest to win a golden weapon – the Sword of Fire. It leads up to an epic battle between the ninjas, flying their formidable fire dragon, against the evil Skulkin general Wyplash!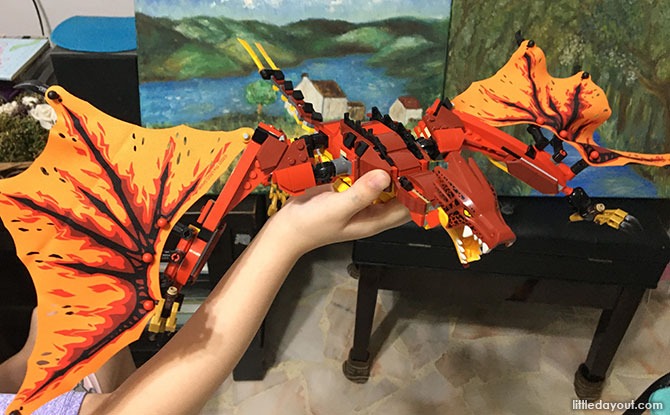 Originating from the Realm of Oni and Dragons, the dragons in Ninjago are legendary mystical beings of Creation. They are at war with the Oni, beings of Destruction.
---
-- Story continues below --
Connected to both the world of Ninjago and the Underworld, they are able to travel between worlds and four elemental dragons of Fire, Lightning, Ice and Earth guard the treasured Golden Weapons.
Regardless of the framing story of the Ninjago universe, dragons can play well with other LEGO sets such as attacking castles and ships or generally razing fields and forests.
Who does not love dragons, representing myth, might and magic?
So of course, we pounced on the LEGO Ninjago Fire Dragon Attack (71753) playset to create our very own large fiery creature with brilliant batlike wings complete with ridged tail, pointy teeth and claws.
---
Appearance and Interactive Play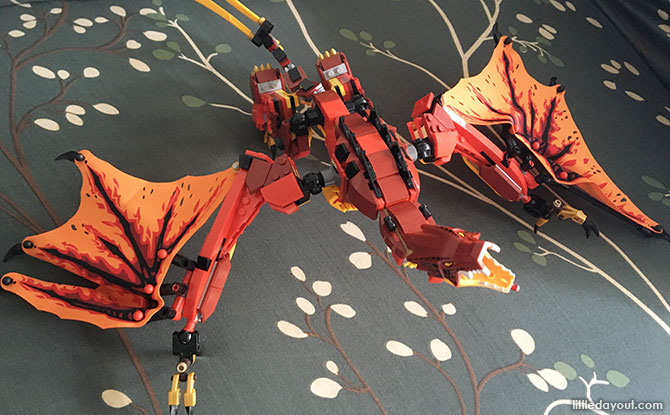 The joy of bringing a dragon to life is satisfying, especially one with fully articulated parts to be placed into a variety of dynamic poses, sprouting imaginary flames whether as a battle toy or as a gorgeous display piece.
All sharp teeth, scaly head, tawny eyes, pointy talons, and formidable wingspan with ridges along its hide, the mighty red fire-breathing dragon clearly has character and personality to boot as an elemental of fire and air.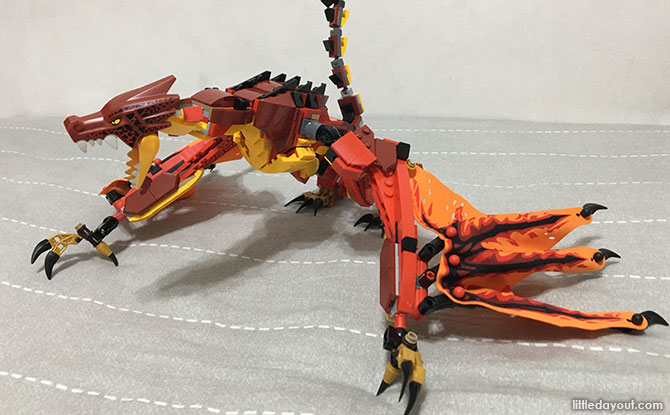 In warm shades of dark and bright red and orange with intricate black scales lining the sides of its head and face, this detailed flying dragon has jaws that open really wide revealing fangs and a flexible rotating head which could be tilted backward and forward to lend the dragon a menacing and predatory aspect.
His highlight is the impressive wingspan, thanks to two large bright orange wings with accents that looked like flames and lava shooting out of deep red membranes, and the back of the tail like a straight lightning bolt that can curl up or down.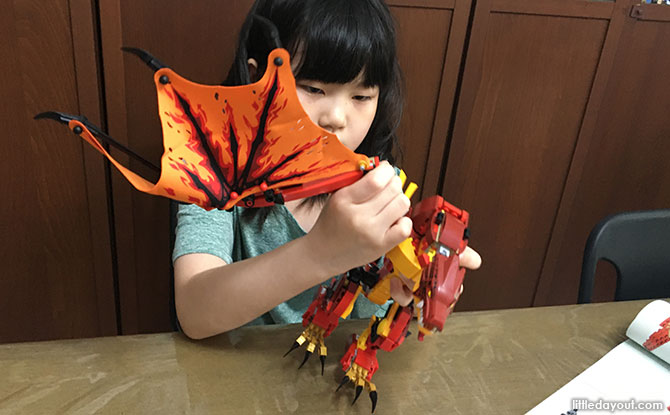 The canvas fabric wings add to interactivity as they function like movable sails that could fold and unfold for flight and facilitate endless creative aerial manoeuvres when the wings are raised.
The entire family had fun moving his very posable head, mouth, wings, tails and legs up and down, in all sorts of fierce poses!
His body is large and sturdy and can be adjusted into a crouching attack position. The only issue was the balance as the two hind legs are unable to support the dragon's massive body weight until the behemoth was adjusted in an almost upright position, unless the forelegs and claws attached to the front of the wings support the placement.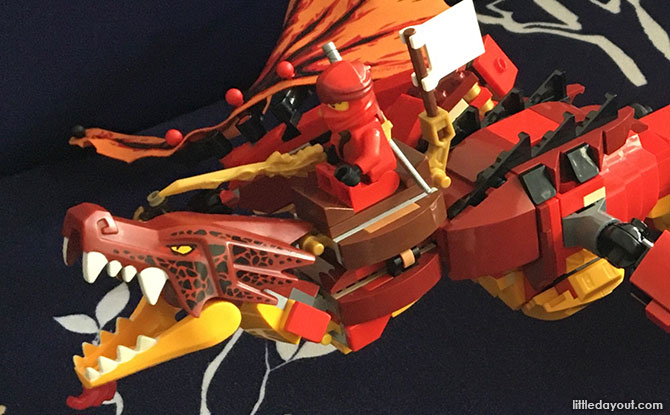 There is space on his back for a ninja rider to ride on with a removeable seat saddle that can be attached on its back to ride into battles or even bare space on its wings to attach two more ninjas brave enough to jump aboard!
Overall, this intimidating red drake shows potential for many more fiery aerial adventures as it takes to the air.
---
Minifigures and Accompanying Weapons of Choice
This playset also includes 4 minifigures from season 1 of the NINJAGO TV series.
3 Good Guys: It comes with Kai and Zane in dragon outfits with their weapons, the Shurikens of Ice and Flame, and Kai's sister – a limited-edition collectible golden Golden Legacy Nya with a stand, and the Sword of Fire.
1 Bad Guy: There is a creepy evil skeleton enemy general Legacy Wyplash with a wicked slashing blade.
---
LEGO Ninjago Fire Dragon Attack (71753) Review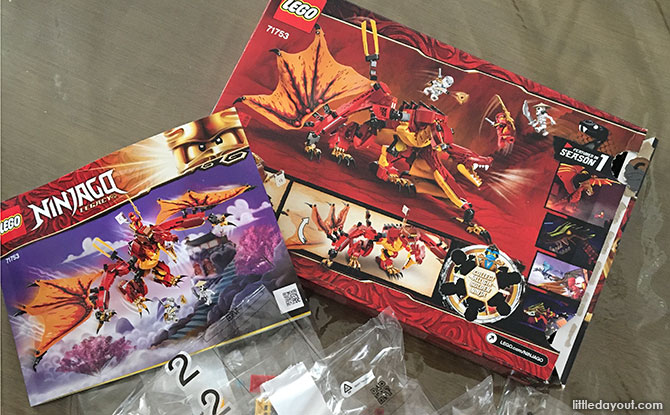 This 563-piece Fire Dragon playset is a fun and rewarding building activity for children aged 8 and up with just the right level of challenge.
The task is divided into five progressive sections with the well-crafted LEGO pieces of each section in five packs with clear instructions in the manual. With minimal guidance, the kids found the dragon a breeze to build over two dedicated afternoons and it offered opportunities for interactive assembly.
The main body first, and then the legs and tail were the most straightforward to put together while attaching the wing structure was slightly more challenging.
Measuring over 27cm/10.5 inches in height and body length and 59 cm/23 inches wide when standing on its back legs with full wingspan, the red dragon is sheer pleasure for both play and display.
The LEGO Ninjago Fire Dragon Attack (71753) was released in most countries on 1 June 2021 and will be released on 1 August 2021 in the United States and Canada.