Want to hone your child's navigational skills? Or think you are the "topo king"? See how good a Wayfinder you are in a special orienteering event by 65 Adventure and Active SG. We went orienteering with kids on a "Rediscover the 3Bs" orienteering event and found it great fun, with some bribery of course.
For this course, there are three areas to participate at – Bishan, Bedok or Bukit Timah.
---
What is Orienteering?
Orienteering is an outdoor adventure sport that involves racing and finding checkpoints on a specific map. It is a sport that is played worldwide. In Singapore, it is usually fast-paced and takes place in parks or housing estates.
---
Our Experience Rediscovering Bukit Timah while Orienteering with Kids
We picked Bukit Timah because of proximity and familiarity. But familiar as we were in the area, we were surprised by many of the shortcuts and little quirks of the neighbourhood we had never noticed before.
The perk of going on foot, while it's slower than being on a vehicle is that we take in more interesting details and discovering the personality of the area in a leisurely way. Of course, if you are competing and literally sprinting from checkpoint to checkpoint, the objectives would be quite different.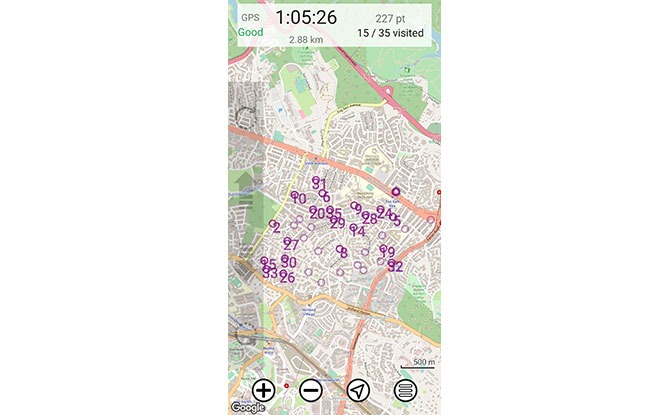 It was not our first time participating in an orienteering event, but what was different this time was the ease of using an app to punch in. We downloaded Navitabi according to the organisers' instructions, then set off to Bougainvillea Park where the start and end point was. After getting hold of the map, we then planned our route to find the checkpoints.
The time limit was three hours, and the number of checkpoints to find was 35! This might seem daunting to most with about five minutes to one checkpoint, but you can choose the number of checkpoints to find.
If orienteering with younger children, I'd suggest setting a much lower target that is age-appropriate. A suitable pace may be 10 minutes per checkpoint, this includes stopping to check the map and walking at a child's pace.
---
We chose to start at the Eastern section of the map and then cut into the private housing area.
Since there are few public toilets, I strongly suggest visiting the washrooms before embarking on the adventure. Along the way, follow the map and see if you can spot any of the checkpoints. Pictures were provided apart from the app of what the checkpoints looked like. We appreciated how the maps were large for the children to plan their route.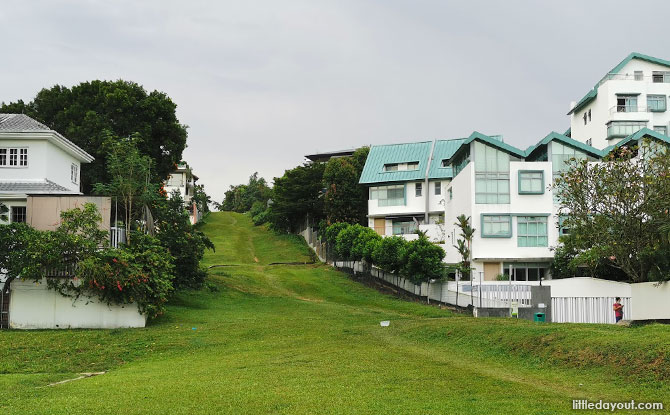 As we walked (yes we walked, running continuously for an hour was not our plan), we found little paths that led us to grassy slopes, interesting signages, hidden greenery and areas that were not taken over by too much human activity. It was a refreshing side of a neighbourhood that we often passed!
At each checkpoint, the children had to mark out the number according to what they saw. While the app provided additional information like road names and exact location of the checkpoint, the large map in paper form was suitable for others to use. I thought using our own devices to navigate was clever since it was safe distancing-friendly.
The NaviTabi app was also helpful as the device would alert us when we were within range of the checkpoint. This also meant that different groups can start off at their own time and pace, so there's guaranteed social distancing during a pandemic.
---
Parent Review of Orienteering around Bukit Timah
The African proverb "If  you want to go fast, go alone. If you want to go far, go together" rings true. The course is much easier completed if you attempt it alone, but with the family expect toilet breaks, snack breaks and so on. This also reminds parents to slow down, remember the priority of helping the children with life skills they may not otherwise learn in school.
I felt that the activity also helped hone perseverance and resilience in the children. Despite the really warm and humid temperature or sudden passing showers, they learnt to trudge on. Though we did not finish the course nor did we set out to find all the checkpoints, a good family bonding time was what we had.
This means going together and hopefully weathering all the ups and downs in our journey as a family – and clocking some memorable milestones at the same time.
---
Tips for Fellow Parents Keen to Participate in Orienteering with Kids
Be armed with plenty of fluids before attempting the course!
Since public washrooms are few, do visit the washroom before starting.
You might want to plan a drink stop or an ice cream stop for refuelling purposes. Children will also need some sugar and snacks to keep on going.
By right, the course is attempted on foot. We thought there would be more incentive for the boys to use their scooters instead. Do check with the organisers if this is possible before starting. We also look forward to courses completed on wheels as well – either on bicycles or scooters.
Those interesting in going orienteering can contact 65 Adventure for more details here.