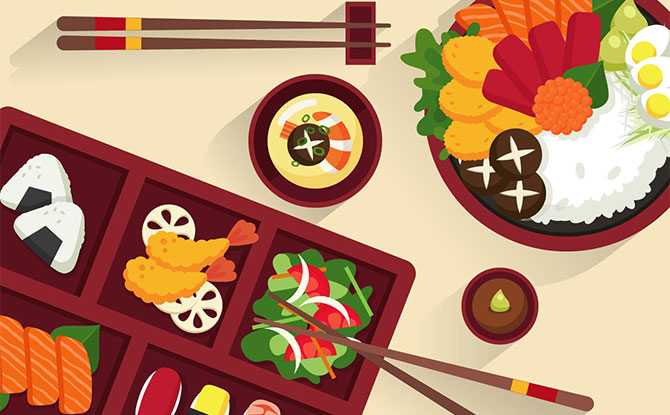 On 5 March 2023, JFOODO and Waseda Shibuya Senior High School in Singapore are jointly organising Oishii! Delicious Japan, a free event to introduce and promote an appreciation for Japanese cuisine culture among Singaporean youngsters.
Visitors to Oishii! Delicious Japan be able to sample a variety of traditional Japanese cuisine, take part in an educational panel discussion, and discover more about Japanese culture at the one-day public event which takes place from 10 am to 2 pm.
---
Oishii! Delicious Japan: Japanese Food Culture
Targeted particularly to the younger population and millennials, Oishii! Delicious Japan will be a chance for visitors to sample traditional Japanese fare like Chirashi-sushi (assorted cubed seafood on rice) and Mochi Isobe-Yaki, a grilled rice cake wrapped in ajinori (flavored dry seaweed).
Visitors to the event can expect dishes that embody five main themes:
---
-- Story continues below --
Spirituality: the feeling of respect and love for nature expressed in the form of food;
Sociality: demonstrating how food is a medium to bring about family cohesion and collaboration;
Functionality: excellent nutritional balance with dishes complementing rice amongst nature's bounty of vegetables and seafood;
Locality: a showcase of the various kinds of agricultural, forestry and fishery products produced by the long north-south topography of Japan and lastly;
Skill: the mastery of different utensils, tools and cooking techniques in Japanese food preparation
---
Panel Discussions and Presentations
As part of the event, there will be a panel discussion featuring Japanese tourism and food experts, including Mr. George Lim, Publisher (GoJAPAN, DIY Japan), Event-Media Owner, Producer and Presenter for Japanese Tourism, and Ms. Chiyomi Kawasaki, a well-known Japanese Culinary Instructor.
There will also be presentations by students who will share their views on Japanese food culture.
Oishii! Delicious Japan is open to the public. Registration is compulsory at this Eventbrite link.
The first 80 people to register will each enjoy a complimentary bento set (while stocks last).