As part of National Museum of Singapore's National Day Celebrations, the museum's facade will light up from 21 July to 9 August 2023.
The National Day facade light up will take place from 7.30 pm to 12 midnight each day during this period. The facade light up began during the pandemic and the museum is continuing with it this year.
---
National Museum of Singapore Facade Light Up
The 2023 light up will feature the National flag with the stars and crescent moon.
---
-- Story continues below --
It also features the National Day 2023 logo and the theme Onward as One.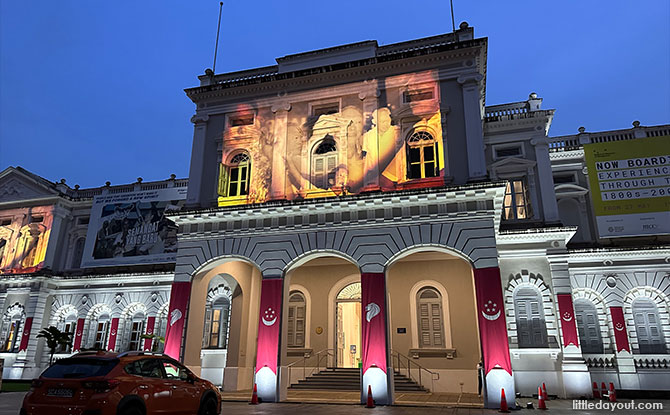 In addition, snippets of the film, LKY100: The Life and Legacy of Lee Kuan Yew (1923–2015) that National Museum of Singapore commissioned for the 100th birth anniversary of Mr Lee Kuan Yew, will also be shown on the facade.
To view the full film, which was created by local filmmaker Royston Tan, head into the museum's Singapore History Gallery. Admission is free for Singaporeans and Permanent Residents.
There are also two LKY100 digital trails at the museum where visitors can learn more about Singapore's founding prime minister.
Other activities planned for National Day 2023 at the museum include an open house.
Read more about the LKY100 digital trails at National Museum of Singapore or our National Day Parade Guide.