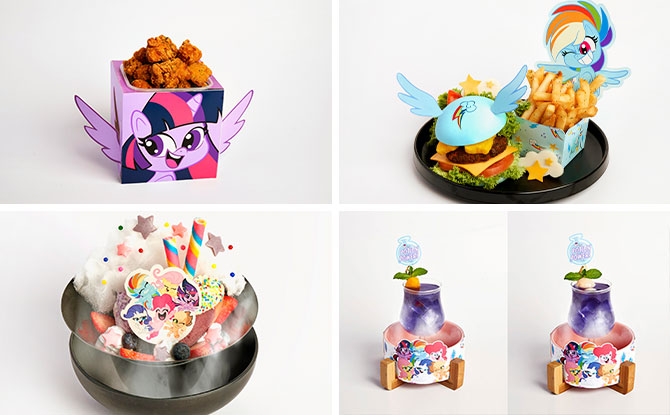 From Equestria to Singapore, the well-loved ponies from My Little Pony are making a come back to Kumoya for a limited time. Fans of cute, fun and magical creatures will be able to enjoy a My Little Pony-inspired menu.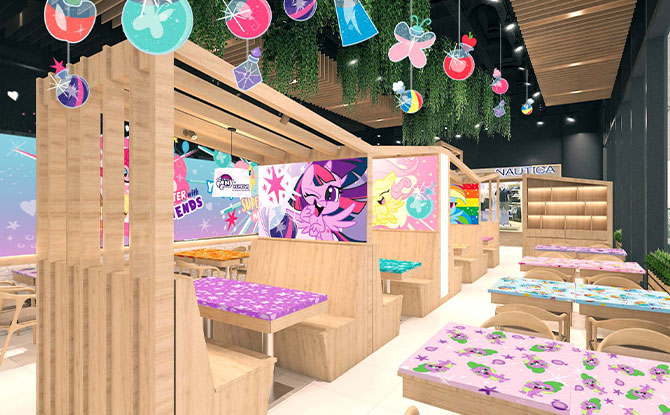 Visiting the Orchard outlet, Twilight Sparkle, Pinkie Pie, Rainbow Dash, Rarity, Fluttershy and Applejack will weave their magic and bring the fun by transforming Kumoya into a cute magical land of rainbows, stars and clouds.
Here are some of the new food items that you can expect to enjoy.
---
-- Story continues below --
My Little Pony-Inspired Menu
Snacks at My Little Pony x Kumoya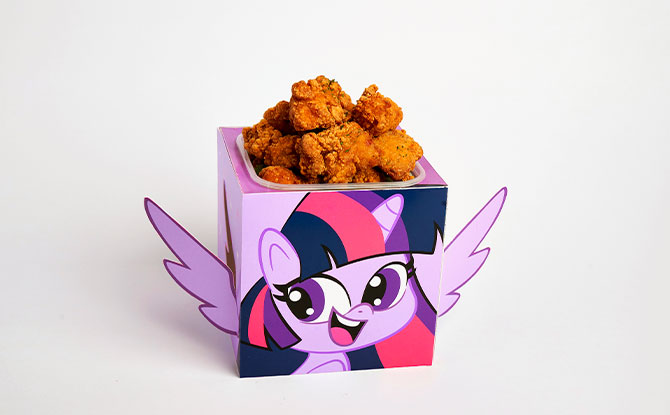 The packaging of the snacks are always a highlight at Kumoya. This pop-up, enjoy yummy bites such as the Karaage Chicken With Soy Garlic Glaze Crispy Karaage and Chicken Soy GarlicDip as well as the Mini Tater Tots & Sweet potato balls served in a café exclusive box with wings. The packaging features the ever spunky Twilight.
---
Mains at My Little Pony x Kumoya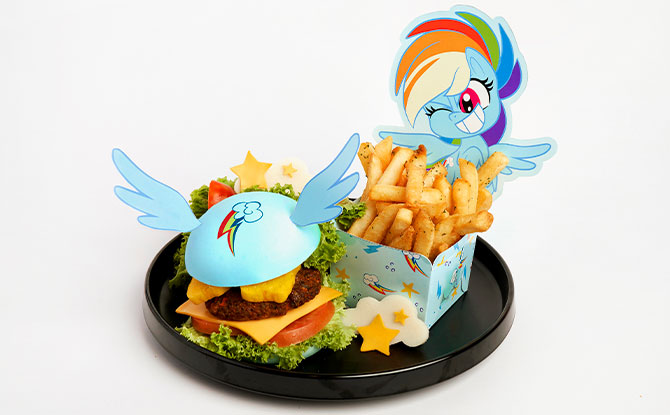 When My Little Pony first came to Kumoya, there were various dishes such as a Friendship Meets Love Seafood Curry Rice. The second rendition of the cafe offers dishes such as The Dashing Magical Rainbow Dash.
This features an Impossible Plant-Based Burger with a Housemade Impossible patty, fresh tomatoes, lettuce, cheddar cheese, Tamago, caramelised onions all sandwiched with a kawaii blue Rainbow Dash mantou bun with Rainbow lightning and wings. It is served with fresh side salads, kawaii cloud kamaboko, cheddar cheese stars and golden fries. One can also request a Chicken Katsu Patty or Ebi Patty in place of the Impossible patty.
You can also enjoy dishes such as a Magic Potion Karaage Chicken With Beetroot Cream Rice. Dine on fluffy Japanese rice shaped into a magic potion bottle. The dish is paired with freshly fried karaage Chicken or an Impossible plant-based nugget on a bed of beetroot cream sauce.
---
Desserts at My Little Pony x Kumoya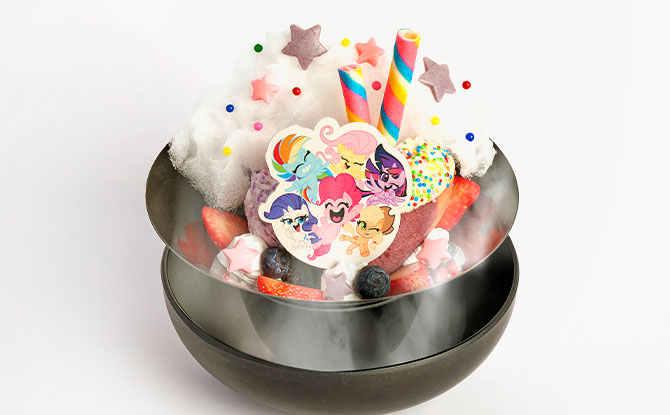 A visit to My Little Pony Café wouldn't be complete without the various kawaii desserts. A unique one to look out for includes the We Are Magic Together Rainbow Parfait. Get your camera ready for this parfait that comes with a special magical mist moment. It is served with a scoop of strawberry and vanilla ice cream, fresh fruits, fresh cream, rainbow madeleine, housemade butter cookie and topped with fluffy cotton candy.
You can also try the You Are Magical! Churros Chocolate Fondue Set which comes with raspberry churros, fluffy cotton candy, marshmallow, scoop of strawberry and vanilla ice cream and fresh fruits. Dip them into warm fondue chocolate and rainbow sprinkles and end off with a kawaii housemade butter cookie.
---
Drinks at My Little Pony x Kumoya
If you're looking for a magical mist effect in your drink too, there are a selection of pretty drinks such the Momo Galaxy Soda Juice and Lychee Yuzu Galaxy Soda Juice. Both are dyed a beautiful colour with Butterfly pea-flower tea.
Other drinks to enjoy include cotton candy sodas, frappes, coffee, teas and chocolate drinks.
---
My Little Pony x Kumoya Cafe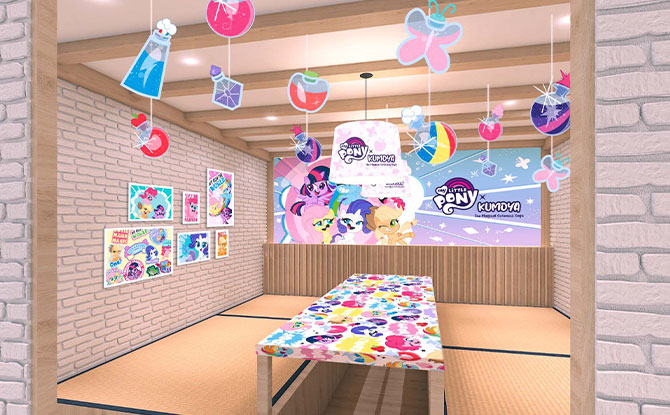 My Little Pony Pop-Up Kumoya Café is located at Orchard Central. The opening hours are Monday to Sunday, 11 am to 9.30 pm. The last order for mains is at 8 pm and all other menu items at 8.30 pm.
Visitors may have their dining time-limited to 90 minutes depending on the crowd, and do note that there is a minimum order of one food item per person. Online reservations can be done via inline at the site here and walk-ins are welcome.
181 Orchard Rd, Orchard Central #04-08, Singapore 238896