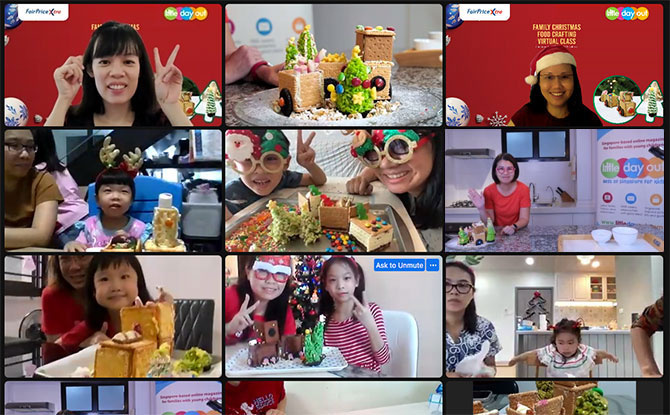 There is no better time to bond and make merry than over the festive season. Last Saturday, our young families rose to the occasion to create their very own enchanted Winter Wonderland! The showstopper piece this year was a Christmas dessert train made using a delightful assortment of sweet and savoury snacks and even edible festive Christmas trees.
Ice Breaker Games To Kickstart the Virtual Class
Everyone came dressed in their best Christmas outfit. There were even some that wore Santa Headbands and Christmas glasses! Homes were also decked with Christmas decorations to fit the occasion. After a short ice-breaker game filled with questions about Christmas Carols and Festive Fun Facts, we began our food crafting activity.
Choo Choo Goes the Christmas Train
Assembling the train carriages was the first yet the most challenging step. Given our hot climate, the hardest part about constructing the Christmas train was glue-ing the crackers together with melted white chocolate and waiting to let the main structure set up BEFORE decorating. Thus, chilling the train components was key to making the carriages stay intact.
Now, let the real fun begin! It's time to fill the carriages with our favourite goodies!
---
-- Story continues below --
What's Christmas Without Christmas Trees?
Who would have known the combination of marshmallows, butter and Rice Krispies cereal would yield such a delicious tree! After shaping the trees and sticking them onto "trunks" made of chocolates or brownies, we decorated them in a myriad of ways. No two creations were exactly the same!
We casted votes on the winning families for the various awards. It was a fun filled morning crafting these centrepieces.
Here are the recipes and instructions if you would like to make your very own Christmas showstopper – made possible with FairPrice Xtra's Family Christmas Food Crafting Virtual Class!
---
Recipe & Instructions for Christmas Train and Christmas Tree
All ingredients can be found at FairPrice Xtra stores.
Ingredients Required for Christmas Train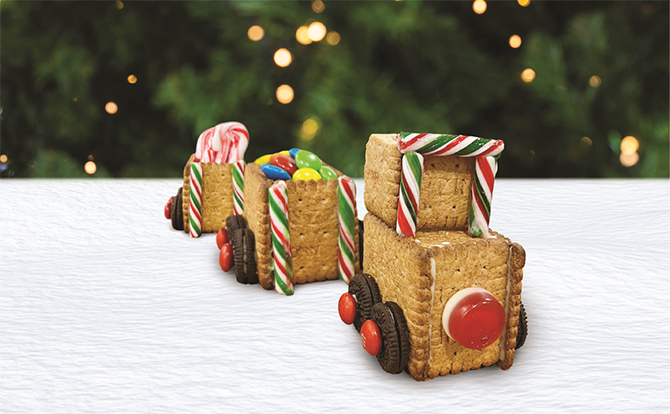 12 whole crackers/biscuits (Graham crackers, Liebniz Keks or Sky Flakes)
12 Mini Oreo cookies
Assorted Candies (M&Ms, Candy Canes, colourful gummies)
White Chocolate Buttons
Icing Sugar (optional)
Steps
Place white chocolate button in a dry, microwave-safe bowl, then place it in the microwave and set the mode to "melt" or "low" for 30 seconds. Stir it continuously and intiming of 20s until the chocolate has melted. If you are melting chocolate on the stove, heat a pot of water and place a dry metal (or other heat-safe) bowl with white chocolate buttons in it, keep stirring until chocolate has softened.
Fill the piping bag or sandwich bag with the melted white chocolate. Snip a small portion of one corner of the bag off to start piping.
Pipe white chocolate onto the edge of the crackers and join the crackers till they become a box to form the base of the Engine Room. Chill in the fridge for 10 minutes.
Break 3 crackers into half to create a smaller "box" that will form the top of the engine.
Stick mini Oreos to the front of the engine using white chocolate to form the wreath.
Then pipe white chocolate onto the top half of 4 mini Oreos, and press the Oreos to the side of the train car.
Repeat Step 3 but leave the top open.
Decorate the Christmas train as desired. When everything is completely set, fill the train car with candies.
---
Ingredients Required for Christmas Tree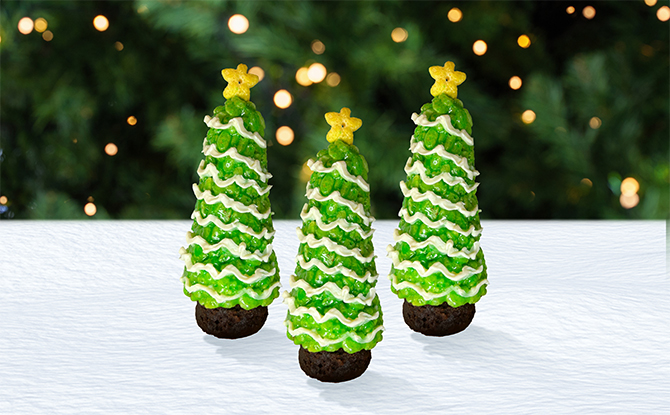 6 Cups of Rice Krispies Cereal (this makes 4 to 5 trees, with height of 10 to 15 cm)
3 Tbsp of Butter (40 g)
1 Cup of Marshmallows (50 g)
Green Food Colouring
5 Tbsp of water
6 Miniature Reese's Cups
White Chocolate Buttons
Sprinkles, edible pearls (optional for decor)
Honey Stars
Steps
Make a paper cone using baking paper and secure with stapler. This will help shape the Christmas tree.
Melt butter in a large saucepan over medium-low heat.
Add in marshmallows and stir until melted, while tinting with green food colouring to reach desired shade.
Add 2 spoonfuls  of water and stir. Depending on how sticky the mixture is, adjust the amount of water to be added accordingly. When the texture is smooth and semi-liquid, remove from heat.
Add in Rice Krispies Cereal and fold mixture until evenly coated. Let cool for about 5 minutes.
Shape the tree by scooping rice krispies into the paper cone. Pressing firmly so they'll hold together.
Remove the Rice Krispies Cereal and put it on Reese's Cups using melted white chocolate.
Pipe white chocolate trimmings onto the trees and add a honey star right on top.
Decorate with sprinkles or as desired.
---
Stay in Touch for Future Little Day Out Adventures
If you would like to participate in future Little Day Out Adventures, do fill in the form below so we can get in touch with you!