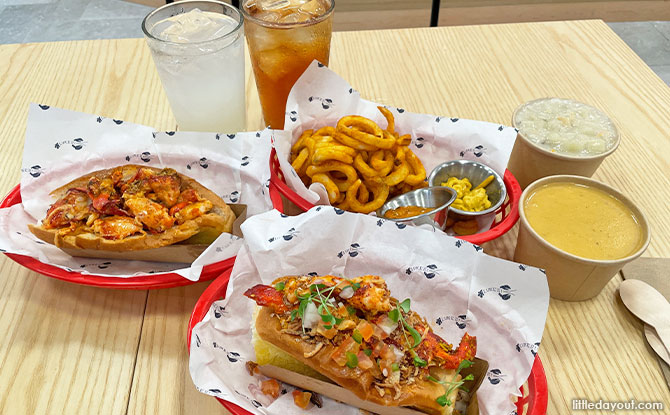 Luke's Lobster has just opened its newest and biggest outlet thus far at Great World City. Designed as a seaside shack meets diner, this space has a slightly different layout from the other two Luke's Lobster outlets and has casual seating as well as a beach-side charm.
Along with the new store, Luke's Lobster is also bringing two collaboration rolls for diners to enjoy. These spicy rolls are sure to bring the heat and an extra kick when biting into this delicious sandwich.
---
Luke's Lobster Curry Roll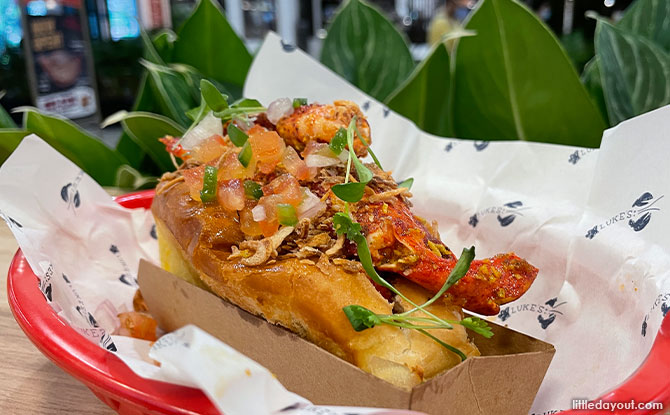 From now till mid-October, diners can order Luke's x Thevar Curry Aioli Lobster Roll. This lobster roll contains the usual fresh chunks of lobster claw and knuckle meat that is tossed in secret curry aioli, Xec Xec spices, homemade roasted coconut chutney and drops of shellfish oil for an extra load of seafood flavour.
The soft buttered split-top buns are swiped with more curry aioli and the roll is then topped with heaps of fried shallots, sprigs of baby coriander, fresh onions, tomatoes and green chilli. We enjoyed the rich taste as well as the variety of textures from the ingredients such as the onions and coriander.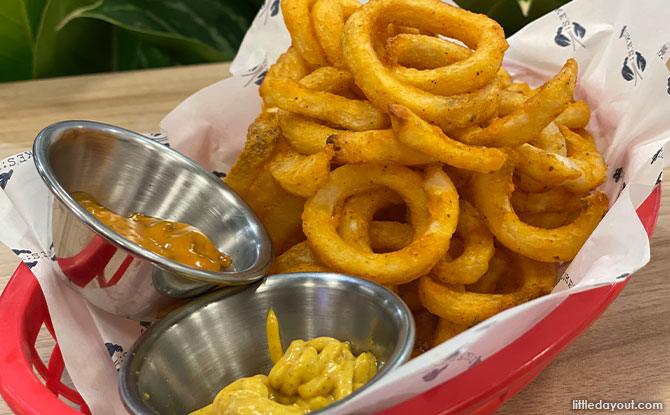 Diners will also be able to enjoy a side of Curly Fries and a special curry aioli dipping sauce.
---
Luke's Lobster Mala Roll
As they enjoy this Curry Lobster roll, fans can look forward to a Mala Lobster Roll done in collaboration with Birds of a Feather Sichuan. This Mala Lobster Roll will be available mid-October till mid-November.
We got the first bite of this roll which was on a different spectrum of spice. This lobster roll uses tosses freshly-thawed Maine lobsters and an extensive arsenal of spices which include Sichuan pepper oil, powder and preserved mustard greens, soy sauce, black vinegar, imported Dou Ban Jiang (preserved soybean paste), egg yolk, squeezes of lemon and Birds of a Feather's signature red chilli oil.
The roll is then garnished with sea salt, Sichuan peppercorns, chilli and cumin powder. As a diner who has a low spice tolerance, this roll sounded intimidating but turned out to have just the right amount of numbing spice that still allows the juiciness of lobsters to shine through. The citrus ingredients gave the roll a surprisingly refreshing aftertaste. Diners will also be able to enjoy some Curly Fries with side dips of Sichuan mala aioli.
---
Upcoming Luke's Lobster Collaboration Roll with FatFuku
Good things come in threes and details for the third roll in collaboration with Annette Tan's FatFuku will be released soon as diners can prepare themselves for a lobster roll with a Peranakan twist.
---
Opening promotions at Luke's Lobster Great World City
Other than new flavours, the new store also has a dedicated retail space for its At-Home Kits. These kits were previously only available at select FairPrice Finest stores. Now, customers can conveniently purchase ready-to-eat and ready-to-cook packs of frozen seafood including the new Crab for shelled chunks of Jonah Crab with cocktail and mustard sauce and Lobster Cakes from Mid-October onwards.
To thank and encourage fans who visit the new outlet at Great World City, every order of two seafood rolls will entitle customers to a sugary treat in the form of a Birthday Donut loaded with vanilla custard and rainbow sprinkles from Mr Holmes Bakehouse Singapore.
Fans can also take a simple "open book Sustainability Quiz" to find out more about the sustainable process of how Luke's gets their lobsters. Get a full score in one attempt, and you'll earn yourself a beer and a custom-designed Luke's Lobster Sustainability Ally badge.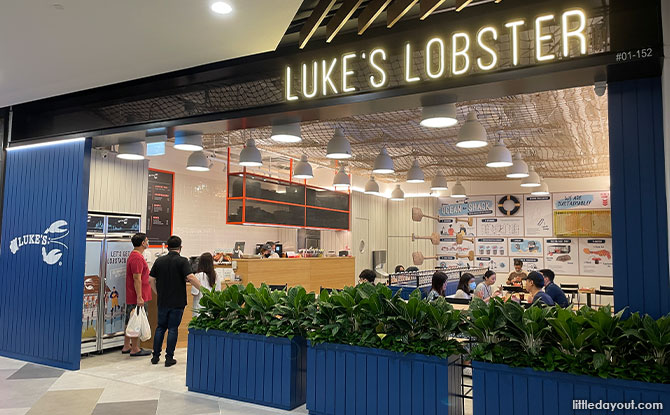 Luke's Lobster Great World is now open from 10 am to 9.30 pm daily.
1 Kim Seng Promenade, #01-152, Singapore 237994