The Twin Stars from Sanrio are flying down as Kumoya's newest guests! Say "Hello" to the Little Twin Stars, Kiki and Lala! From 19 November 2020, Thursday at the Little Twin Stars x Kumoya – Orchid Starry Dreamz pop-up café.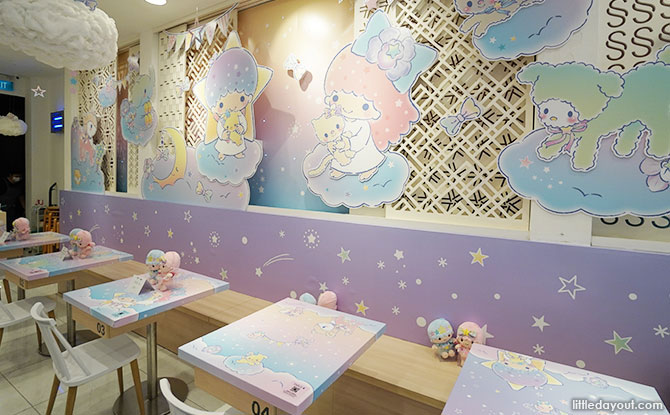 The celestial twins will be in their pastel heavenly home as Kumoya transforms their Jalan Klapa outlet the Land of Stars, complete with hanging clouds, stars, adorable cloud animals and more! As part of the twin's special visit to Singapore, Kiki and Lala will have unique Singapore Orchid bow designs on them!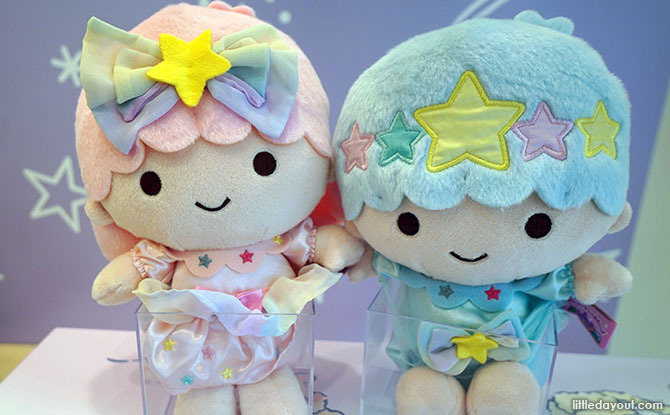 ---
-- Story continues below --
Kiki and Lala are two twin stars born on Omoiyari Star in the Yume Star-Cloud and conceptualised in 1975. Lala is the elder sibling, loves to draw and write poems, and is a great cook! Kiki is filled with curiosity about everything, which makes him a little cheeky sometimes.
---
Menu at Little Twin Stars x Kumoya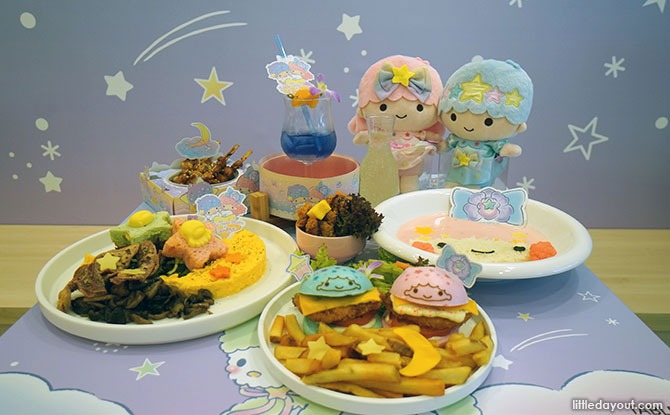 As always, there are a series of foods that are designed and prepared according to the adorable Twin Stars theme. The menu this time has 6 Snacks, 6 Mains, 4 Desserts and 7 Beverages. Here are some of the foods, desserts and drinks that we tried.
---
Teriyaki Chicken Sticks
The design for the snack box for this pop-up features a pastel container with the Twin Stars and some mystical animals such as deer, lambs and bears. There were also cute foods such as fluffy star pancakes and a resting moon on a fluffy cloud. The snack of choice for our meal was the teriyaki chicken sticks which are great for sharing.
---
Little Twin Stars Magic Starry Breakfast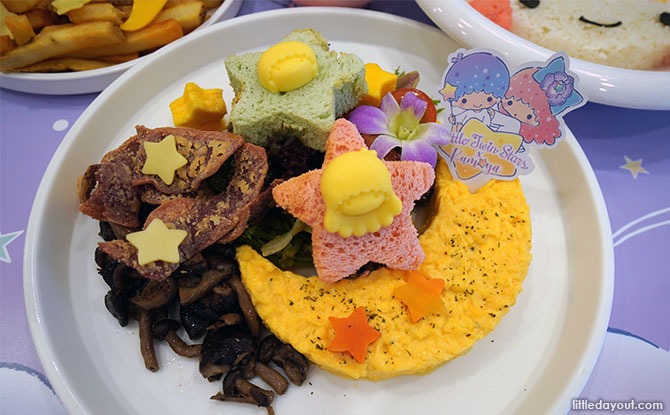 The first main that we tried was the Little Twin Stars Magic Starry Breakfast. A star-studded way to start the day, enjoy this dish of scrambled eggs in the shape of a crescent, along with roasted shiitake mushrooms, turkey bacon, cheese, carrot starts, a fresh garden salad and pats of butter moulded in the shapes of Kiki and Lala's faces on top of pastel star-shaped toasts.
---
LaLa Chicken Karaage with Beetroots Cream Sauce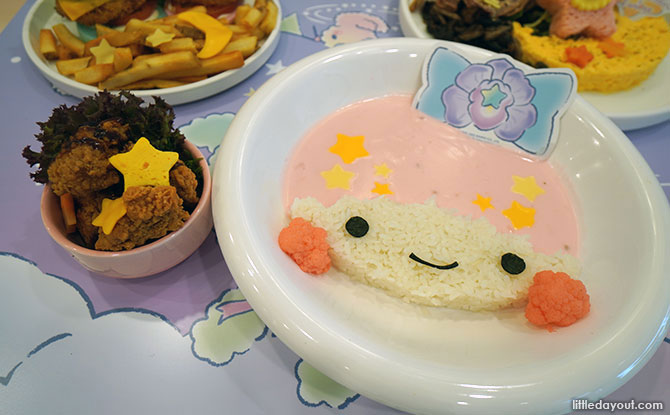 The second main that we tried was the LaLa Chicken Karaage with Beetroots Cream Sauce. Served alongside some chicken karaage drizzled with Teriyaki sauce, the pastel pink hue of the sauce is naturally dyed and topped with pink cauliflower, and tamago, cheese and carrot stars. We fully enjoyed the creaminess of this dish and although the ingredients were simple, it was a filling dish. You can also get the KikKi variation which comes with blue butterfly pea flower cream sauce and tempura salmon.
---
Little Twin Stars Double-Double Sliders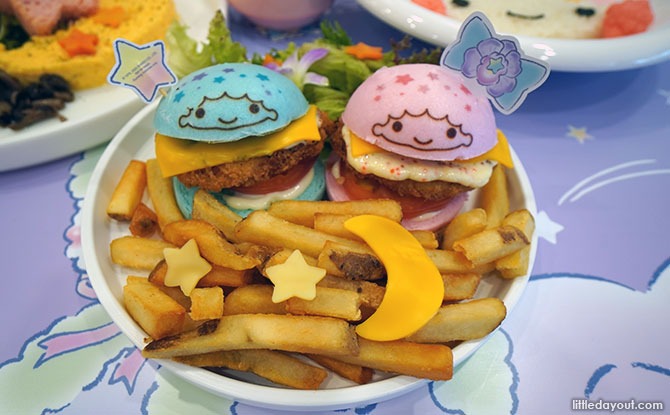 If you want a dish with both the Twin starts, go for double the fun with Little Twin Stars Double-Double Sliders! This dish comes with soft mantou buns, cheddar cheese, tomato, a flame-torched salmon katsu patty and tobiko mayo. These adorable pink and blue burgers are served with a side of fries and garden salad.
---
Desserts at Kumoya Little Twin Stars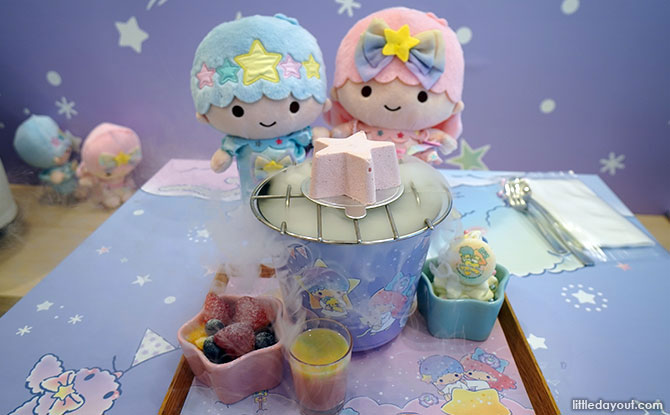 If you're looking for some hands-on fun, try the Magic Starz Galaxy Cake where you can try to glaze a soft strawberry mousse cake with strawberry filling. Pour the pastel-coloured glaze while the dry ice mist swirls from where you'll get the opportunity to glaze a strawberry mousse cake, complete with dry ice mist swirling out from the pot.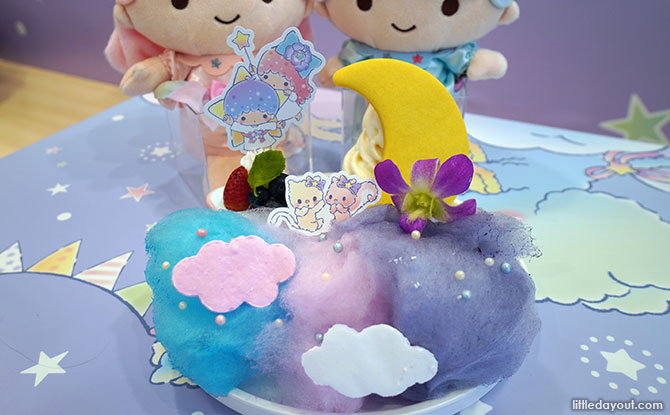 Another interesting dessert to check out is the Moonlight Dreamz Parfait. This comes with Hokkaido soft serve, a cake cup with fluffy chiffon cake and an almond pistachio mix, and meringue clouds. An assortment of fruit sits onto colourful fluffy cotton candy with a crescent moon butter cookie, completing the magical dessert.
---
Galaxy Soda Drink at Little Twin Stars x Kumoya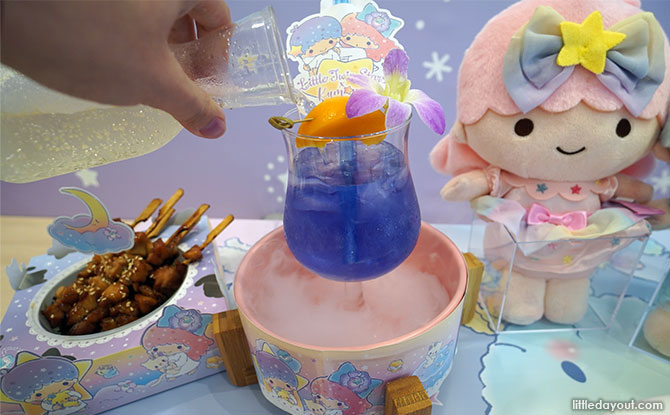 A drink that we think is a must-try, is the MoMo Apple Starry Galaxy Soda Drink. Also available in Lychee Yuzu, this soda drink is a colour changing drink that you'll want to get your cameras ready to capture! The drink is served in a tray with dry ice mist and the drink itself has edible glitter in it, making every sip a magical one!
---
The Little Twin Stars X Kumoya Orchird Starry Dreamz Cafe will be at the Kumoya @ Jalan Klapa outlet for the next three months starting 19 November 2020.
8 Jalan Klapa Singapore 199320