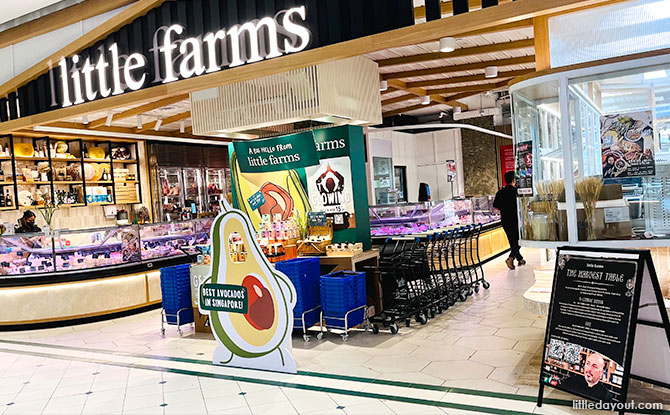 Picture this: fresh food presented artistically with subtle superb touches sans the usual heavy sauces for a more authentic, healthier fare.
Little Farms has unveiled an exclusive Five-Course Dinner Experience curated by Australian Guest Chefs with speciality wine pairing at its Tanglin Mall outlet, as well as Grill Menu at other outlets such as Serangoon Gardens.
Each guest chef will curate varied menus of vibrant, inspired dishes packed with imagination, texture and the distinctive quality of firm, freshest seasonal ingredients.
Upcoming on 10 to 11 March 2023, the restaurant will shine the spotlight on Chef Anthony Schlenk of The Kitchen at Bec Hardy Wines.
---
-- Story continues below --
Little Farms February Experience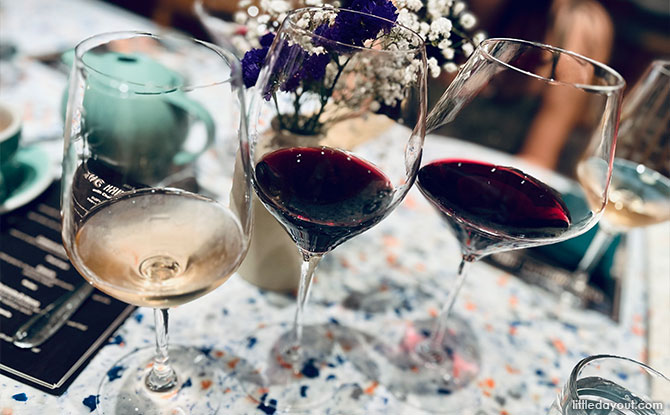 We tried out the previous culinary event featuring the refreshing creations of Chef Silvano D'Alessandro of Steampunk Espresso Bar & Cucinetta held on 24 to 26 February at Little Farms' Tanglin Mall.
Italian-Australian culinary master Chef Silvano's expertise sparkled at The Harvest Table five-course dinner with each course paired with fine Rivah Range wines (four different wines – Rivah Rosé, Rivah Malbec, Rivah Pinot Grigio, and Rivah Tempranillo) by Gill Estate winery from the Murray River region of Victoria, Australia known for their distinctive, fruit-driven flavours and bright acidity.
It was a delightful showcase of his signature dishes which combined the traditional and modern flavours from Italian, Asian and Middle Eastern cooking.
Starting with a light appetiser of focaccia olive bread served with creamy burrata and finishing with a velvety smooth Dolci vanilla bean panna cotta dessert topped with fresh berries.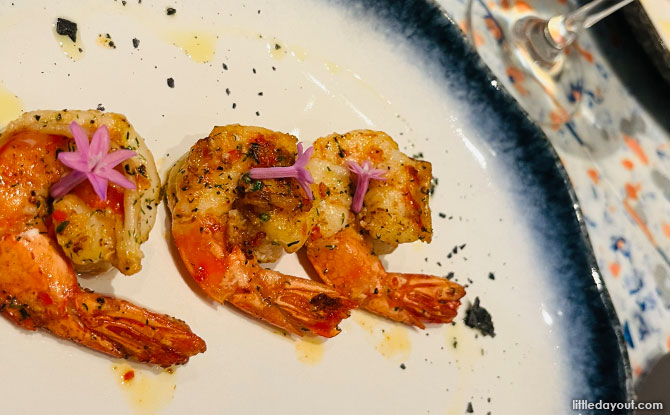 The highlights for us included the most amazing house-made Gnocchi covered fermented portobello mushrooms and sprinkled with percorino cheese paired with fruity Rivah Malbec of a mildly spicy aftertaste as well as the floral-garnished Gamberi beautifully cooked to accentuate the bold sweet firm taste of rich, succulent tiger prawns.
We were treated to a different culinary orientation of light accents of herbs and spices. Enjoying every delicious mouthful with each dish engaging various senses, we relished our savoury experience, soaking in the entire vibe of good food and wine, warm ambience and company.
---
Degustation Discovery for Dedicated Food-Lovers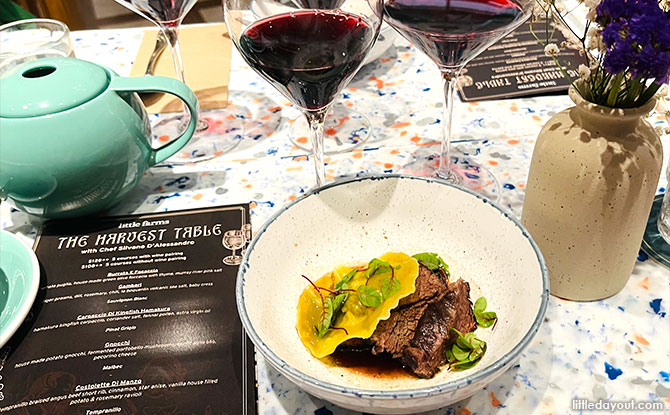 Starting with sight, Little Farm's curated, warmly-hosted dinners and grill experiences promise to be a satisfying encounter for all senses and meal events that we want to enjoy and share.
Different from the usual cream, sauce and gravy overload, the skilfully-prepared and delicately-presented fresh food with its contemporary palette speaks for itself.
"We are thrilled to host these talented guest chefs and showcase their unique culinary perspectives," said Jason Green, Group Executive Chef at Little Farms. "Our love for Australia is manifested in our appreciation of the country's produce, wines and of course, talents. These events will provide an opportunity for diners to try new dishes with select ingredients from our grocer, and we can't wait to share this unique dining experience with them."
As visual and experiential pleasures increasingly define the food and beverage industry, Little Farms offers a gastronomic and sensorial experience for discerning diners to delight and indulge in.
Completing each course with the wine-pairing option of degustation dining where each dish is served with a matching wine to bring out its flavours, raises the taste sensation to the next level.
Appealing to the adventurous keen to try out new gastronomic trends and the best fine dining based on a less conventional menu, the guest chef format offers dinners opportunities to appreciate the exciting taste sensations from a range of curated high-quality dishes showcasing the best of each chef's different creativity, skills and styles.
While fine dining, the dinners are fun and relaxed hospitality affairs with the chefs as hosts in Little Farms' cozy spaces. Dining in takes on another dimension in current times with aesthetic and social changes fuelling expectations of innovative experiences and top quality farm-to-table approaches by restaurants.
With people's social lives increasingly revolving around excellent food and dining as an aesthetical and healthy affair, speciality grocer-bistro Little Farm's cuisine concept defined by lighter, innovative fare with the winning combination of new gourmet sophistication, selection of ethically sourced all-natural quality produce and sustainable dining practices is attractive.
The sheer pleasure of dialoguing with the food coupled with the line-up of dishes paying tribute to a curated cuisine, fresh produce and culinary art. We can't wait to see what the next guest chef brings to Little Farms' table!
---
What's Cooking Next at Little Farms
Chef Anthony Schlenk from The Kitchen at Bec Hardy will craft a memorable French-Australian inspired 5-course dinner menu: Bec Hardy + Little Farms on 10 and 11 March 2023 at Little Farms Tanglin Mall ($128++ per person with wine pairing; $108++ food only) – featuring Cured Akaroa Salmon, Chicken Liver Parfait, Wagyu Beef Tartar, Beef Cheek Bourg and Lamington, each expertly paired with wines from the award-winning Bec Hardy and Pertatinga ranges.
A casual and fun Streetside BBQ Grill Night will be held on 12 March 2023 from 5pm onwards at Little Farms Serangoon Gardens – featuring ($14++) dishes like a Seared O'Connor Beef Ribeye and Roaring Forties Lamb Cutlets with a fresh and zesty salsa verde. There will also be a special wine tasting event on 10 and 11 March at Tanglin Mall hosted by Richard Dolan, Joint Managing Director of Bec Hardy Wines.
More details on Little Farm's website.