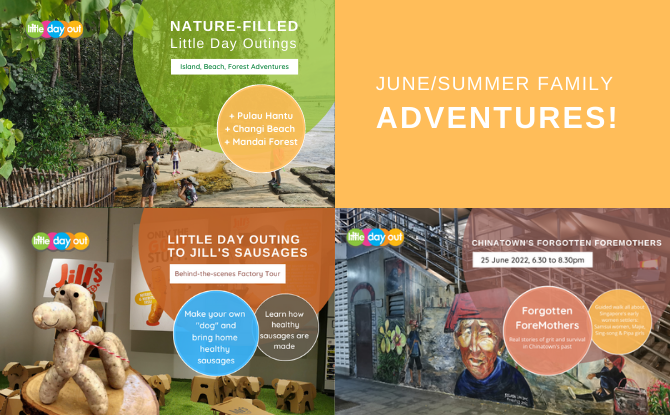 Summer holidays are here!
Switch off the morning alarms and join us on various Summer Outings – learn to make nasties-free sausages, go on a Chinatown heritage tour to learn all about our foremothers, head to Pulau Hantu for an intertidal walk and help us clean up the beach at Changi while learning about the marine biodiversity at low tide! Top up your dose of nature and check out the intertidal sandy shores at Coney Island and meet the samba deer in the dead of the night at Mandai Forest!
Read on for the details!
Little Day Outings for Summer 2022 At One Glance
Exclusive Little Day Outings this June and July Holidays
1. BTS Factory Little Day Outing to Jill's Sausages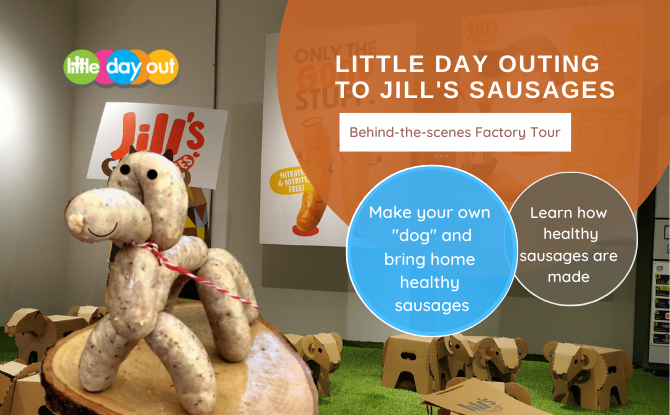 Calling all foodies and curious people! Have you ever wondered how sausages are made? Go on a Little Day Outing with us to a sausage factory where quality handmade, gourmet meats are made, and make your own sausage to take home!
Go behind the scenes to find out how sausages are made, the exact processes that make them so yummy and various cooking methods of different types of sausages. Then get your hands into the process and make your very own dog to take home.
Learn the terms: brine, smoke, tumble, dry – which are all terms used in the preparation of the sausages!
While awaiting the cooking for the sausages, we will be reading stories on sausages, planning our own sausage recipe and then participating in a quiz! Are you ready?
Each participant will also bring home a packet of gourmet sausages worth $10.
Dates: 10 June, Friday, 10 am to 12 pm
or 17 June, Friday, 4 pm to 6 pm
Cost: $50 per person, two to go, inclusive of a packet of Jill's Sausages gourmet sausages worth $10 per paying participant. Top five sausage-making families will bring home a dog of sausage worth $20.
Registration is open to children above 6, accompanied by a parent or adult caregiver.
*Jill's Sausages contain either pork or chicken. Minced pork will be used for the making of sausages onsite. 
---
2. Forgotten Foremothers Walking Tour in Chinatown
Who? Foremothers? Yes, Singapore's early women settlers are essential workers – from the hardworking Samsui women to the Majie and Pipa girls. Hear about their stories in the district that witnessed Singapore's transformation from a trading settlement to city-state.
Steeped in history and heritage, Chinatown is a place for both locals and tourists alike to uncover the beginnings of our migrant ancestors and their stories.
Follow the journey of Singapore's early women settlers, we guarantee an enriching experience! Guide Peter is a STB-certified guide who has delved deep into real stories archived and mostly forgotten.
Mums will also receive a special goodie bag!
Forgotten Foremothers Walking Tour in Chinatown
Date: 25 June 2022, Saturday
Time: 6.30 pm to 8.30 pm
Tickets: $50 per person, two to go
Spend some quality time with mum for this fascinating Chinatown walking tour.
---
3. Nature Walks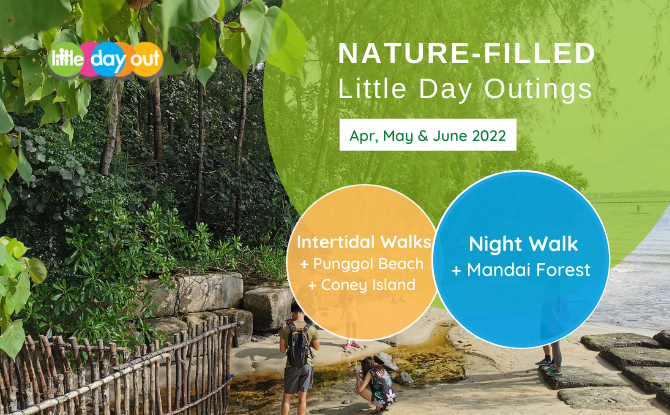 Intertidal Walk & Beach Clean-up at Changi Beach
Ever wondered what is the excitement about at Changi Beach? 18 June, 2 July and 16 July happens to be a "low-tide" day where the intertidal zone and its inhabitants are exposed for a rare window for us to take a closer peek.
We will be spotting crustaceans like crabs, sea stars, sand dollars, molluscs, worms, corals, sponges! Discover many fun facts while observing the creatures – did you know a coral is not a plant? And did you know there are hares in the sea?
We will also be picking up plastic waste and other trash from the beach, so bring along gloves, plastic bags and tongs! We want to encourage families to take action in cleaning up our environment, let's all do our part for Earth.
Dates/Times: 18 June 2022 (7.30 to 9.30 am), 2 July 2022 (7 am to 9 am), 16 July 2022 (7 am to 9 am), All Saturdays
---
Intertidal Walk at Coney Island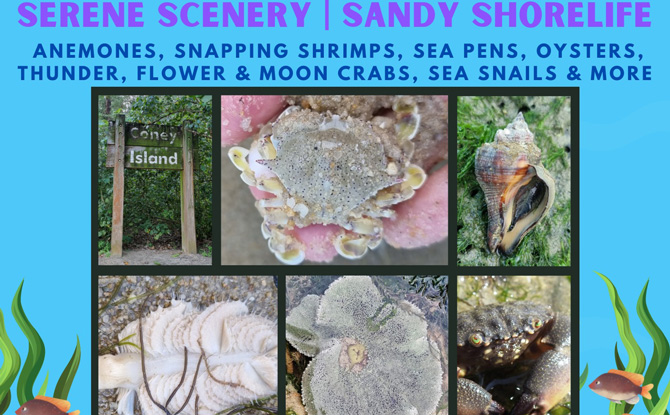 Been to Coney Island? Have you noticed the marine animals and plants?
Head to the shores at low tide to explore the shallow sandflats! You will see Carpet Anemones, Snapping Shrimps, Flower Crabs, Moon Crabs, Sea Pens and Tube Worms living in a sea of seaweed. Take a closer look at the rocks and tree snags encrusted with limpets and barnacles which are yummy cuisine for the pretty Spiral Melongena Snail.
See if you can spot an Onch Slug and various Sea Snails. In the deeper waters, the beautiful Mangrove Whipray and other fish have been spotted. Find Purple Climber Crabs, Thunder Crabs, Rock Oysters, Drills and Bead Anemones at the breakwater.
Date/Time: 4 July Monday (Youth Day Holiday) 7.30 am to 9.30 am
See the shores of Coney Island. Sign up here.
---
Reef Walk at Pulau Hantu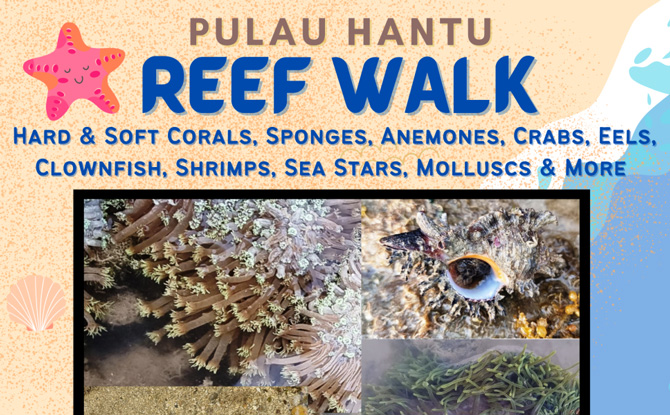 Catch a glimpse of one of the most pristine coral reefs in Singapore. Pulau Hantu is a popular dive site and you will see why when the tide subsides revealing beautiful reefs and a plethora of intertidal lifeforms. See hard and soft corals, sponges, Anemones, sea stars, sand dollars and more!
Spot fish, eels, crabs and shrimps swimming and find the many creatures on the exposed sandflats. Don't miss this adventure to Pulau Hantu. This island is 30 minutes away on a specially chartered boat which will set off from West Coast Pier.
Date/Time: 20 June 2022, Monday, 7 am to 10.30 am
---
Mandai Forest Night Walk
Ever wondered about the actual wilderness surrounding the Zoo? Mandai Forest will surprise man with its own nocturnal wonders. See Sambar Deer feeding, Lesser Mousedeer trotting gingerly in search of fallen fruits, find Colugos and bats feasting. Their presence is revealed only with glowing eye shine. Use your sharp eyes to spot other creatures like Drogs, Rats, Rachers and Rat Snakes.
If there is plenty of rain during that time, there will be bioluminescent mushrooms sprouting in small clusters and we may even spot Long-tailed and Dwarf Wood Scorpions as they fluoresce alongside gorgeous hues of reds, yellows and purples by plants, lichens, fungi and insects. Join in for a good dose of forest magic!
Date & Time: 24 June Friday 7.15 pm to 9.15 pm
---
Nature, Food, History and Heritage at Little Day Outings!
We have something for everyone, so let's all join in the fun!
---
Stay in Touch for Future Little Day Out Camps & Outings
Love what we are offering but can't make it this time round? Want to be the first to know? Do fill up the form below so we can get in touch with you! Find out more here too!