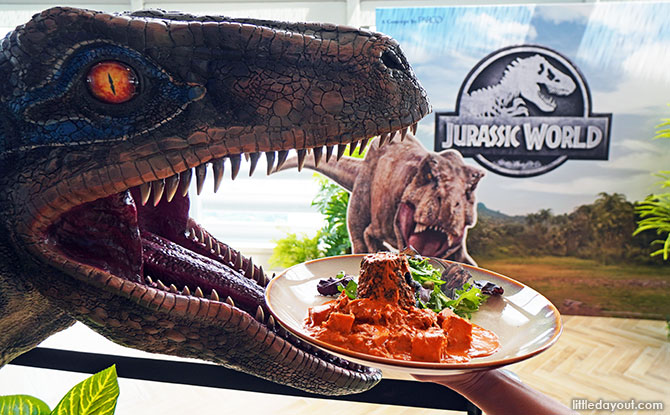 Be the first in Southeast Asia to step back millions of years and feast amongst the dinosaurs at the first Jurassic World Café pop-up dining and retail location. The dinosaur-themed Jurassic World Café Singapore opens its doors to the public from 6 November 2020 to 3 January 2021 at ION Orchard.
Based on the original concept seen in THE GUEST Café & diner, a themed café operated by PARCO in Japan, this pop-up version is making its debut at ION Sky at ION Orchard.
---
-- Story continues below --
Set against a stunning skyline, this dining concept is sure to please families and fans alike with both a life-sized and a LEGO model of Blue, the fan-favourite Velociraptor, themed menu items and exclusive merchandise from the well-loved movie franchise, Jurassic World – which is set to release its highly anticipated third instalment in June 2022.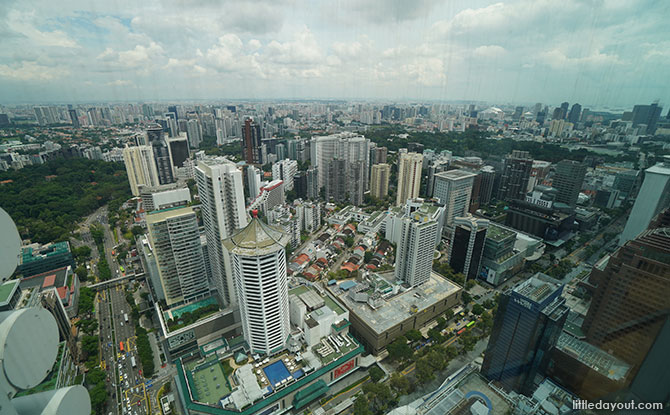 Joseph Ong, Founder and Managing Director of 1-Group said, "We are thrilled to be able to bring the Jurassic World Café to Singapore, especially at such an iconic location at ION Sky. 2020 has been a trying year for all of us, and we are hoping that this pop-up will bring joy to people during the year-end season."
---
Themed Menu Items at Jurassic World Café Singapore
As with any themed café, Jurassic World Singapore will have a menu that fans can look forward to. It has been inspired by different elements of the well-loved movie franchise. Here are some of the dishes that we tried.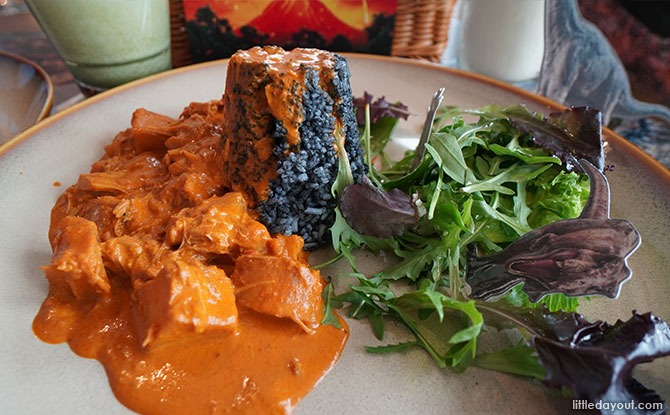 The first dish we tried was the "Volcano Curry" which represents the emulating lava from the active volcano in Jurassic World: Fallen Kingdom. The dish had shredded pieces of chicken, potato curry and a good kick of spice. The dish was served with a side of black "volcano rice".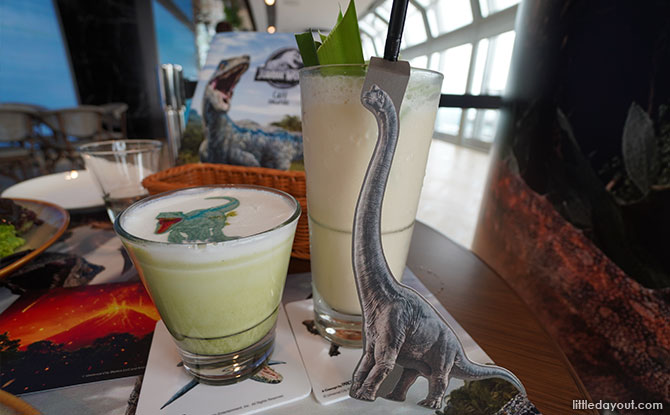 For drinks, we had the Brachiosaurus Chendol as well as the hot matcha latte that comes in one of three latte designs. The Matcha was sweet and milky. The Chendol was mainly a coconut milk base with a faint hint of Pandan and a generous amount of green jelly.
Customers can redeem a limited edition coaster with any order from the drinks menu.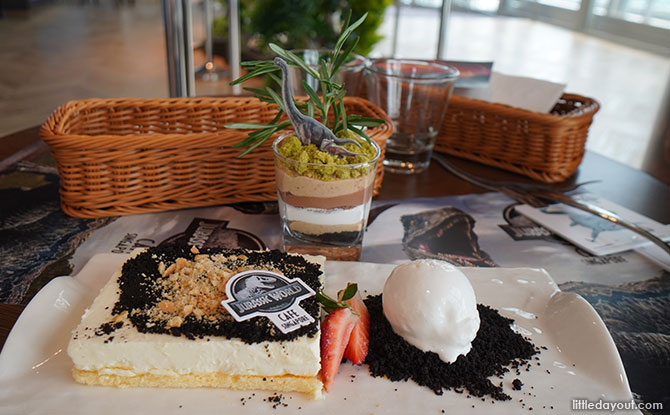 We also tried the desserts such as the Foil Excavation cake which is a vanilla cream cake with a light chiffon base topped with cocoa biscuit and fruits. There was also a scoop of cocoa biscuit and ice cream on the side. This dessert a pretty generous portion and it had a light chiffon base.
We also had the Geologic parfait that was layers of chocolate sponge, a hazelnut mousse, cream with feuilletine and a matcha biscuit topping. There was also a sprig of rosemary for decoration. This decadent dessert had many layers and a variety of textures from the different ingredients in the parfait.
Other items on the menu that you can try are the Jurassic World Burger made with bacon mushroom and a black bun with wedges on the side. Another interesting dessert that caught our eye was the "lava flow" dessert which is a salted egg custard chocolate fondant.
---
Limited Edition Christmas Menu at Jurassic World Café, ION Orchard
Diners can look forward to two dishes that are part of a Christmas special menu at Jurassic World Café Singapore.
The first dish is the "Christmas Meat Platter" which has glazed pork ribs with chicken wings as well as potatoes. The festive dessert on the menu is the "Cranberry Mint Chocolate" and these items are currently available on the menu.
---
Limited-Edition Merchandise for Dinosaur Lovers
Visitors can get their hands on limited-edition collectables such as the Snap Squad figures from Mattel and as well as a Blue plushie keychain that has been specially produced by 1-Group for the café at the dedicated merchandise section. Many other great items including Jurassic World- themed dinosaur LEGO sets will also be available.
The Jurassic World Café at ION Orchard and its dinosaurs will be open daily from 11 am to 10 pm. Tables will be available for booking from 6 November 2020 onwards. To book your table, call +65 8028 1489 or write to reservation@jurassicworldcafe.sg.