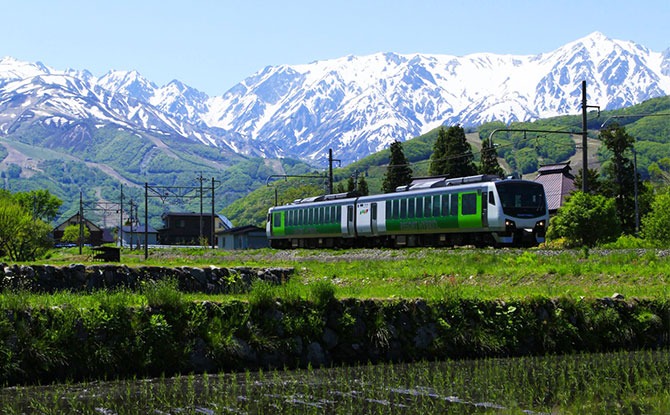 Satisfy your yearnings and wanderlust with a virtual taste of Japan this November at the Japan Rail Fair by Japan Rail Café! From 20 to 22 November and 27 to 28 November 2020,  immerse yourself in a selection of free and ticketed live programmes over two weekends.
---
Japan Rail Fair by Japan Rail Café
For those who love the travel food and culture in Japan, this is a unique virtual trip not to be missed. The Japan Rail Fair will bring all on a virtual trip to popular destinations around Japan, complete with experiential live programmes that include food and alcohol delivery!
All ticketed programmes can also be attended for free without food and beverage add-ons.
---
-- Story continues below --
Live Programmes at the Japan Rail Fair
Here are some of the live programme highlights that you can look forward to. The best part? Many of these are free!
Experiencing Ehime
The Ehime Prefecture has many famous hot spring resorts, a beautiful castle overlooking the city, and a world-class cycling route where you can cruise while looking at the beautiful sea! Join a free webinar on 20 November at 7 pm to discover the charms of Ehime.
Tokyo Station: The "0 km" trip
Start at the starting point of all Shinkansen lines in Japan – Tokyo Station! Some stops and activities along the way include omiyage-shopping in Gransta Tokyo, an ekiben introduction by JAPAN RAIL CAFE TOKYO, and a tour into the majestic Tokyo Station Hotel. There will be an introduction to yummy Tokyo Station souvenirs too. This session takes place on 21 November 2020 at 3 pm.
Enjoy Autumn rail travel with Ekiben
What is travelling to Japan without a taste of it? In this fun activity, you can sit back and relax as JR East brings you on an autumn journey to Eastern Japan, virtually! Simply register for this webinar to enjoy ekiben (lunch box for eating on the train) while watching an informative webinar. Learn about ekiben culture, autumn sightseeing spots, and more on 21 November 2020, 11 am. This Japan Rail Fair event ticket is sold for a very attractive price of $19, inclusive of delivery to one location! Details here.
Go on a farm stay in Akita
Hosted by Akita Inu Tourism, Japan Rail Fair has a webinar on 27 November 2020, 9 pm, that is sure to surprise and entertain as you are introduced to a unique experience into a local guest house, Sakekoshimai. There, you will meet the adorable Mr Yamauchi and learn how to make Kiritanpo, a must-try local dish. You'll even get a chance to harvest the rice to make the dish!
---
Stand a chance to win flight tickets to Tokyo by Japan Airlines
There will also be a free Online Travel Booth where visitors can speak with travel experts to plan for their next in-person trip when possible.
At the end of the Japan Rail Fair 2020, there will be a grand lucky draw with attractive prizes such as JR East Passes as well as return flight tickets to Tokyo by Japan Airlines. Visitors can increase their chances of winning by participating in as many live programmes and travel booths as they can.
---
Taking Part in Japan Rail Fair 2020
The Japan Rail Fair By Japan Rail Café events will be taking place online via jrtimes.sg/tjrf2020 and its Facebook Page. Updates are available on its microsite and Facebook Event Page, and tickets are available here.