When one thinks about a Singapore Steakhouse, Jack's Place (www.jacksplace.com.sg)  first comes to mind, given its 56 years of history. With 13 outlets island-wide, this Hainanese eatery has become a well-loved household name for fine sizzling steaks of good quality and great value since its Killiney Road beginnings in 1966.
Dining at Jack's Place with its cosy ambience has been a real family treat since childhood and we were raring to go when we heard about the return of Jack's Place Tenderloin Fest, available at all outlets in October 2022!
Jack's Place ensures only the most succulent premium grass-fed New Zealand beef are portioned into sensational steaks, also aged for at least 60 days to draw out the best natural flavours from each cut, with slight marbling that gives the beef a beautifully rich flavour.
---
Jack's Place Tenderloin Fest: Making the Cut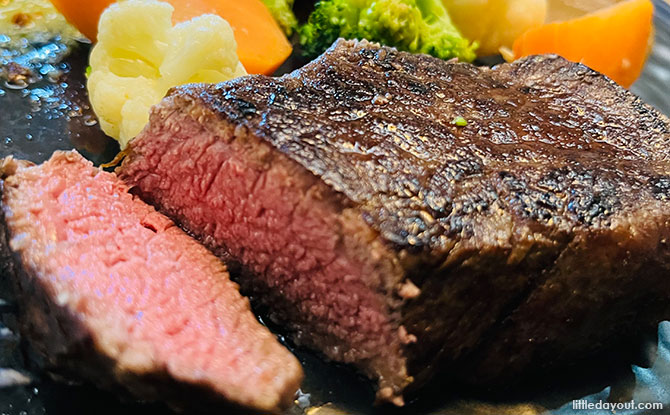 ---
-- Story continues below --
The Signature Tenderloin cut is unique to Jack's Place among local steakhouses and steak-lovers will be spoilt for choice with the month's feature of its fillet steaks served on sizzling hotplates with in-house special sauces, accompanied with specially-priced premium appetisers starters.
For a limited period until end-October 2022, patrons could collect four Tenderloin Fest Stamps (one stamp per tenderloin order)  to enjoy $10 off their next meal!  The new steak offerings will still be available on the a la cate menu after this promotional period.
The coveted center-cut Tenderloin Steak or Filet Mignon is the most tender expensive cut of beef by weight in portion-controlled steaks, lean yet succulent with subtle beefy undernotes.
A leaner cut than the sirloin or ribeye, the thick tenderloin is literally about tender textures and juices when done medium rare to medium for the beautifully cherry-pink slices revealed under a well-seared crusty shiny brown exterior, loaded with bold, melt-in-your-mouth flavour.
Perfectly prepared, Jack's Place's standalone steak is a glowing visual pleasure, delicate in taste with a very small amount of marbling for the light buttery flavour. Enjoyed on its own or coupled with sauces to intensify and ignite the taste buds, cutting into and relishing it alone already made our meal!
---
Ten Different Ways to Savour Tenderloin Steaks, including Two New Seasonal Flavours
Jack's Place has introduced the following ten variations of its finely textured Signature Tenderloin steak, each served on its trademark sizzling hotplate, accompanied with its characteristic side – the fluffy baked potato topped with sour cream, crisp turkey bacon bits and chives:
Fire Steak ($30.50) – flamed with brandy, this was an impressive display of quick intense heat to reveal the glistening dark brown slab when the flames disappeared
Cajun Steak (new) ($30.50) – tender fillet steak served with Cajun-style chunky tomato and capsicum sauce is a garlicy, peppery and mildly earthy combination
Sambal Steak  ($30.50) – served with Jack's trademark sambal sauce, the perfect balance of naturally sweet, salty and spicy thick chilli paste sauce which brings the fillet to a whole new level. This remains the perennial favourite with its invigorating superb pairing livening up the steak meal.
Mushroom Onion Steak ($30.50) – creamy mushroom onion sauce deepened the flavour profile of the fillet with it smooth fragrant gravy
Black Pepper Steak ($30.50)  –homemade robust but velvety dark brown black pepper sauce with bits of peppercorn enhanced the aromatic and savoury taste of the fillet
Jack's Special Steak ($31) –  white asparagus and black mushroom sauce, enriches the fillet's flavour profile
Tenderloin with Escargots ($32.50) – a serving with cooked snails in garlic and herbs butter lend French glamour to the fillet
Ultimate Turf & Surf ($32.50) – Cajun prawns and house brown sauce is a lovely contrast accompanying the fillet
Carpetbag Steak (new) ($32.50) – succulent oyster stuffed in tenderloin fillet creates a bright complex flourish
Bacon Fillet with Truffle Butter($31.50) – crowned with crisp turkey bacon and served with truffle butter to add a sharp layer of flavour
---
Premium Appetisers and Beverage of the Month
With every purchase of a tenderloin steak during the Tenderloin Fest, Jack's Place is offering a special price for one premium appetiser at only $8.80.
Appetisers include chunky Lobster and Crab Stuffed Mushrooms (usual price $12.50), chewy Six Escargots in Shells with Garlic Butter (usual price $11.50), creamy cheesy Scallops Bienville (usual price $12), Meat-free Chargrilled Pieces Salad with a crisp bite and fresh vegetables (usual price $11.50) and a Crispy Sampler Platter of fritters for sharing (usual price $16.50).
October's Drink of the Month is a refreshing but a tad sweet Mango Peach Cooler at $9.80 for 2 glasses.  Alternatively, complement the meal with a glass of Chianti Classico DOCG or Pinot Grigio from Jack's Place Wine of the Month selection at $8.80 for a perfect pairing.
A superb steak with its incredibly tender cherry-red meat, buttery and succulent without overtly intense beefy flavours, the taste and texture of the tenderloin is divine goodness with a clean finish yet with all flavour and moisture locked in.
Just thinking about it again was sheer bliss enough to reactivate our fillet craving and make our mouths water! We will be back.