Kai Kai and Jia Jia are the proud parents of a boy! The gender of the baby panda, who was born at Singapore's River Safari on 14 August 2021, was revealed by panda papa as part his 14th birthday celebrations.
---
A Baby Boy Panda for Kai Kai and Jia Jia
For the gender reveal, Kai Kai, whose birthday is on 14 September, tugged on a special enrichment gift which released a shower of blue confetti. Kai Kai got a special treat of carrots too.
The panda cub's gender was determined through a series of visual assessments done by the Wildlife Reserves Singapore (WRS) team. This was then confirmed in consultation with the China Conservation and Research Centre for Giant Panda.
---
-- Story continues below --
---
Jia Jia and the Male Panda Cub's Progress
The panda cub has not undergone a full veterinary examination as Jia Jia continues to be his primary caregiver.
Jia Jia has been excelling in her role as super mum. Dr Cheng Wen-Haur, Deputy Chief Executive Officer and Chief Life Sciences Officer at WRS, shared, "Jia Jia continues to grow in her role as a new mother and has exceeded all expectations in caring for her cub. As such, the panda care team has decided to allow this period of maternal care to continue for as long as possible for the duo to strengthen their bond."
Jia Jia's carers have also resumed conditioning session to get her ready for the care team to retrieve her cub when the time is right.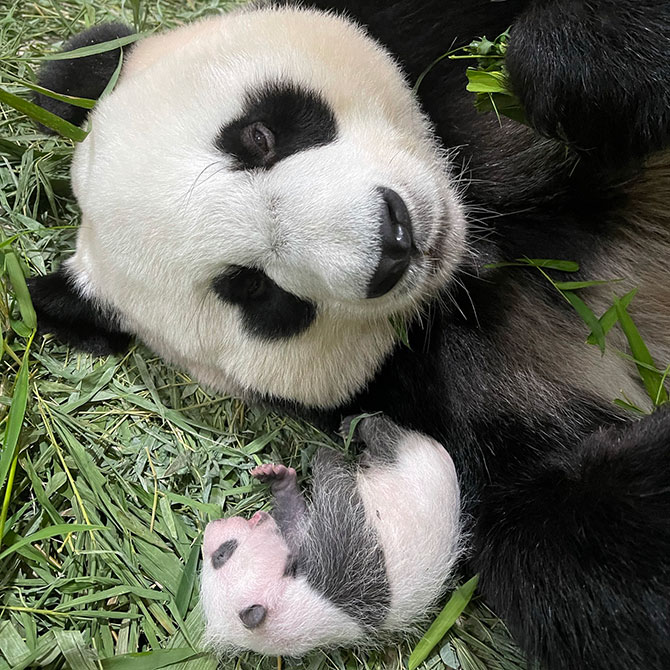 Over the last month, the panda cub has started to develop prominent black markings around his eyes, ears and body. He has transformed from a fur-less pink newborn to look more like his parents. His fur is expected to be fully in over the next few weeks and he will soon open his eyes.
---
Help to Name the Boy Panda Cub
The public can also play a part in helping to name the baby panda boy before he turns 100 days old on 21 November 2021.
According to WRS, "Names should be catchy and easy to remember, while reflecting characters with positive meanings or attributes, have relevance to Singapore heritage and culture as well as significance to the friendship between Singapore and China."
A judging panel chaired by Mr Tan Chuan-Jin, Deputy Chairman of Mandai Park Holdings, will oversee the process. Shortlisted names will be released to the public for voting.
Get more details on how to participate in the naming of the baby panda here.
Submissions must be made by 19 September 2021.