Curated to the theme "Bridges of Time", i Light Singapore – Bicentennial Edition will be held from 28 January to 24 February 2019, featuring a total of 32 artworks which comprises 31 sustainable light art installations, and a spectacular multimedia show.
This anchor event will kick-start the Singapore Bicentennial commemoration in 2019. Seventeen of the 32 artworks are by Singaporean artists, or will feature content related to the Lion City by international artists from countries such as Belgium and Estonia.
The 2019 edition of the sustainable light art festival delves into the topic of connectivity, while reflecting on Singapore's history, growth and relationships with the world over the last 700 years.
i Light Singapore – Bicentennial Edition will see installations in Marina Bay, as well as in other historical areas including Civic District, Singapore River, and Raffles Terrace at Fort Canning Park.
Telling the Singapore Story to the World
Through the years, i Light Singapore has consistently made use of art and sustainability to bring people from all walks of life together.
This year is no exception. With the light art installations strategically placed across the heart of Singapore, visitors to i Light Singapore – Bicentennial Edition will be taken on a journey through time, beginning with the arrival of Singapore's earliest communities at Singapore River.
Be enchanted by a nightly multimedia presentation of lights, lasers, music and projections on water put together by Belgian group, ACTLD. Telling the timeless story of travellers who journeyed and discovered Singapore over the years, Bridges of Time is an immersive multimedia show that will truly bring the River alive.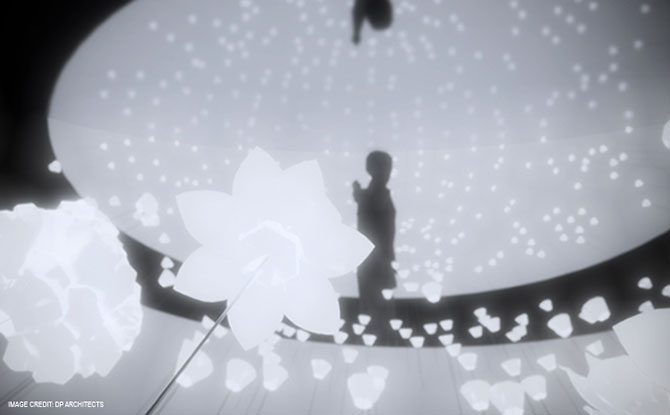 This year, local architect firm, DP Architects, will showcase Why Green? at Marina Bay Event Square where festival-goers are invited to wander through an immersive installation that features 3D-printed plant species inspired by the landscape of Singapore.
In partnership with LUX Light Festival in New Zealand – one of three overseas collaborations – i Light Singapore – Bicentennial Edition sees Facey Thing by UJI Studios set up home at One Marina Boulevard.
This installation is a fun and satirical look at the selfie culture and universal surveillance with the use of hyperreal simulated images of visitors through the art of play.
As guests come into view of the camera, they can interact creatively and have their pictures taken on-site by virtually painting with their faces.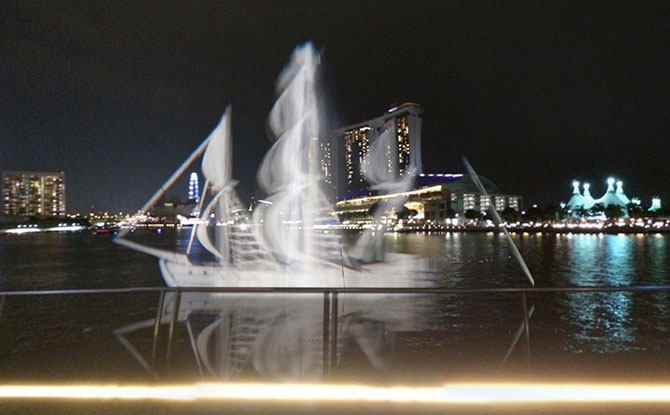 Make your way to the Marina Bay waterfront promenade for a 3D light- and water- based hologram of sailboats presented by Studio Biangle from Estonia.
Titled Sails Aloft, this large-scale light installation recreates hologram images of vessels inspired by the sampan panjang, a "long-dwelling boat" which the early immigrants of Singapore used to live off.
Appearing only after darkness falls, the hologram wavers with the movement of the wind to exude a dreamy ambience, while creating a snapshot of a 19th century sailboat race in the region.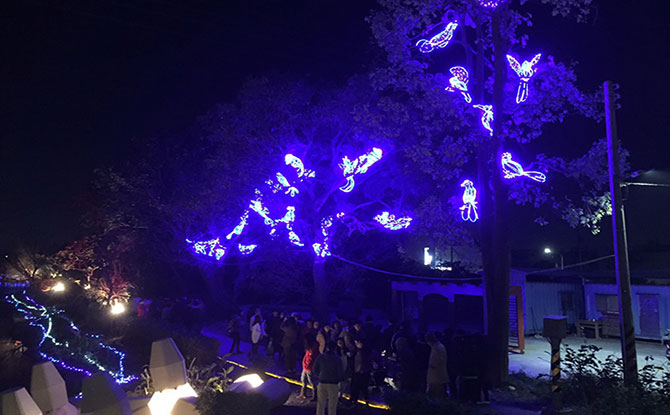 Fort Canning Park to host i Light Singapore artworks for the first time
Raffles Terrace at Fort Canning Park was not only the place of residence for a long line of governors, including Sir Stamford Raffles, but it was also an important communication centre after the British established a port here in 1819.
By extending i Light Singapore – Bicentennial Edition to Fort Canning Park, the public can explore and better appreciate this historical area while enjoying the light art installations.
Highlights include artworks by Taiwanese artist, Dr. Huang Chin Fu, whose Land-pass Bird will feature 30 birds with fluorescent blue feathers perched on the trees that flank the staircase, starting from the foot of Fort Canning Park, up to Raffles Terrace.
Up at Raffles Terrace, Mr.Beam from The Netherlands invites visitors to interact with his piano installation Keys of Light, which reacts to each music note played on the piano and triggers captivating animations in the surrounding environment.
In addition to the various light art installations, visitors to i Light Singapore – Bicentennial Edition can also expect a dynamic line-up of programmes and activities.
i Light Singapore – Bicentennial Edition Details
i Light Singapore – Bicentennial Edition will be held from 28 January to 24 February 2019 from 7.30 pm to 11 pm daily (with extended hours to 12 am on Fridays and Saturdays).
General admission to the Festival is free. Visit www.ilightsingapore.sg for more information.