For a limited time starting from 27 May, fans of DreamWorks Animation's Trolls can delight themselves in a themed tea experience at Anti:dote. The first of its kind in Southeast Asia, Anti:dote in collaboration with PARCO will showcase a selection of savoury and sweet tea treats presented in its classic chest of drawers, with each item inspired by the happy and fun Trolls characters.
---
DreamWorks Trolls – A Tea Experience at Anti:dote
Anti:dote's Troll Themed Mocktail
Diners can begin their culinary adventure with the Trolls Mocktail, a refreshing concoction of housemade mint-infused lemonade. The drink adds some hair-raising fun and one can watch the cotton candy and turn into a blue hue when lemonade is poured over it.
Let your phone cameras snap away as you are presented with edible works of art with creative semblance to distinctive traits and endearing quirks of this much-loved bunch.
---
-- Story continues below --
---
Anti:dote x Trolls Savoury Treats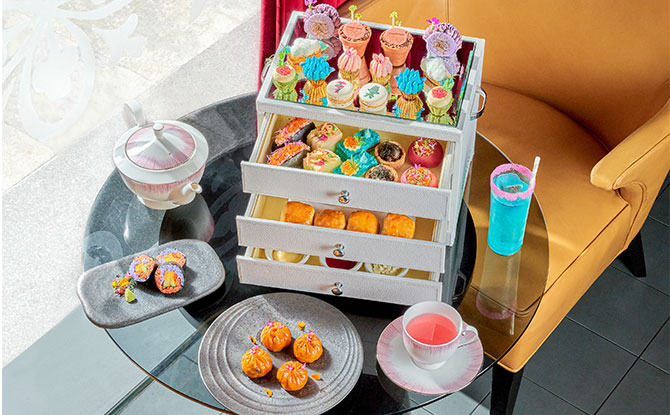 The main dishes are presented as edible works of art made to resemble distinctive traits of the loveable trolls. Savoury dishes include the Smoked Ocean Trout with Crispy Seaweed and Trout Roe, Sakura Chicken Beetroot Brioche, Poached Lobster Charcoal Brioche, Truffle Egg and Mixed Fungus Mille Feuille and Rainbow Bread with Hummus, Sugar Pea and Crispy Onion Hair.
Anti:dote x Trolls Sweet Treats
Tea-time is also made complete with a medley of sweet treats such as the Trolls Popping Pot with Cocoa Crémeux and Chocolate Crunch, Berries Tea Velvet; "Poppy" Speckled Rose Cupcake, "Brunch" Black Sesame Cupcake, as well as Sea Salt Caramel Macrons and Muscat Cupcake with Ribena Blackcurrant Caviar.
Diners will end tea with the classic treat of Antidote's signature freshly baked scone topped with Devonshire clotted cream, Madagascan vanilla, lemon butter curd and strawberry marmalade.
---
How To Experience DreamWorks Trolls – A Tea Experience at Anti:dote
Superfans can also mark their calendars for 26 May and get some warm hugs from Poppy and Branch who will be making an appearance for one day only.
DreamWorks Trolls – A Tea Experience at Anti:dote is priced at S$72++ per person; S$80++ per person for a choice of Amuse Bouche or S$88++ for two Amuse Bouche, that includes Superfood Sushi with Noukou Egg or Rainbow Dumplings with Black Bean Tofu and X.O. Sakura Ebi.
Reservations can be made directly at 6431 6156 or dining.singapore@fairmont.com for 12 pm or 3 pm High Tea sessions daily.
Anti:dote is located at Level 1, Fairmont Singapore 80 Bras Basah Road Singapore 189560.