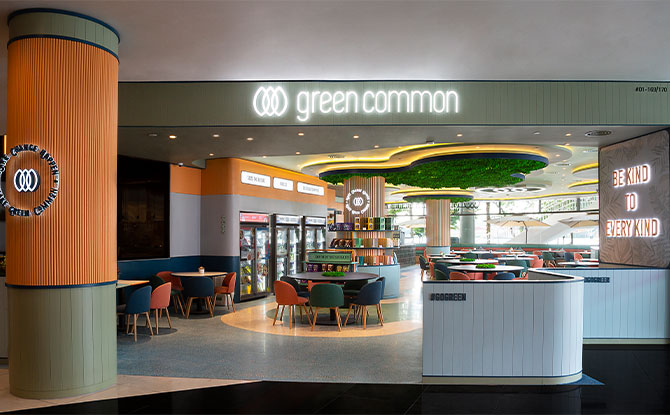 If you're looking for a space that allows you to eat green and sustainably, you'll definitely want to check out Green Common at Vivo City – a one-stop culinary destination for plant-based eating. It is open to public starting 19 January 2021.
The 3,000-square-foot eatery and grocery concept store at VivoCity has a dedicated area for retail and a wider cafe area that seats 112 persons indoors, as well as outdoor seating for 36 persons.
Green Common's aim is to make eating sustainably more accessible to Singaporeans by bringing the world's leading plant-based brands under one roof. This includes brands such as OmniMeat, Beyond Meat, Daiya, JUST and Heura. Green Common will also be serving a curated menu of fully plant-based dishes, offer meat-free cooking staples as a range of ready-made vegan meals at the store by OmniEat
David Yeung, the Founder and CEO of Green Monday Group said, "Over the years we have seen great interest from Singaporeans looking to have access to more plant-based alternatives. We are so excited to be launching the first Green Common concept in Southeast Asia here, bringing our signature retail and dine-in concepts to the city. Our one-stop-shop is designed to make it easy to go green and make thoughtful (and delicious) lifestyle choices."
Global Plant-based Brands
Offering the largest array of market-leading plant-based alternative brands in Singapore, Green Common will give shoppers access to over 50 plant-based products from recognised plant-based brands.
Green Common will also debut the OmniEat range of vegan-friendly, preservative-free and MSG-free frozen ready meals. The range is made with OmniMeat and features Asian delights such as OmniEat Truffle Gyoza ($7.20), OmniEat Siu Mai ($6.50) and OmniEat Crystal Dumpling ($6.20). The products are prepared using ultra-low temperature "Flash Freezing" technology to retain natural flavours and textures while minimising nutrient loss.
---
Green Common Cafe Menu
As part of being a one-stop destination for plant-based dining, the Green Common cafe offers a curated menu of affordable, delicious and healthy vegan-friendly dishes to cater to all taste buds.
The kitchen is helmed by Chef Louie Moong, who has 33 years of experience working in various award-winning hotels and internationally recognised restaurants across Southeast Asia and China. Some highlights on the menu one can look forward to including western favourites like the tomato-based Meat Lovers Pizza which is made using a delicious blend of Moving Mountains and Beyond Meat Sausage topped with melted Daiya cheese.
Another dish is the Beyond Black Burger ($15++), starring a juicy Beyond Burger Patty layered with sautéed mushrooms, finely sliced cabbage and finished with a heavenly umami black pepper sauce and creamy vegenaise.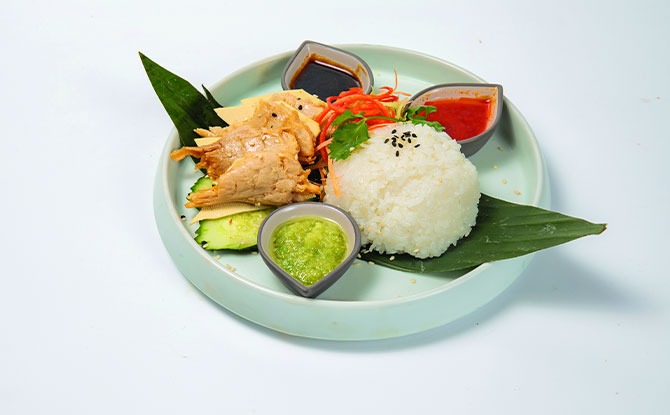 Diners can also enjoy familiar Singaporean hawker staples that have been creatively adapted to have zero meat but retain the flavours we know and love. One such dish is the  Hainanese Trick'en Rice made with Heura 'chicken' and accompanied by homemade chilli sauce, ginger paste and dark sauce. Another classic dish is Laksa which is also made out of Heura 'chicken' and then completed with vermicelli noodles, beancurd and tau pok.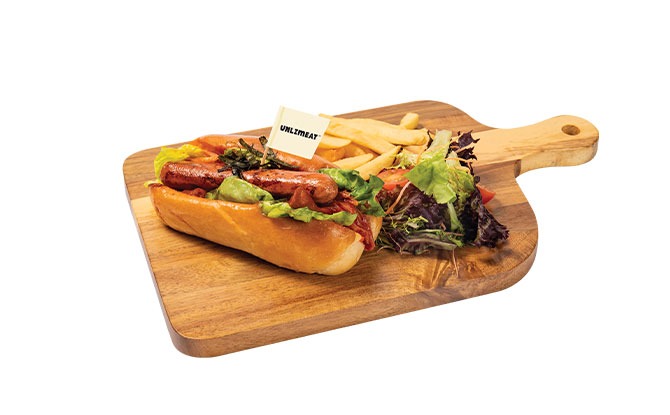 Lastly, going green doesn't mean missing out on food trends! Diners can get a K-Dog ( featuring a Moving Mountains Hot Dog and Unlimeat "beef" slices topped with a sweet and spicy gochujang sauce, kimchi and nori flakes.
---
Celebrating the opening of Green Common in Singapore
To celebrate the grand opening of Green Common in Singapore, the outlet will be offering exclusive rewards and promotions. From 19 to 24 January 2021, the first five dine-in customers every day will receive a gift set worth $50, and customers who spend S$50 or above in a single receipt throughout the day will be able to redeem a free OmniMeat Mince pack voucher.
As an incentive to explore this new space with your family, from 19 January to 19 February 2021, diners with children below 16 years old will receive a Luncheon Fries voucher on the house. Customers spending $30 or above at restaurant on weekdays from 12 pm to 2 pm will receive 20% off their entire bill. All promotional gifts and vouchers are limited and subject to availability.
For more information, visit the Green Common website.
Where: VivoCity, 1 HarbourFront Walk, #01-169/170, Singapore 098585