Residents in Punggol can celebrate as Japanese convenience store Don Don Donki opens their 12th outlet at Waterway Point. This new outlet is located at West Wing's Basement 1, directly in front of Pizza Hut. The store will open on Friday, 14 January 2022.
---
Carnival themed Don Don Donki at Waterway Point
The Waterway Point Don Don Donki outlet follows a carnival theme, falling in line with the family-friendly spot that it is located in. Customers can expect large balloons and décor galore as they walk through the store.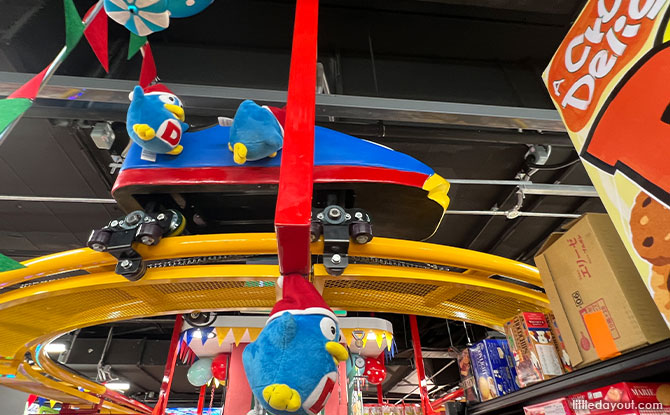 ---
-- Story continues below --
Shoppers can also spot cutouts or displays of rides such as Carousels, a Farris Wheel and even a "roller coaster" at a different section of the store.
---
New Products at Waterway Point Don Don Donki
Frequent shoppers and Don Don Donki will be familiar with the many hot meals, snacks and desserts available. They also have many fresh ingredients and Japanese foods such as sushi, sashimi, and their well-loved sweet potato.
The front of the store will be Don Don Donki's premium fruit section, "Furu Furu" where customers can shop for Japanese fruits.
As they open the new store, Don Don Donki will be adding a few more exciting products to its already wide array of delicatessen and desserts. Visitors can look out for products such as vegetable dumplings, semi-dried fish and Kyoto Wagyu beef.
There are also sweet treats such as fruit tarts, strawberry mochi, and Hokkaido roll cakes which will be launched first in this store.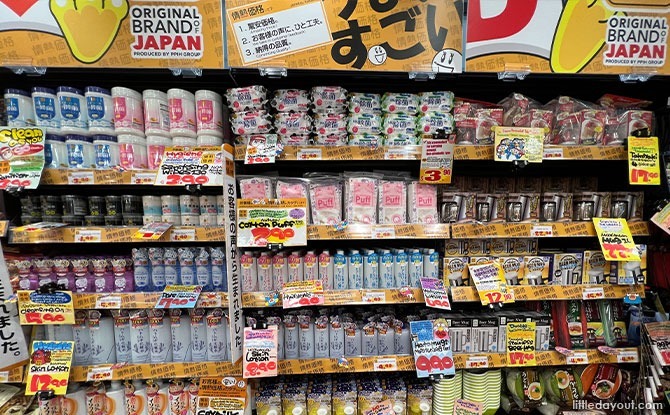 Don Don Donki Waterway Point will also be devoting space for "Jonetsu Kakaku", Don Don Donki's house brand of various Japan quality products ranging from food to household necessities such as facial washes and kitchen utensils like pots and pans.
---
Opening Promotions at Waterway Point Don Don Donki
True to its fun and jovial store concept, there will be various store activities and promotions running from 14 January 2022 onwards. Don Don Donki will be giving away 20 Donki goodie bags to its social media followers.
Donki app members will be able to get their hands on an exclusive cooler bag with a $108 minimum spend using UOB cards, and can also participate in a treasure hunt game called Donpen Hunt and receive a surprise gift. Shoppers can also purchase an exclusive Donki Trolley Bag for only $10.80 with a $88 minimum spend.
There are also various in-store promotions with discounts and special prices on various items and live tuna cutting show on 16 January at 3 pm.
---
Waterway Point Don Don Donki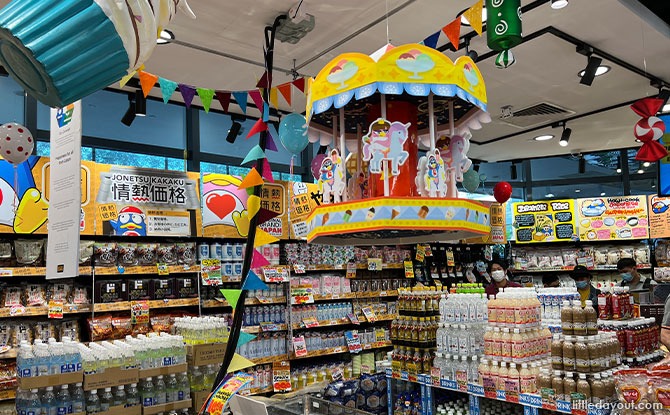 The Don Don Donki Waterway Point store will be open from 9 am to 12 am. It is most accessible from the entrance coming from the Punggol Waterway Park area. Don Don Donki is also planning to open a new aviation-themed store at Changi Airport. Read more about it here.