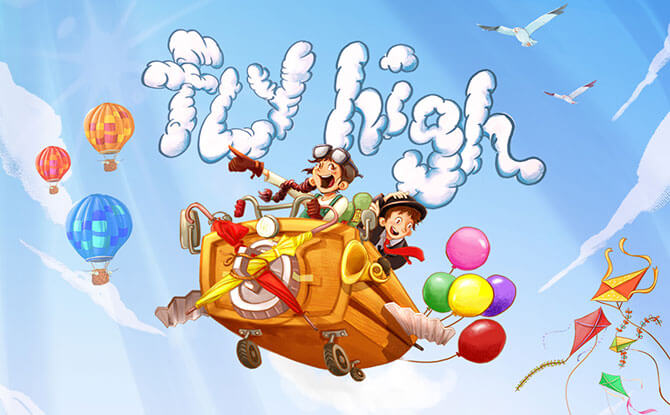 You might hear your kids lament "I can't do it" or throw a temper tantrum over a challenging task. How about inspiring them to think beyond their limitations through a family-friendly show? Singapore Repertory Theatre's (SRT's) The Little Company has a new original production, Fly High, to kick off the 2020 season! It could be what you need to encourage your kids to expand their horizons and reach for the skies.
A Growth Mindset
A Growth Mindset is the ability to see setbacks as opportunities to learn. Having a Growth Mindset helps young people talk about and process their emotions as they reach for greater heights.
This is what Fly High hopes to encourage in children through its engaging storyline and relatable characters, Poppy and Mo.
The Wonders of Flight
When Poppy and Mo meet in the park, they become fast friends and bond over their ambition to take to the skies. Together, they embark on building their own flying machine, bringing the audience along on a journey of discovery, highlighting the wonders of aviation through music and puppetry.
During the show, young audiences will be introduced to STEM (Science, Technology, Engineering and Mathematics) concepts in an entertaining way. Fly High is not afraid to take on Science concepts such as the four main principles of flight – Lift, Weight, Drag and Thrust, presenting it through music and simple actions so that young audiences will be able to understand and appreciate.
Learning to Learn, Learning to Fail, Learning to Grow
More importantly, the show goes beyond simply learning about STEM; its emphasis is on the process of learning, and how failing is an opportunity to grow.
Expect Poppy and Mo to face many roadblocks in their endeavour. Likewise, their circumstances reflect much of what many in the audience would have faced in with the COVID-19 outbreak. The reality of having to face disruptions brought about by the current coronavirus situation makes Poppy and Mo's own challenges even more relatable.
Just like the ups and downs of life, roadblocks are part and parcel of science and experimentation. The show's message is that setbacks are an opportunity to persevere, grow and try again.
Poppy and Mo will also experience moments of disappointment, frustration and joy as they seek to complete their project – emotions which children will be able to identify with. Together, Poppy and Mo persevere and learn to manage these emotions.
By recognising that these emotions are part of any new endeavour, parents can play a role in guiding little ones along, acknowledging these feelings and encouraging them to take on a Growth Mindset. This is especially relevant in this period of uncertainty amidst challenges and various disruptions.
Through Mo and Poppy's example of perseverance, curiosity, critical thinking and creativity, the audience will get to learn what it takes to try, learn through failure and try again. Parents and children will also feel encouraged and empowered through the characters' examples.
Groove and Sing Along to the Catchy Tunes
One of the best ways to internalise the Growth Mindset is through music. Fly High makes use of composer Arran Glass's lively, original music to bring this message across.
The show features catchy tunes that remind the audience to "try and try again and again and again".  They also encourage young ones with lyrics like "I believe we can if we try" and "even if it all falls apart we'll keep creating".
Even Science concepts like "for every action there's an equal and opposite reaction" are part of the memorable tunes.
These songs are a great way for parents and kids to have fun revisiting these concepts together, helping to build confidence in the young!
Imaginative Set & Memorable Actions
Designer Sam Wilde has put together a colourful and versatile set for Fly High. During the course of the show, the audience will be in for a treat as a surprise unfolds on stage. We won't say too much. You'll have to see it for yourself. #nospoilers
Families can also look forward to getting in on the stage action with fun and memorable movements that demonstrate aerodynamics concepts.
A Stellar Cast of Fly High
Fly High will feature seasoned actors who know how to fully engage the audience.
Andrew Marko, Straits Times Life! Best Actor Award Winner for his role in Falling and the fairy from Peter Pan in Serangoon Gardens,will be playing Mo. Andrew brings an endearing comicality to his character, Mo, who slowly but surely breaks out of the structured business world he was used to.
Poppy will be played by another familiar face – Tan Rui Shan from The Dragon's Dentist and Forbidden City: A Portrait of Empress. Rui Shan brings her effervescent energy to Poppy's quirky character with aplomb. The audiences will thoroughly enjoy the chemistry between the two actors and witness how they help each other to fly high!
Prepare to Fly High at SRT's Latest Show
Families can look forward to a wonderful time at Fly High, with its relevant and positive message about adapting in times of uncertainty, lots of fun learning and catchy tunes, at KC Arts Theatre from 21 March 2020 onwards.
Fly High is written by Rachel Barnett-Jones and directed by Jemma Gross, both founders of Fly High Stories, a UK theatre company passionate about theatre for children which emphasises Growth Mindset and confidence building.
Get captivated by the wonders of aviation and introduce your children to the spirit of perseverance at SRT's The Little Company's Fly High!
Fly High by SRT The Little Company
When: From 21 March 2020
Weekdays: 10 am, Weekends & Public Holidays: 11 am & 2 pm
Relaxed performance: Saturday 21 March, 2pm
Signed (SgSL) performance: Saturday 28 March, 2pm
Audio described performance: Saturday 4 April, 2pm
Where: KC Arts Centre – Home of SRT, 20 Merbau Road
Ticket Pricing
From $29, excluding SISTIC fee.
Group discounts/ Family Packages available
This feature is brought to you by SRT.