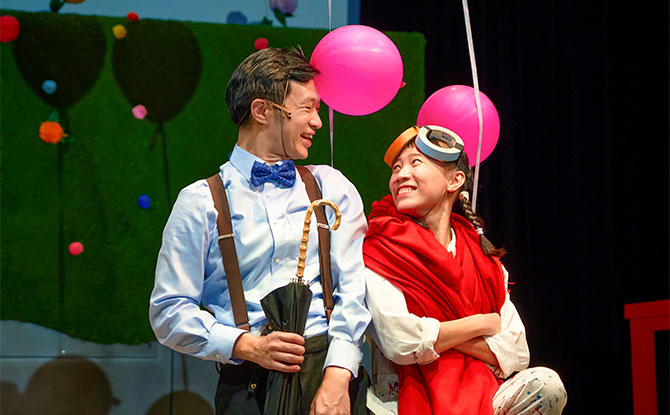 The world is a wonderful place through the eyes of a child. And some of this wonder has been beautifully captured in Fly High, the latest children's theatre show from SRT's The Little Company.
---
Fly High Overview
Poppy and Mo are the unlikeliest of friends. Effervescent Poppy is constantly bouncing about with a cheeky smile on her face while straight-laced Mo has a head full of ideas but feet that fear stepping away from his office job.
A chance encounter in the park unites them in their dreams of flight: Poppy wants to see the world and Mo wishes to fly like a bird and prove that his idea for a new flying machine engine design can work.
Together, they hatch a plan to make their ambitions come true. However, as everyone knows, projects don't always go to plan. Poppy and Mo have to find a way to navigate the ups-and downs that come along with their endeavour, taking the audience along for a fun and entertaining ride with them on their quest to Fly High.
---
-- Story continues below --
Fly High Review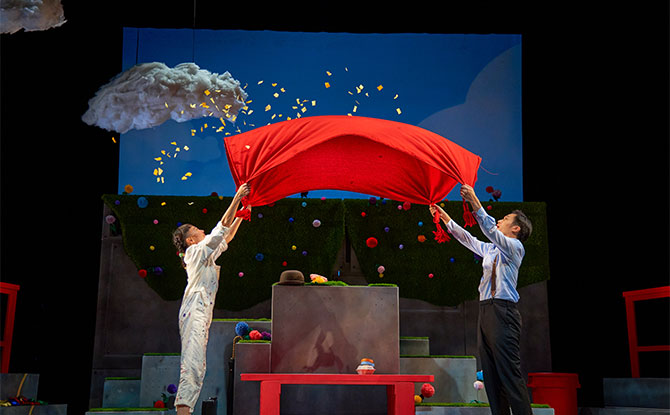 SRT's The Little Company's Fly High was an absolute charmer from the get-go.
Poppy (played by Tan Rui Shan) burst on the scene like a rainbow on steroids while Mo (played by Joshua Lim) was simply looking for a bit of calm and solace on his lunch break. The two actors quickly won over the room with their portrayal of playful Poppy and the stodgy Mo.
The show worked on multiple levels. For the children, it was a fun and visual treat. With its mix of physical theatre, comedy (like an ever-expanding newspaper gag) and musical dance numbers, it felt both light-hearted and clever. At one point, we even thought it was going to turn into a pantomime because the kids were so engaged while Poppy was looking for her lost pencil. The adults in the room were also able to relate to situations portrayed such as Mo's boss' constant pestering while he was on his lunch break.
Poppy served as a perfect foil to Mo, constantly nudging him to step out of his shell. And this growth in Mo's character was crucial to their journey to create a flying machine. This was a journey that started with a simple act of belief. And when faced with setbacks, together they would take stock of the situation and try again.
This journey of growth is best captured in a scene where Mo bemoans that he is unable to do something. In response, Poppy tells him that he cannot do something "yet".
We enjoyed how science concepts like drag, thrust, lift and weight are expertly weaved into the storyline without seeming overly-engineered (pun intended). The song and actions that accompanied these rather complex aviation concepts made them fun, simple and logical.
---
Big Feelings
One of the big themes of Fly High is about feelings and relationships. Having a lofty ambition such as creating a flying machine can place a lot pressure on a relationship and at one point of time, this causes Poppy and Mo to fall out with one another.
Eventually, they resolve their differences and Mo apologises to Poppy. On her part, Poppy acknowledges that "People get big feelings" and just because people get angry with one another doesn't mean that they stop being friends.
This is a lesson that parents and children can both takeaway from the show: that it is possible to acknowledge one's emotions without allowing these emotions to affect the relationship with others.
---
Catch Fly High at KC Arts Centre – Home of SRT
Fly High is an entertaining, smart and meaningful production. It showcases how the arts and theatre can entertain and elucidate at the same time. We thoroughly enjoyed how the actors, the set, the music and sound design came together to create a colourful, visual poem played out over 50 minutes.
So, do Poppy and Mo eventually get to realise their dreams of flying amongst the clouds? We highly recommend watching Fly High to find out!
Fly High
When: From 1 Feb 2023
Weekdays: 9.30 am and 11.30 am
Weekends & Public Holiday(s): 11 am, 2 pm
Duration: 50 Minutes
Recommended for 3-year-olds and above
Venue: KC Arts Centre – Home Of SRT
Ticket Pricing
Weekdays: Standard: $30, $27, Family Package of 4 (Cat 1 only): $102
Weekends (Sat, Sun & Public Holiday): Standard: $50*, $40, Family Package of 4 (Cat 1 & 2 only): $170*, $136, *includes a group photo taken with the cast after the show
Get tickets to Fly High.
Creatives
Writer: Rachel Barnett-Jones
Composer: Arran Glass
Director: Jemma Gross
Associate Director: Daniel Jenkins
Production Designer: Samuel Wilde
Music Director: Sara Wee
Associate Set Designer: Grace Lin
Lighting Designer: Gabriel Chan
Associate Lighting Designer: Tai Zi Feng
Sound Designer: Guo Ningru
Production Team
Production Manager: Charlene Poh
Production Coordinator: Alfred Ang
Stage Manager: Keira Lee
Assistant Stage Manager: Justina Khoo
Costume Coordinator: Tan Jia Hui
Props Coordinator: Melissa Ho
Senior Stage Technician: Peter Chi
Lighting Operator: Derrick Wong
Sound Operator: Noor Hidayat
Sound Assistant: Ernst Chua
Media invite.