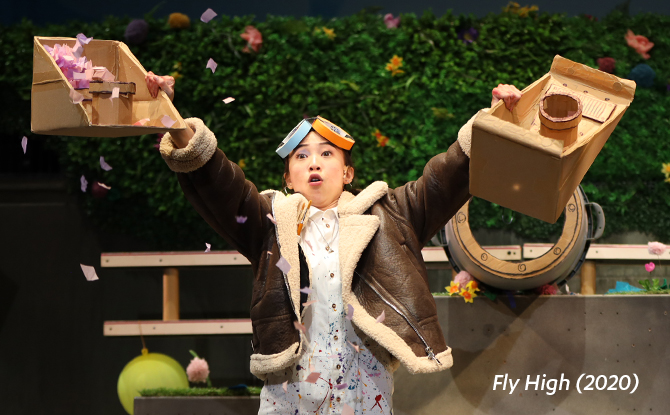 Soar with SRT's The Little Company its latest family-friendly show Fly High. Young aviation fans will be delighted by this highly entertaining production about the wonders of flight.
Through comedy, physical movement and songs, Fly High will take children ages 3 and above through lessons about perseverance, growth mindset and the science behind flying from 1 February 2023 till 12 March at the KC Arts Centre.
---
The Beginnings of a Friendship and Flight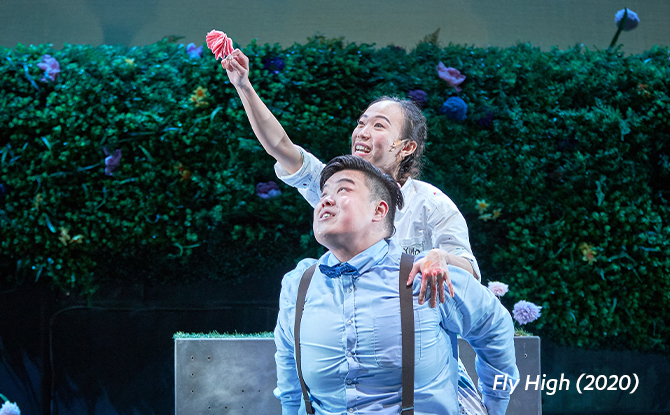 Poppy and Mo befriend each other at a park and bond over their ambition to create their very own flying machine. Can they do it? Will they succeed? Together, they will take the audience along for an adventure they discover the wonders of flight.
But things are never plain sailing and Poppy and Mo will face many roadblocks in their attempt to realise their dream. There will be moments of disappointment, frustration, joy and excitement as they embark on their journey to build a flying machine. However, together, the two friends learn to manage their emotions and overcome challenges and obstacles encountered along the way.
---
Learning Aviation & STEM at Fly High
Fly High introduces young audiences to science concepts like the four main principles of flight. Lift, Weight, Drag, Thrust are presented through music and physical actions that children can understand them.
Families can look forward to getting in on what's happening on stage as they move along to actions that demonstrate aerodynamics concepts.
---
An Energising & Dynamic Lyrical Performance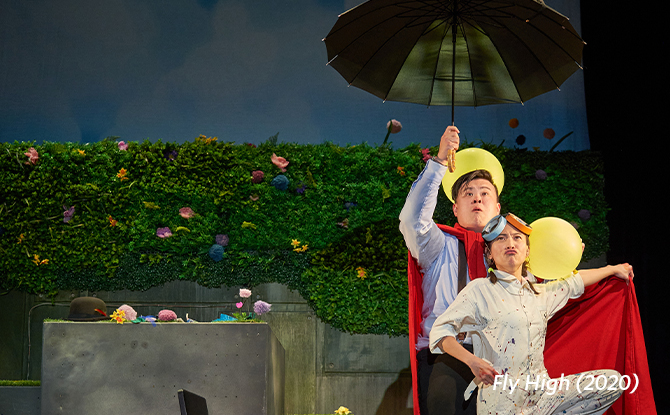 The show features lively, original music by Arran Glass that makes STEM concepts come alive and helps children to internalise the ethos of "trying again and again". The songs are so catchy that parents may even be able to use them after the show to empower their child when obstacles are met.
Designer Sam Wild has also put together a colourful and versatile set for Fly High. No spoilers here but there will be a surprise to look out for on stage! Expect children to be riveted to the performance and storytelling on stage.
---
The Stellar Cast of Fly High
Fly High features seasoned actors who the audience may already be familiar with.
Joshua Lim plays Mo. He also acted in TLC's Gretel and Hansel and is known for his work on stage and on screen in Honk!, Fourth Trimester and as the host of Why It Matters on CNA. He also does voiceover work for audiobooks in animations and documentaries. Fly High allows his musical talent to shine as he takes on the character of Mo.
Poppy will be played by another familiar face – Tan Rui Shan from The Dragon's Dentist, Kwa Geok Choo and Forbidden City: A Portrait of Empress. Rui Shan brings her effervescent energy to Poppy's quirky character with aplomb.
The audiences will thoroughly enjoy the chemistry between the two actors and witness how they fly together as a team!
---
Soar at SRT's Latest Show Fly High
Look forward to a high at SRT's The Little Company's Fly High at KC Arts Theatre from 1 February 2023 onwards. Get captivated by the story of flight, made possible by a keen sense of wonder and the will to keep trying.
Fly High is written by Rachel Barnett-Jones and directed by Jemma Gross, founders of Fly High Stories, a UK theatre company passionate about theatre for children which emphasises growth mindset and confidence building.
Find out more and get your tickets at www.srt.com.sg/flyhigh
---
Fly High
Fly High opens 1 Feb 2023 at KC Arts Centre – Home of SRT
Purchase Family Package (4 tickets or more) to enjoy 15% off
Recommended for 3 year-olds and above
Website
This feature is brought to you by SRT.
---
Fly High Giveaway:
Stand a Chance to Win Tickets
This giveaway has closed and the winner has been contacted.