Have a meat-loving dad? Let him indulge this Father's Day with a decadent feast of different meats by Sunday Catering. Make it a feast to remember with delicacies such as Smoked 100-Day Barley Fed Short Rib, Whisky Glazed House Smoked Bacon, Triple Cheese Garlic Sourdough, and Roasted Asparagus with Bacon. It's sure to be a Father's Day feast to remember.
We got a chance to try these signature dishes and more. Here are our thoughts on these exclusive dishes created for the Father's Day Menu by Sunday Catering.
---
Father's Day Menu By Sunday Catering
Smoked 100-Day Barley Fed Short Rib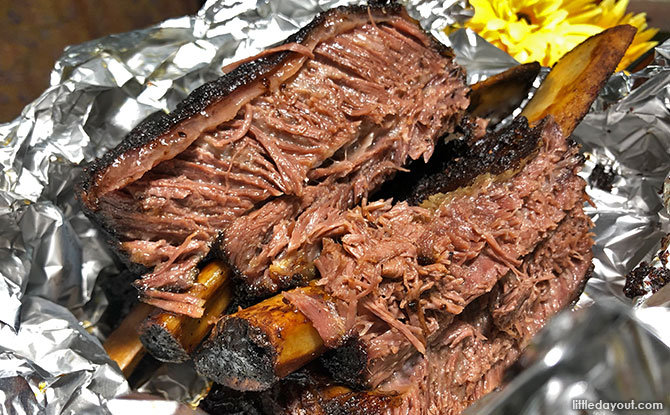 The star of the meal was a richly marbled beef short rib from 100-day barley fed Australian free-range cattle. It is coated with a generous spice rub and patiently smoked for over 7 hours, to create fall-off-the-bone perfection. It comes accompanied with housemade black pepper demi-glace.
---
-- Story continues below --
As we cut into this huge slab of meat, the smell of the slow-cooked beef wafted through the air. We were especially excited to try it after seeing how it slid right off the bone with no issue upon cutting. The slow-smoking method helps the collagen in the beef to cook down into meltingly tender gelatine, resulting in unctuous meat, full of beefy flavour. We enjoyed pairing this with the gooey mac and cheese as an extremely decadent part of our meal.
---
Whisky Glazed House Smoked Bacon
This house-smoked chestnut bacon is dry-cured without nitrates and spiked with a splash of whisky for dad's who enjoy whiskey. It is best served accompanied with Sunday Catering's Chunky Apple Sauce.
The bacon had a very smoky taste and the apple sauce added a sweetness to the meat. We weren't able to waste the whisky as much but believe it would pair best with a side such as mashed potatoes rather than the sides with stronger flavours.
---
Triple Cheese Garlic Sourdough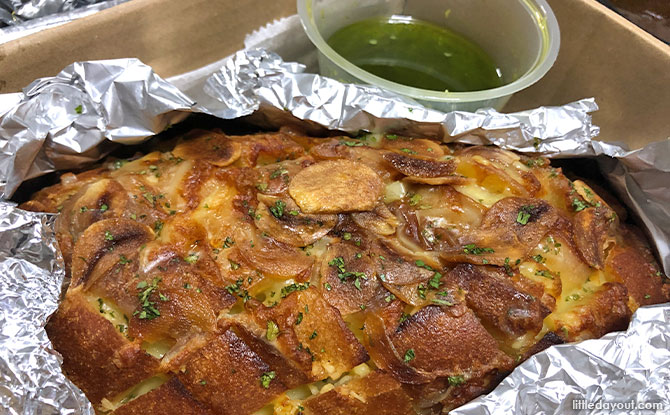 A dish sure to delight those who enjoy garlic, the Triple Cheese Garlic Sourdough is a rustic sourdough loaf slathered with garlic butter and stuffed with gouda, mozzarella and parmesan. It can be enjoyed by dipping it in the housemade Chimichurri.
The taste of garlic was extremely strong and for those of us who enjoy large amounts of garlic in our food, this definitely satisfied. However, we suggest having a palette cleanser on standby after enjoying this dish as the aftertaste of garlic remained throughout a large portion of our meal.
---
Roasted Asparagus with Bacon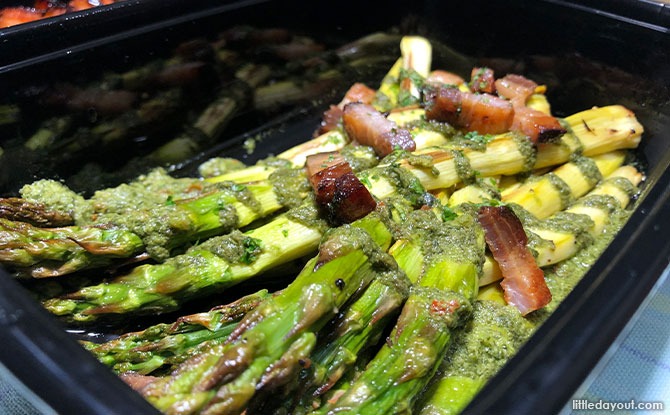 A vegetable that pairs well with rich and savoury meats, this dish consists of oven-roasted spears of asparagus dressed in a light vinaigrette with house-smoked bacon lardons and chimichurri. It went well with the rich mains such as the beef and the bacon.
---
Sides from Sunday Catering
There were also two additional sides that we got to try: Truffle Mac and Cheese and Honey Glazed Carrots. The Truffle Mac and Cheese is a classic side dressed up with a hint of truffle oil. There is a very generous amount of cheese in each bite, and the truffle's taste was rather distinct. We also enjoyed the Honey Glazed Carrots that are roasted till tender. These two sides serve four pax each.
---
Sunday Catering Singapore: Father's Day Dining
Sunday Catering is a catering service that hopes to bring back the simple pleasure of gathering around a table over a good meal made with good ingredients cooked well. The food is delivered hot from their oven to your doorstep. Meals can be served directly out of the provided cutlery or dished out to your finest dinner wear for a fancy Father's Day feast to remember.
From now till 13 June, Little Day Out readers can use the code: LDODADS15, for $15 off a minimum spend of $150. See more at the Sunday Catering's website here.