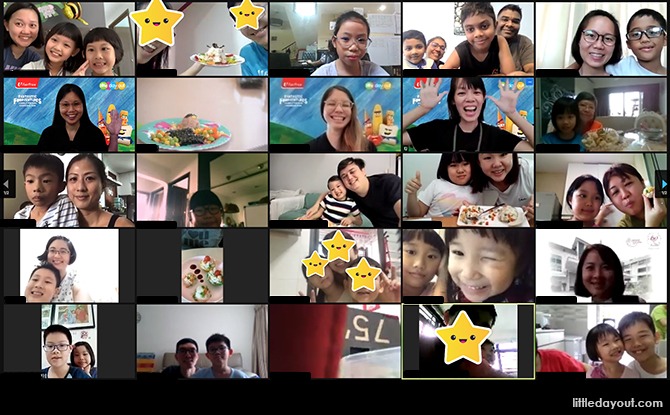 One of the best ways to bond as parent/caregiver and child is to prepare a meal together. Families know this to be true and took the opportunity to join in the virtual family fun on 11 June! The event was sold out within a short time and the Little Day Out Team had a great time cooking alongside the mums, dads, aunts, grandmas and kids! We were thrilled to see little ones as young as four donning chef's hats and joining in, even learning about nutritional labels.
Family-centric Resources at FairPrice's Fantastic Foodventures Website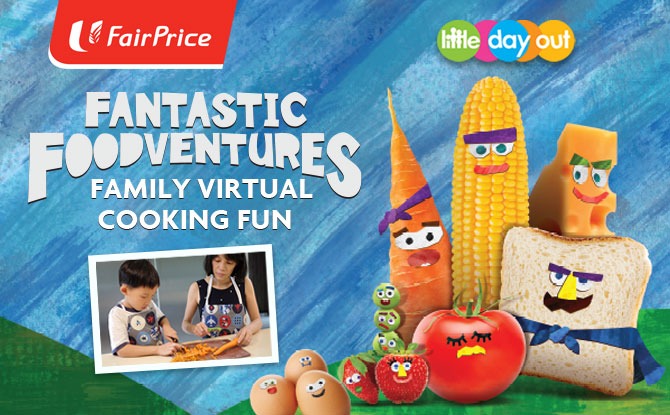 All our senses were thoroughly engaged as we went on a Fantastic Foodventure with recipes from FairPrice's Foodventure's webpage. It contains video stories of the food characters which are also ingredients weaved from recipes that children can learn quite easily. Apart from recipes, the Fantastic Foodventure webpage also includes relevant activity sheets to maximise the learning as well as a repository of recipes just for families to enjoy!
Both our Family Virtual Cooking Fun sessions were based on recipes from the Fantastic Foodventures.
Cooking Together (Virtually) with Families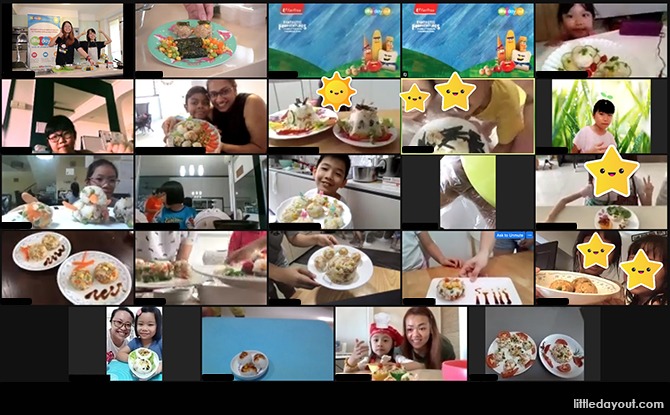 We tried the Minced Chicken Rice Balls recipe with Panicky Peas, Calm Corn and Worried Carrot escaping Mount Teriyaki.  All the participants were enthusiastically making their lunches, even going to great lengths to plate their creations. We saw huge rice mountains, richly-garnished dishes with plenty of greens, rice bears, rice snowman, Pokemon themed rice balls and more.
Best of all, it boosted the children's confidence and creativity in preparing the dishes. We could see the delight and excitement as they presented their dishes, and tasting as they cooked. One way to nurture your own Masterchef junior is to give them plenty of opportunities to try out recipes in the kitchen!
The participants in the afternoon session tried the Prawn Tacos recipe. This refreshing take on prawns in tacos was deftly assembled by the young chefs, some of whom did everything on their own. We even had sporting families donning matching headwear and wacky hats.
We awarded prizes for plating, enthusiasm and lovingness, and it was a tough decision to make with the families putting their best foot forward.
Everyone who took time to attend the event must be applauded for their effort and time spent learning and cooking with us, and that makes us all winners!
Learning About Nutrition From Mount Alvernia's Senior Dietician
Our families also heard from Tan Shiling, Mount Alvernia Hospital's Senior Dietician. She shared helpful tips on nutritional labels, food groups, dietary fibre and why frozen foods may be a good option. Her sharing empowered parents and caregivers, as well as children with whys and hows to eating healthily.
Fun, Learning and Plenty of Life Skills Training with FairPrice's Fantastic Foodventures
Cooking at home is pocket-friendly, engages all senses, trains fine motor skills and is a great opportunity for training of life skills including budgeting and more. For more ideas and activities on engaging your child with simple recipes at home, head to FairPrice's Fantastic Foodventures page.
---
Stay in Touch for Future Little Day Out Camps, Events & Outings
If you would like to participate in future Little Day Out camps and outings, do fill in the form below so we can get in touch with you!