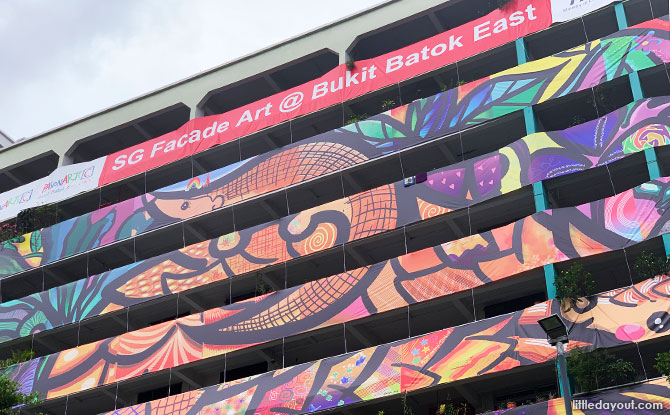 If you have been around Bukit Batok East, Tampines Changkat and Bedok recently, you may have noticed some new large-scale art on the apartment blocks in the neighbourhood.
As part of People's Association' PAssionArts project, new façade art installations have gone up around the heartlands in Singapore.
---
Bukit Batok East Facade Art
Over at Blk 283 Bukit Batok East Ave 3, artist Biddy Low has put up an artwork, developed with members of the community, which reflects how people have grown to love and appreciate nature over the last two years. It takes inspiration from the close by Bukit Batok Nature Park and incorporates elements of nature found in the forested area such as pangolin and flora like the Birds Nest Fern. This is done in a pop art style reminiscent of Keith Haring.
---
-- Story continues below --
Low said, "I really enjoy engaging the community in creating art. I find community art to be a genre of its own, the meaning of the artwork comes not only from how visually pleasing it is, but also in the connections it manages to build in the process. I especially love seeing participants using skills that I have shared to express themselves and hearing the stories that they may share during the workshop."
---
Bedok & Tampines Facade Art
Over at Blk 23 Bedok South Avenue 1 is another large scale artwork which incorporates  inputs from residents. Using the Bedok community logo, it features floral motifs to highlight green and sustainable issues.
This is the work of artist Anson Tan who is also behind a new artwork at Tampines Changkat.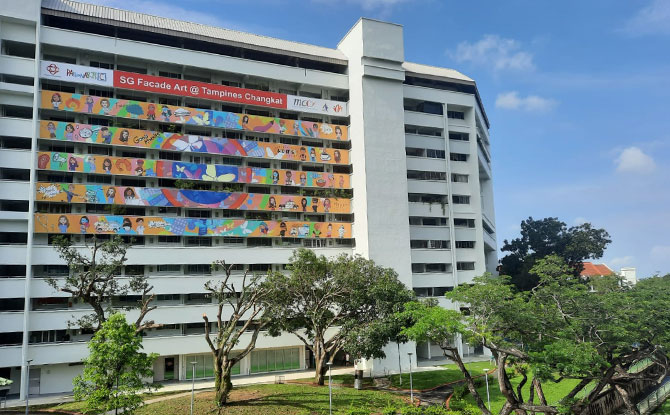 Located near the Tampines Round Market, a landmark in Tampines Changkat, this other artwork at Blk 101 Tampines Street 11 is based on the theme "Loves go round and round @ Tampines Changkat" and highlights how people from all walks of life gathered for meals and buying of groceries in the neighbourhood.
"As arts is often an expression that is created individually and often small scale. However, Façade Art is not only a Co creation project, also a large scale project. Which allow a stronger message or statement to be share across more impactfully. As the theme – 'Loves go round and round @ Tampines Changkat' illustrates the happenings in one's/community's daily life. People from all walks of life will come together, build a balance and healthy community. The scale of the Façade art also help to remind people the beauty of this community is made up by everyone living within," said Tan.
---
Partnership with the Community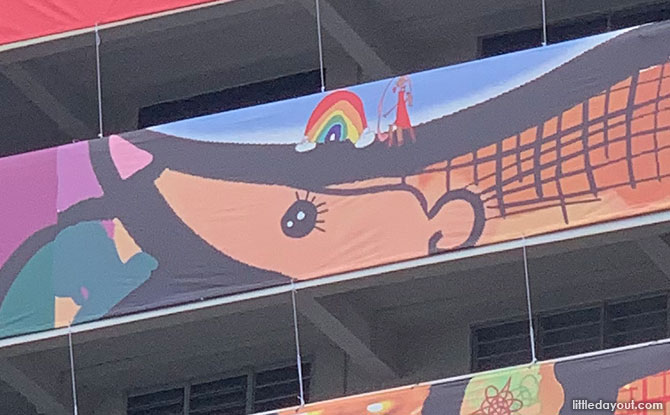 When asked how it felt to have her art displayed on a large scale, Low said, "It's definitely a good feeling. But what makes it more special is that it features the participation of people in the community. My little daughter even contributed a little drawing of a fairy on the baby pangolin's head. So it is this shared experience that makes it exciting as a public exhibit."
We look forward to more such co-created art in the neighbourhood, a special partnership between artists and the community to create something that speaks to them.