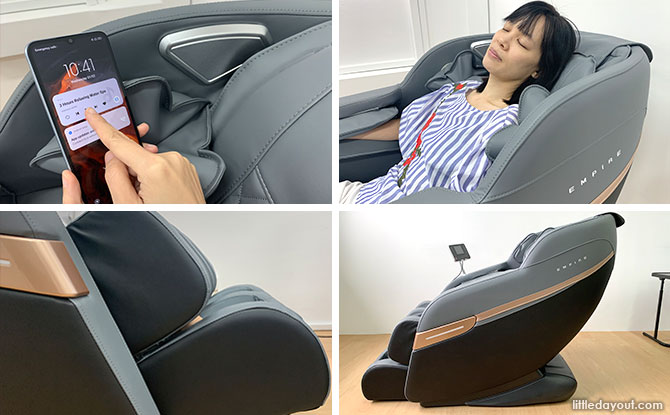 Aching back, sores and injuries after a long hard week at work? How does a 24-7 massage in your living room sound? We took a seat in a EMPIRE Massage Chair to see whether it meets the expectations of an exhausted parent.
Although EMPIRE is a new entrant to the massage chair industry long dominated by big players, it promises a compact massage chair that gives effective massages at a super accessible price point of $1,399 whereas industry prices are usually between $3,000 to $5,000.
---
EMPIRE Massage Chair: Overview Of Features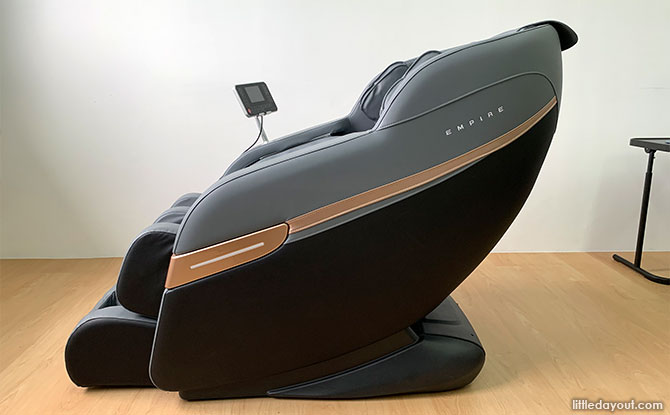 This chair offers a full body massage – neck, back, arms, shoulder, hips, calves all the way to the soles of the feet.
It is also the market's most compact massage chair measuring 70 cm by 150 cm, and can easily fit into any living space.
---
10 Hands Massage
Experience the 10 Hands sensation massage on the EMPIRE Chair – yes it does feel like ten hands massaging you at the same time!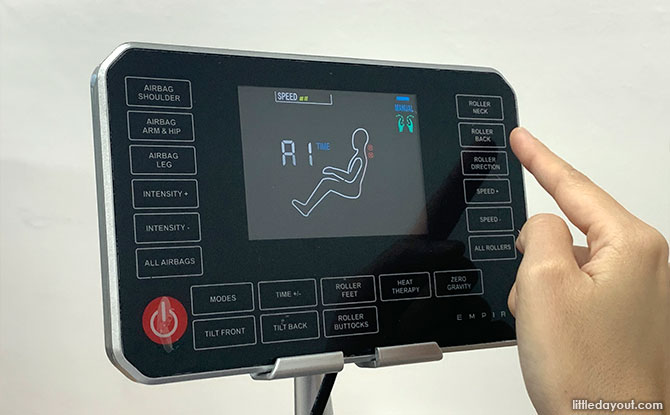 Of course, everything is customisable so you can have massages on targeted areas by using the touchscreen control pad to manage all controls including speed and strength.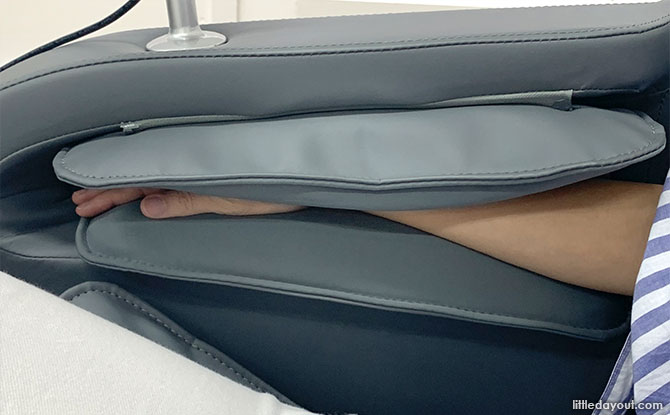 In addition to the 10 Hands massagers, there are compression airbags for shoulder, hands and calves. Compression therapy helps relieve fatigue, stress and pain and simulates the actual massage from a therapist.
For those who love foot massages, the leg and sole reflexology will be a balm to your soles! After standing for a long time or a busy time doing chores, the rollers relieve the aches from the legs and feet. To maximise the experience, there is also heat therapy at 45 degrees Celsius applied to the calf areas stimulating blood flow.
---
Zero Gravity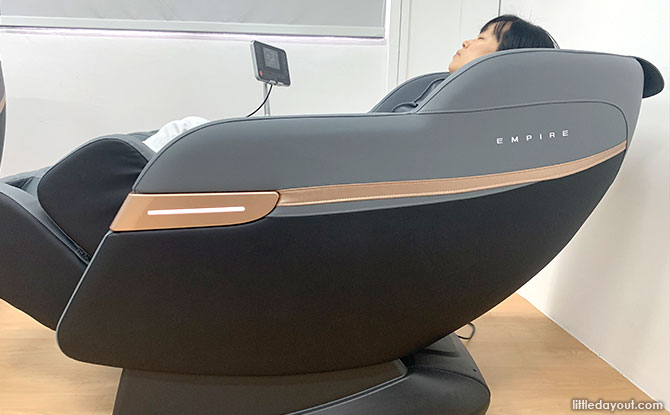 To get a top-notch massage experience, the Zero Gravity function is a must-do. EMPIRE's massage chair can tilt up to 170 degrees which makes one feel like you are levitating. This also keeps the pressure off the spine as you float into a zero gravity world.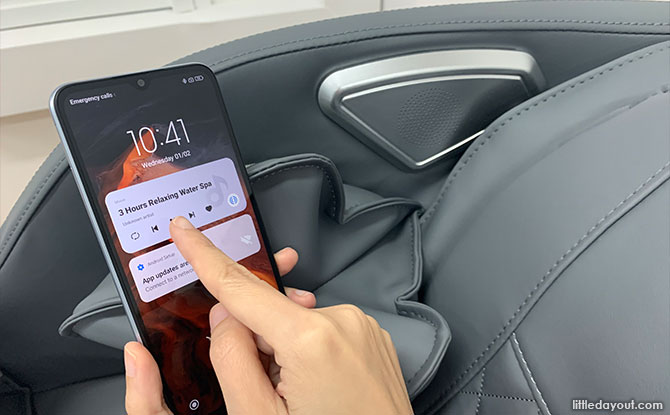 One will clearly doze off to sleep with a Bluetooth surround sound system that projects your favourite tracks and ambient music right into your ears.
---
Our EMPIRE Massage Chair Experience & Review
After a 20-minute session on it, I felt rejuvenated and really impressed on how the massages were soothing. As one who prefers lighter massages, I loved how I could customise the intensity of the strength for every massager.
My favourite function had to be the zero-gravity mode! It felt really relaxing just "suspended" and any tired parent would welcome the chance to just "float" in a massage chair. It's easy to drift off to sleep while receiving a "knead-ful" massage.
Given the attractive pricing for such a powerful machine, I dare say the EMPIRE Massage Chair is a worthy addition to any household. Its sleek design shaped like a Business Class cabin gives it a futuristic look unlike the traditional massage chairs.
A stylish massage chair plus one that gives your sore muscles a good rub whenever you need it – it's every parent's dream!
---
For an even more Luxe Edition, try the EMPIRE PRO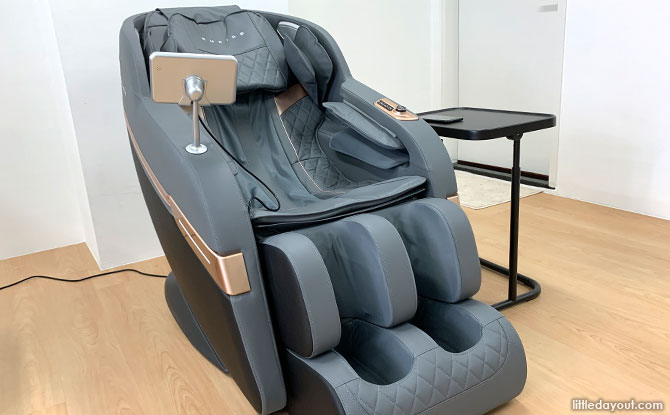 To experience an even stronger massage, take a seat in the EMPIRE PRO. It mimics hand movements like a real masseur with techniques like tapping, kneading, deep tissue intrusion. It also scans the body to tailor the massage accordingly.
The wow factor comes in a form of a Thai Stretch Mode which is programmed to stretch the body muscles thoroughly. Through compression, intrusion and stretching, feel your aches relieved in a classic Thai-style massage.
To experience the EMPIRE & EMPIRE PRO, try them out at their showroom at CT Hub, #09-19, 2 Kallang Avenue, S339407.
You can also get more details about at the EMPIRE website.
---
EMPIRE MASSAGE CHAIR GIVEAWAY!
This giveaway has closed and the winner has been contacted.
Follow Little Day Out on Facebook and Instagram for more giveaways.