There's nothing quite like a good breakfast to start the morning! This National Day, Creamier collaborates with local traditional coffee roaster Kim Guan Guan to commemorate the staples and heroes of our favourite local breakfast: Kaya Toast, Kopi and Teh. These three foods are inspiring Creamier's limited-edition flavours of Kopi-Peng, Teh-Peng and Kaya Toast for all to enjoy.
---
Creamier's Three Limited Edition Flavours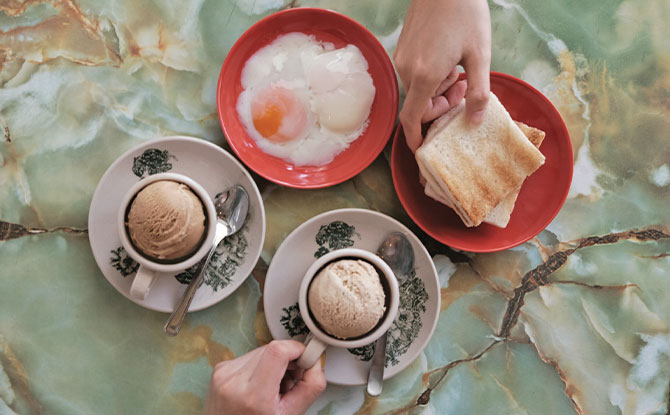 The two limited-edition flavours of Kopi-Peng and Teh-Peng are in collaboration with Kim Guan Guan. Established in 1988, Kim Guan Guan has been supplying quality Singapore's Traditional Coffee Powder to beverages outlets like coffee shops for more than 30 years. Customers will be able to taste the rich and robust flavours of Kim Guan Guan's traditional locally roasted coffee powder and finest Kenyan tea dust.
Creamier will also be bringing back the flavour of Kaya Toast, a light creamy ice cream with pandan flavour made from scratch with fresh pandan leaves and caramelised coconut milk, and a generous dose of buttered toasts made from traditional Kopitiam white bread.
---
Review of Creamier's Kopi-Peng and Teh Peng Ice Cream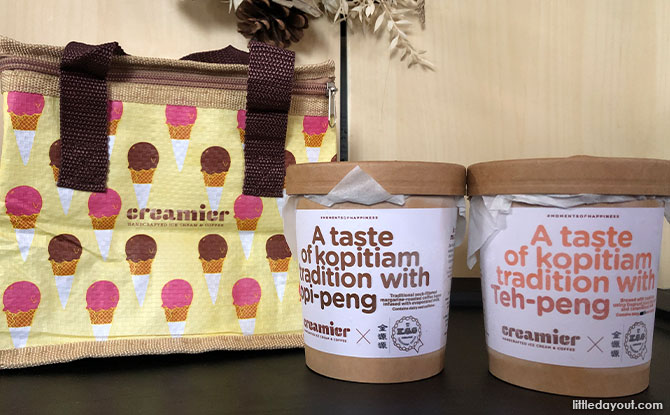 ---
-- Story continues below --
We got to try the limited edition flavours of Kopi-Peng and Teh-Peng.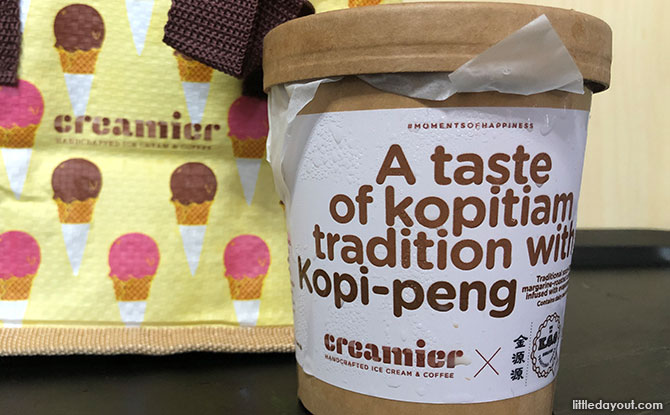 Kopi-Peng is a smooth ice cream made with a rich and traditionally roasted coffee flavour. The kopi is traditionally sock-brewed and features the distinctive fragrance of margarine roasted caramelised coffee beans. We liked how strong the coffee flavours were and it was very much like a "gao" (or thick) version of Kopi-Peng.
We also sampled the Creamy and aromatic Teh-peng which is made with grade A fine Kenyan black tea dust and caramelised milk as well as a sprinkling of tea dust for added texture and fragrance. We enjoyed the distinct taste of condensed milk along with the black tea which sets it apart from usual tea flavoured ice creams.
Customers who get both of these limited edition flavours can combine them to make a "Yuan Yang-Peng", another uniquely Singaporean drink that is a mix of coffee, tea and condensed milk.
---
Where to buy Creamier's National Day Ice Cream Flavours
Pre-Orders for these limited edition National Day flavours are already open on Creamier's online shop. Ice creams will be available at all Creamier outlets and food delivery platforms for purchase from 6th August 2021 onwards. These flavours will be available until 31st October 2021. Customers can enjoy the Kopi-Peng, Teh-Peng and Kaya Toast ice creams priced at $3.90 per scoop and $12.90 per pint for in-store and online shop purchases.