Christmas Wonderland heralds in the year-end festivities at Gardens by the Bay with Italian Luminarie light sculptures, a European-style Festive Market and carnival rides.
After the success of last year's inaugural event, the festive fair has nearly doubled in size this year with more light sculptures, attractions and entertainments to cater to the holiday crowd.
Taking place from 28 November 2015 to 3 January 2016, Christmas Wonderland is jointly organised by Blue Sky Events and Gardens by the Bay. It encompasses the Christmas Toyland floral display at the Flower Dome and stretches out across the Golden Garden, Supertree Grove and The Meadow.
Here are nine highlights to keep an eye out for at this year's Christmas Wonderland at Gardens by the Bay.
1. Luminare Light Sculptures
These magical light sculptures are handmade from white wood by skilled craftsmen from Italy. 56 of these amazing light art pieces will be found across Gardens by the Bay. Look out for a mix of decorated archways and solo pieces from the Dragonfly Bridge all the way to the Golden Garden. The largest of these is the Spalliera at the Supertree Grove. This structure is so big that it surrounds the Cassa Armonica, an 8 metre wide lit gazebo, where performances will be taking place.
The Luminare light sculptures take eight men four weeks to setup and contain 165,000 bulbs. The luminare will be lit up from 7 pm to midnight daily during the five-week period.
2. Spiegeltent
A travelling 'mirror tent' built in the late 19th and early 20th century, the 18m wide and 6 m tall Spiegeltent provides an enchanting dining ambiance for the festive season. The wooden tent is decorated with traditional draperies and beautiful stained glass. Local establishment Harry's will be serving a festive menu that includes Mac & Cheese Snowballs for kids.
Spiegeltent is open from 4 pm to midnight from 28 November to 27 December. It will also open for brunch on weekends.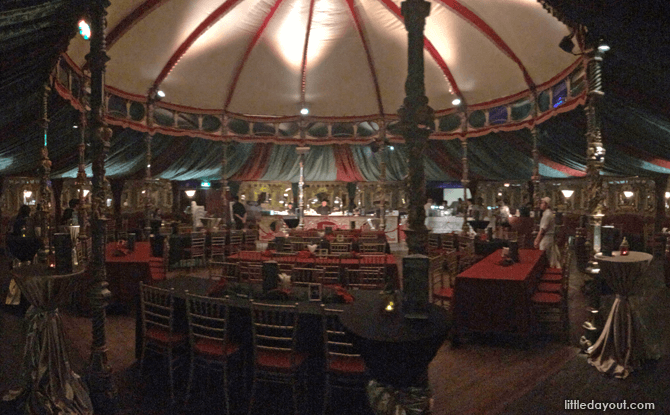 3. The Festive Market
Emulating the Christmas Markets found in European countries, the Festival Market at Christmas Wonderland comprises traditional wooden huts specially brought in for the occasion from the United Kingdom. Shop for Christmas gifts and savour food and wine from the likes of Brewerkz, Paul's and others. There will even be a Santa's Cottage where, for a fee, kids can take a picture with the big man in red.
4. The Fairground
A new addition to Christmas Wonderland is The Fairground. Here, visitors can indulge in festive fun on carnival rides and test their dexterity at game stalls. Take a ride on a Vintage Carousel, climb up and zoom down the Helter Skelter, a 14 metre high slide and hop aboard a battery-powered Trackless Train. Disney and Warner Bros toys are up for grabs at seven carnival game stalls and there will also be a Swinging Chairs ride.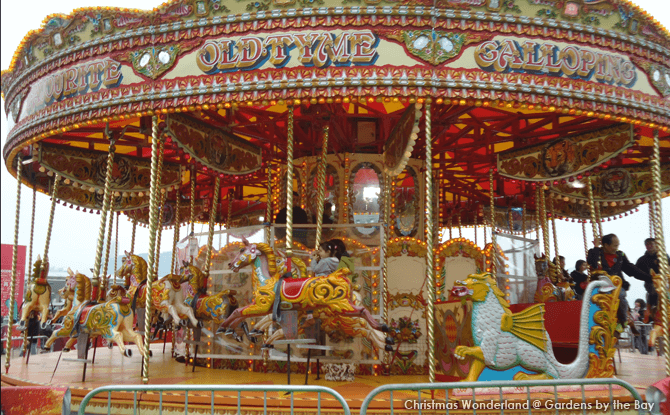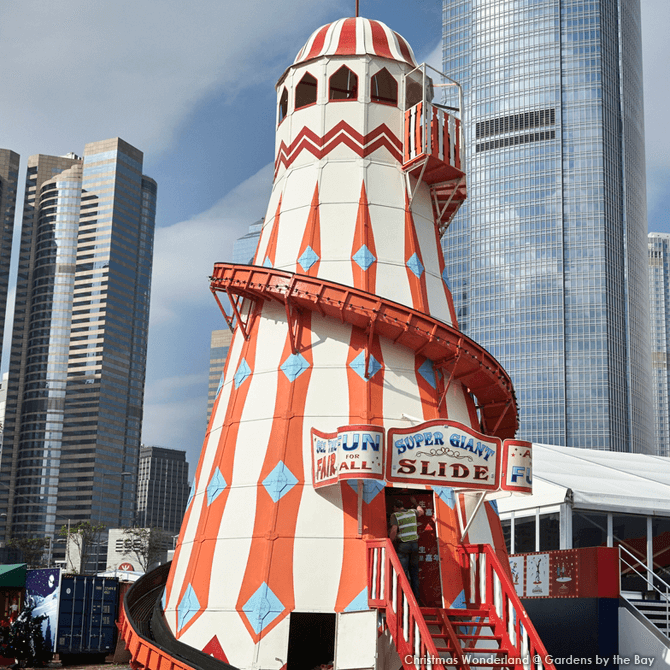 5. Ice Palace
Indulge in some fun at the Ice Palace. Open from 4 pm to 11 pm daily, the Ice Palace has a Snow Playground for up to 25 persons at a time and an Ice Skating Rink with a capacity for 100. Novice skaters need not fret; they can rent skating aids to help them glide around the 400 square metre rink.
6. Blizzard Time
One of the magical moments at last year's Christmas Wonderland was Blizzard Time. This crowd favourite returns with 'snowfall' takeing place every night at the Spalliera. This is what is sure to be one of the most popular activities at the festive fair.
7. Entertaining Performances
There is no shortage of entertainment at this year's event. 12 choirs will take turns serenading the crowds over the festive period and there will be Christmas Parades featuring marching bands and even bagpipes. Artists performing at Cassa Armonica include Alemay Fernandez, Dawn Ho, Charlie Lim and others. There will also be performances by Singapore Repertory Theatre's The Little Company and The Amazing Toy Box.
Inside the Flower Dome, performances include Classical Opera by Lauren Yeo and Matthew Quek and storytelling by Players Theatre amongst others.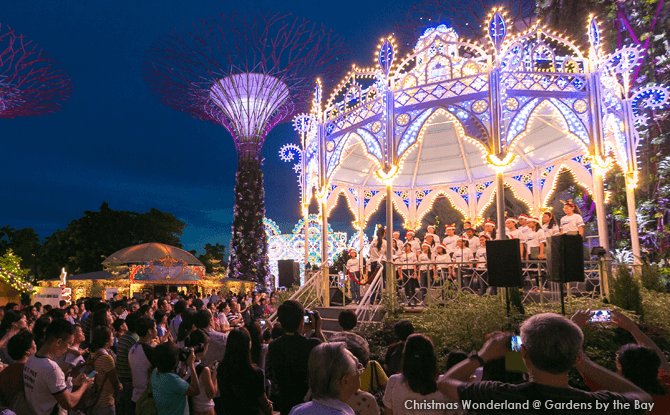 8. AIA Trickart
Take picture at the original 3D optical illusion artwork at AIA TrickArt. Pose for a photo and it will be captured on the AIA camera and emailed to you. This can also be shared as Christmas greetings to spread the joy to family and friends.
9. Christmas Toyland Floral Display
It is toy time inside the Flower Dome. At the Christmas Toyland Floral Display, besides admiring the yuletide flora like the poinsettia, winter heather and holly, look out for the 11 metre high Christmas Pyramid filled with toys. It is also at the Christmas Pyramid that performances will take place.
CHRISTMAS WONDERLAND @ GARDENS BY THE BAY
28 November 2015 to 3 January 2015
Lights turn on at 7 pm daily and most activities start from 4 pm onwards