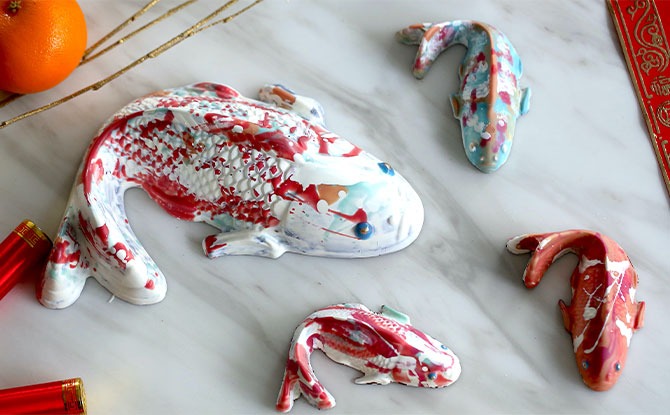 Chocolatier Janice Wong is launching a new collection of Hand-Painted Chocolate Koi especially for the Chinese New Year festive Season along with handcrafted chocolates, sweet treats and cookies.
---
Janice Wong Hand-Painted Chocolate Koi
Bringing a twist on some on her much-loved favourites, the star of her new collection is a beautiful Chocolate Koi. Hand-painted in natural colours; it is coated with single-origin Equateur 76% dark chocolate and filled with Praline Feuilletine and candied orange.
The koi comes in a pair (S$78) encased in a beautiful gold glass box, resembling a koi pond and are not only a unique and eye-catching centrepiece but is also sure to bring joy to the table this year!
---
Janice Wong limited edition hampers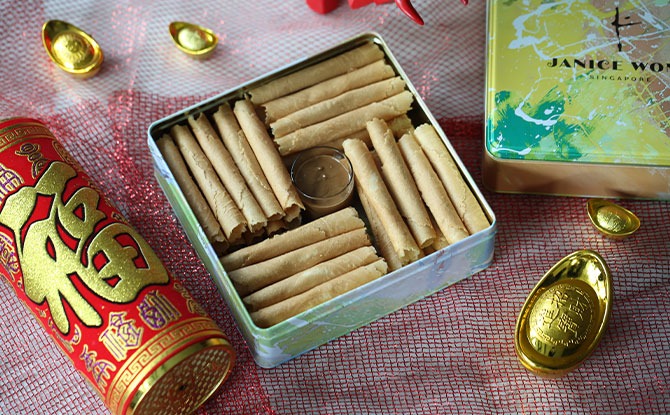 Also part of her collection is a variety of limited-edition hampers uniquely curated for the occasion. This consists of classic treats such as Love Letters, an assortment of cookies and various Pineapple Tarts.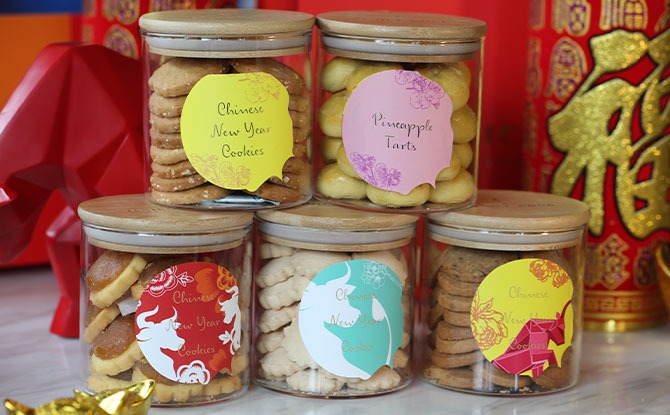 There are also six hampers sets which make great gifts for family and friends. The Big Cookie Hamper (S$188) features classic cookies and new flavours including Chocolate Bakkwa Cookies, Chocolate Pineapple Balls and Macadamia Raisin. There is also the Cookie Hamper Set (S$145) consisting of cookie jar items such as the Caramel Popcorn, classic Pineapple Tarts and Pineapple Balls.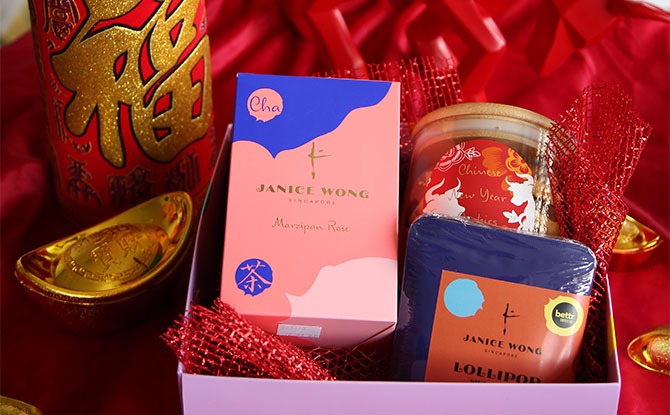 Other signature hampers include the CNY Tea Time Hamper (S$78) with Pineapple Flower Tarts, and Janice Wong's Signature Tea Tin and Lollipop Coffee Single Drip Bags. Lastly, you can opt for the CNY Mini Cookie Hamper (S$60) with classic Pineapple Flower Tarts and Pineapple Balls.
If you're looking to pair your hamper sets with wine or champagne pairing, the CNY Big Hamper (S$188) comes with four cookie jars with a De Bortoli Pink Moscato, while the CNY Mini Hamper comes with two cookie jars with a choice of Lys De France Wine (S$145) or a bottle of Bottega Gold Champagne (S$130).
---
Janice Wong Handcrafted Cookies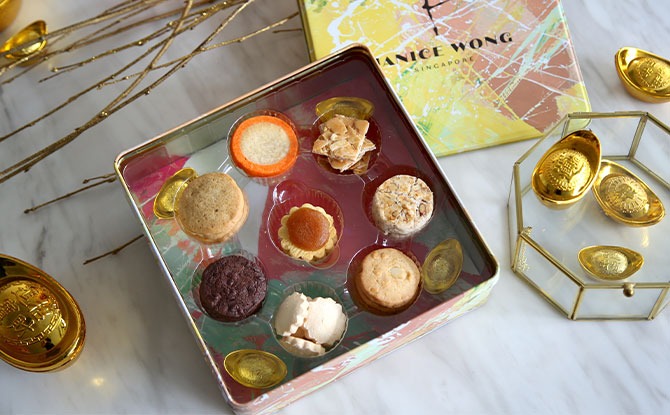 In Janice Wong's Chinese New Year collection, there is also a selection of handcrafted, small-batch cookies made from scratch in the CNY Assorted Cookie Tin (S$38). Look out for new flavours including the Almond Orange Marzipan, the Almond Cookie and the Peanut Butter Brittle. The cookies come in a Signature Janice Wong Tin with artwork on the exterior by Chef Janice herself.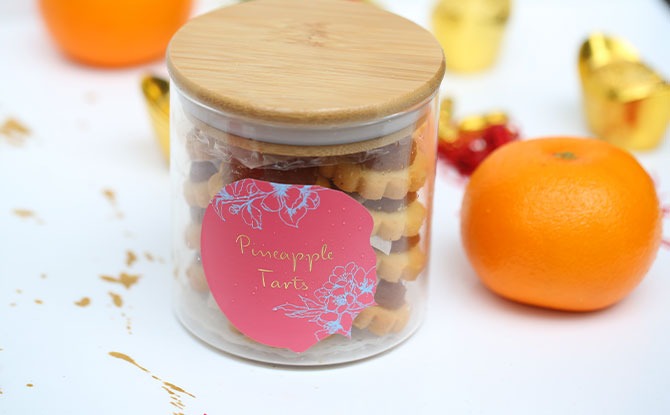 Other uniquely wrapped seasoned offerings available in single cookie jars include the Flower Pineapple Tarts (S$29), Pineapple Balls (S$29), Macadamia Raisin (S$25) and Kueh Bangkit (S$25). Exclusive to Janice's CNY collection is the Dark Chocolate Coated Pineapple Tarts (S$32) and the Love Letters with Hazelnut Dip (S$35).
All items are now available for order on the online store at www.janicewong.online or at retail stores located in Raffles City and Paragon.